Golden oaties – the perfect oatmeal cookies made with golden raisins. They are perfectly spiced and have the best chewy texture.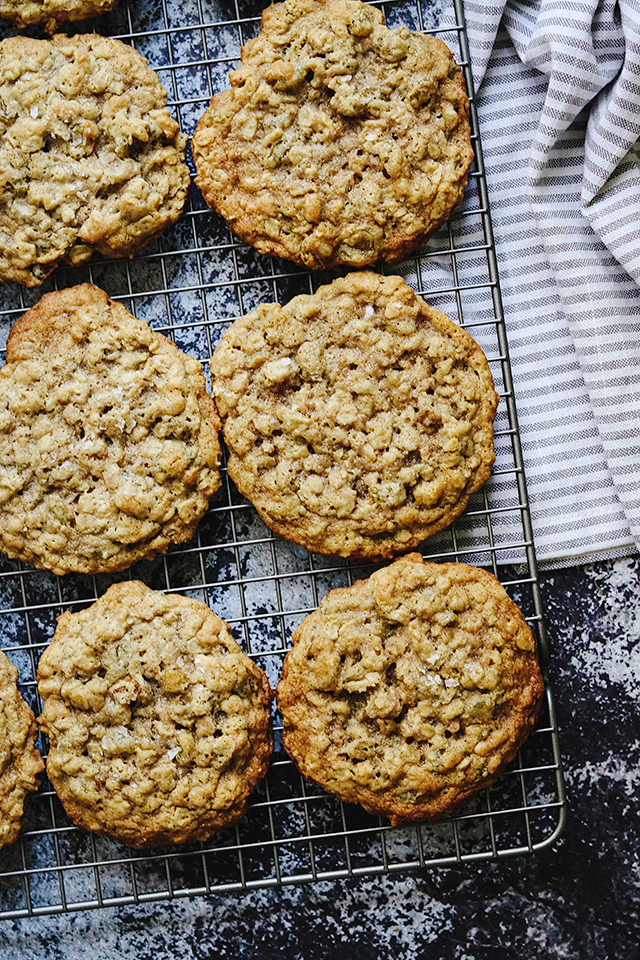 Never thought I'd ever be posting a recipe for oatmeal raisin cookies here.
Because raisins in cookies are the woooorrssssttt. Really. They're the devil's work.
Yet, here we are.
See husband, I really can admit it when I'm wrong. (Sometimes.)
The thing is that for all my life I was eating cookies with BROWN raisins, which are dry and shriveled and get hard all too quickly.
They also have a tendency to masquerade as chocolate chips because they're so similar in color, and even the most ardent raisin lover has to understand the disappointment when you bite into a raisin cookie thinking it was going to be a chocolate chip cookie. It's undeniable.
BUT!
I've discovered the secret to oatmeal raisin cookie bliss and it is golden raisins. Those little gems are plump, moist, and practically melt into these cookies with just a hint of tart fruity sweetness.
It doesn't hurt that these cookies in particular are thick, chewy, and perfectly spiced. Plus you can feel good about eating them because they are stuffed with oats and whole wheat flour!!
Win win win win win.
I brought these to a summer get-together and was really anxious about how they would be received because I know how many raisin skeptics there are out there (myself included).
But everyone loved them and were fighting over the leftovers.
Totes the hallmark of an excellent cookie.
Golden Oaties
Golden oaties - the perfect oatmeal cookies made with golden raisins. They are perfectly spiced and have the best chewy texture.
Ingredients
1¼ cups (150 g) all purpose flour
¾ cup (90 g) whole wheat flour
2½ cups (200 g) rolled oats
1½ tsp baking powder
1 tsp baking soda
1½ tsp kosher salt
½ tsp cinnamon
1 tsp ground ginger
1 cup (16 tbsp) unsalted butter, room temperature
¾ cup (150 g) packed light brown sugar
¾ cup (150 g) granulated sugar
2 large eggs, room temperature
2 tsp vanilla extract
2 cups (160 g) golden raisins
flaky sea salt, for the tops
Instructions
Whisk together the all purpose flour, whole wheat flour, oats, baking powder, baking soda, kosher salt, cinnamon, and ginger in a large bowl. Set aside.
Combine the butter, brown sugar, and granulated sugar in the bowl of a stand mixer fitted with the paddle attachment. Cream together on medium-high speed until light about fluffy, about 4 minutes.
Add the eggs and vanilla to the batter. Mix until completely combined, about 2 minutes. Scrape down the sides of the bowl.
Add the flour mixture to the batter and mix on low until the flour is almost completely incorporated. Add in the raisins and mix until just combined. Finish the mixing by hand with a spatula to ensure no flour is left behind.
Cover the mixer bowl with plastic wrap and refrigerate the dough for at least 24 hours and up to 3 days.
When ready to bake, heat oven to 350F. Line two baking sheets with parchment paper.
Remove the dough from the refrigerator 2-3 hours before you plan to bake the cookies. Scoop into ¼ cup balls. Place each cookie ball on the baking sheets, twelve on each sheet. Slightly flatten with your hand and sprinkle with sea salt. Bake for 16-18 minutes, or until the edges are slightly golden.
Remove from the oven and allow to cool on a wire rack.