Easy pasta salad made with mini cheese ravioli that are tossed with kale pesto, white beans, and asparagus.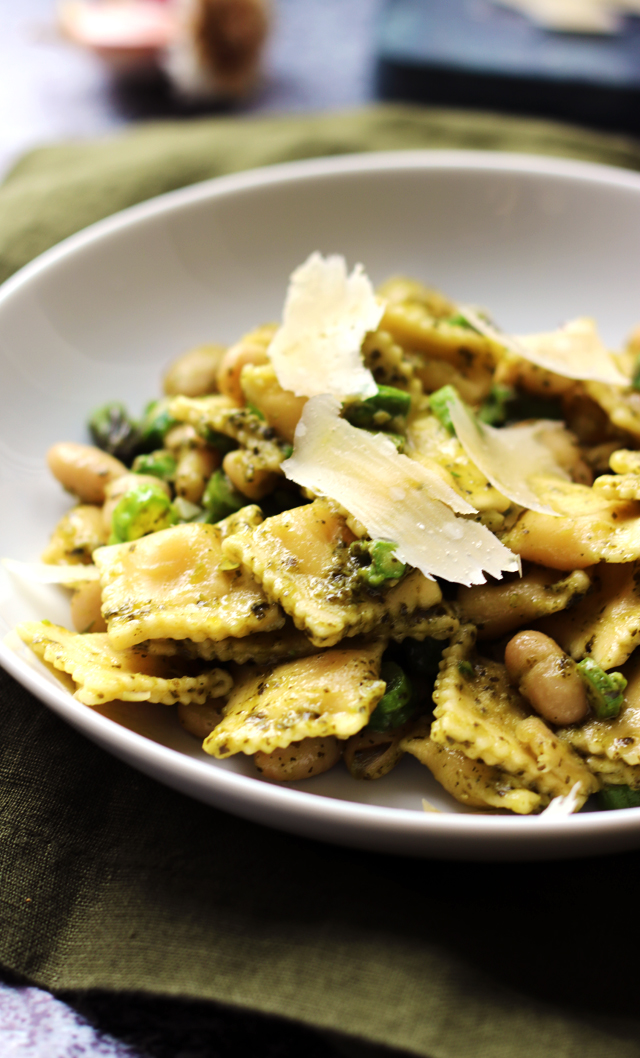 Unsurprisingly my best spur-of-the-moment recipe creations are generally not born of my Whole Foods impulse purchases.
Talenti gelato + randomly on sale stinky cheese + garlic scapes cannot be summed to anything edible.
Despite my best creative efforts.
BUT I guess there are exceptions to all/most things in life, and so this ravioli salad was born. On a wing and a prayer and my kid-in-a-candy-store joy at seeing the season's first local asparagus in the produce aisle.
Yes! IT'S FINALLY HERE.
I rode that spring vegetable-induced high right on over to the fresh pasta refrigerator where I picked up a few boxes of my favorite mini raviolis (they're so cute! and perfectly sized for baby consumption!) and a container of kale pesto.
The white beans I added on a whim as part of my ongoing attempts to clean out my pantry before we have to move in June (and also to attempt to get some iron into my child…I think she licked one and then casually plucked them all off of her plate and threw them on the floor, but hey you can't blame a mom for trying).
And there you have it.
It's so simple that I sometimes can't even believe that it came out of my kitchen.
But really, it did. REALLY.
5 Ingredient Ravioli Salad with Kale Pesto, White Beans, and Asparagus
Easy pasta salad made with mini cheese ravioli that are tossed with kale pesto, white beans, and asparagus.
Ingredients
2 lb mini cheese ravioli
2 tbsp olive oil
4 cloves garlic, minced
1 large bunch asparagus, ends trimmed and finely chopped
1 (14.5 oz) can white beans, drained and rinsed
8 oz prepared kale pesto
salt and black pepper, to taste
parmesan shavings, to garnish
Instructions
Cook the cheese ravioli in salted water according to package directions or to desired consistency. Drain and set aside.
Meanwhile, heat the olive oil in a medium skillet over medium heat. Add the garlic to the pan and saute until fragrant, about 30 seconds. Stir in the asparagus and cook until tender, about 3-4 minutes. Stir in the white beans and cook until heated through, 1-2 minutes.
In a large bowl, toss together the cooked ravioli, pesto, and asparagus mixture. Season to taste with salt and black pepper. Serve warm topped with parmesan shavings, if desired.
Notes
An Eats Well With Others Original