Once you taste a homemade sea salt caramel swirl marshmallows you'll never go back to the plain puffs that you get at the grocery store. Consider yourself warned!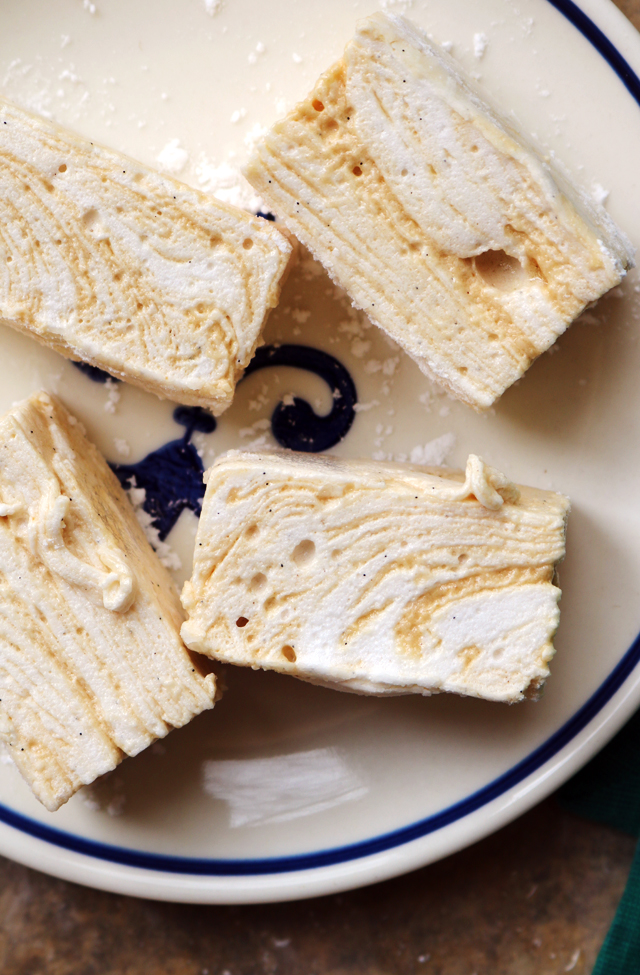 I feel like it is my duty in life as a person who takes it upon herself to make all sorts of ridiculous things at home that you can easily buy in the store to let you know that you haven't truly lived until you've had a homemade marshmallow.
Bold statement, but one that is an irrefutable truth.
I know this because my brother, who doesn't like sweet things (right?! WHO IS HE?!) could not stop eating these.
The only other time I've seen him behave this way is in the presence of homemade rainbow cookies. And really, who could blame him?
I should also mention myself as a "case in point" because I detest storebought marshmallows. They're just too sweet and flavorless with a less-than-ideal texture. I'll eat them scorched and smushed between layers of melty dark chocolate and graham crackers under dessert duress, like if there's nothing else around for miles, but otherwise no thanks, I'll pass.
BUT THESE.
They're like crack. And I mean that in a best way.
They're soft and melt-in-your-mouth and taste a little burnt from the salty caramel coursing through each and every bite.
And guys, unlike every other candy-making experience I've ever had (cough manybatchesoffailedfudge cough), they are SO EASY.
I made them the night before Easter Eve at a time so late that I had no business heating sugar over the stove for fear of falling asleep headfirst into it, but I SURVIVED. With all fingers, toes, and nosetips intact.
And with perfectly tempered sugar that I then whipped into perfectly fluffy mallows.
If I can do it despite all of these potential roadblocks, SO CAN YOU.
In full disclaimer, these are technically not vegetarian as they contain gelatin. I'm sure there is a way to substitute it with agar agar, but my gut tells me that this will be more finicky than the recipe presented here, which is utterly foolproof.
I'm okay with being flexible about things like this, but feel free to fool around with it if you're a better/stricter vegetarian than I. And report back on how it goes if you do!
These are absolutely delicious enough to eat on their own, but I hear s'mores season is coming around and I suspect that they would make for an excellent filling. I don't find myself sitting around an open fire too often, but if such an occasion arises, you can be sure that I'll be toting these along.
Homemade Sea Salt Caramel Swirl Marshmallows
Once you taste a homemade sea salt caramel swirl marshmallows you'll never go back to the plain puffs that you get at the grocery store. Consider yourself warned!
Ingredients
For the sea salt caramel swirl
⅓ cup sugar
2 tbsp water
1 tsp light corn syrup
3 tbsp heavy cream
⅛ tsp sea salt
For the marshmallows
4½ tsp unflavored powdered gelatin
¾ cup cold water, divided
¾ cup sugar
½ cup light corn syrup, divided
⅛ tsp salt
2 tsp pure vanilla extract
For the classic coating
1½ cups confectioner's sugar
1 cup cornstarch or potato starch
Instructions
Coat an 8x8-inch baking pan with cooking spray. Wipe away the excess.
To make the sea salt caramel swirl, mix the sugar, water, and corn syrup together in a small saucepan over high heat. Allow the sugar to dissolve and the syrup to start bubbling. Stop stirring. Continue to cook the caramel over the stove until it reaches a light amber color, swirling the pan as needed to mix. Remove from the heat and quickly whisk in the cream. Whisk in the salt. Transfer to a bowl to cool.
Meanwhile, make the marshmallows. Whisk the gelatin and ½ cup cold water together in a small bowl. Let sit to soften for 5 minutes.
In a medium saucepan, stir together the sugar, ¼ cup of the corn syrup, remaining ¼ cup of water, and salt over high heat. Bring to a boil and cook until the mixture heats to 240F. Meanwhile, pour the remaining ¼ cup of corn syrup into the bowl of a stand mixer fitted with the whisk attachment. Microwave the gelatin mixture for 30 seconds, or until melted. Pour it into the mixer bowl and mix on low speed. Keep the mixer running.
Once the syrup on the stove is at 240F, slowly pour it into the mixer bowl with the gelatin. Increase the speed to medium and beat for 5 minutes. Increase it again to medium-high and beat for 5 more minutes. Finally, beat it on the highest setting for 1-2 minutes, then beat in the vanilla.
Scoop ¼ of the marshmallow batter into the bowl with the caramel. Whisk until well combined, working as quickly as possible. Scoop the caramel mixture into the bowl with the remaining marshmallow batter and fold and swirl together. Pour into the prepared baking pan. Use an offset spatula to flatten the top and push it so that it fills the corners.
Make a batch of classic coating by sifting together the confectioner's sugar and cornstarch. Sift this mixture over the top of the batter to cover it. Allow to set for 8 hours in a cool, dry place.
To cut the marshmallows, loosen the edges of the marshmallow from the pan with a spatula or knife. Invert onto a work surface coated with the classic coating. Cut it into 1½-inch cubes or rectangles and coat the sticky edges in the classic coating.
Notes
Recipe from
Marshmallow Madness!: Dozens of Puffalicious Recipes