This ravioli alla vodka contains an entire cup of vodka and has you cook down the tomatoes in the oven until they have an incredibly rich and concentrated flavor. It is the ultimate in comfort food and perfect at a time when nostalgia is #TrendingInTheKitchen.
[Disclosure: This post was sponsored by Pompeian. As always, my thoughts and opinions are my own. Thank you for supporting the brands that keep me inspired in the kitchen.]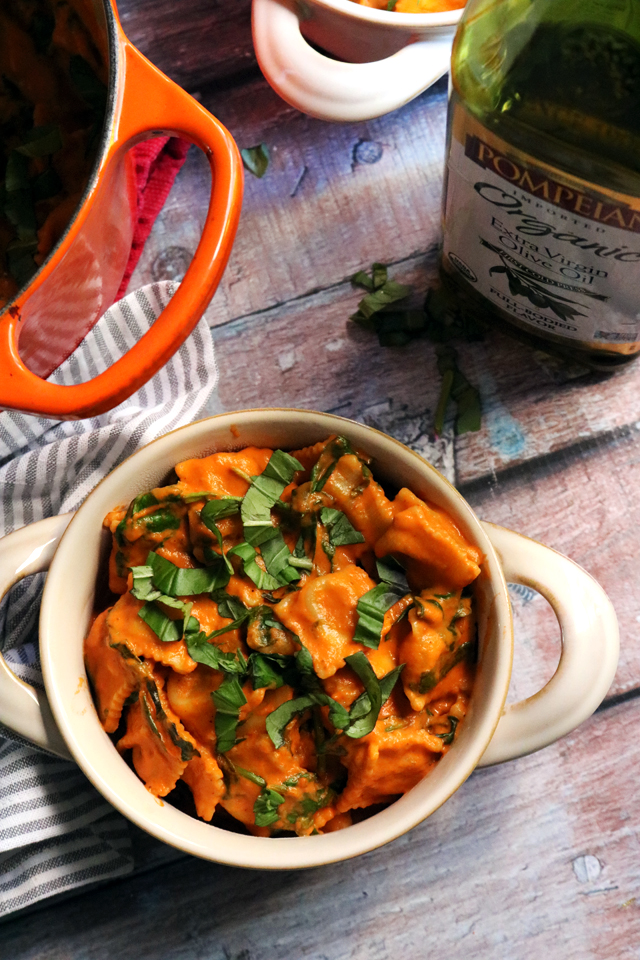 Allow me to introduce you to the meal you're going to be making all. holiday. season. long.
For your family,
for your friends,
for yourself (because it's basically too good to share with anyone else). IT'S THE MEAL OF THE PEOPLE. Hear you me, there is no one who won't love this.
I've eaten a lot of pasta with vodka sauce in my life. As a kid I detested plain red sauce and so my parents were always trying to find ways to doctor it up to get me to eat it. Basically that meant either giving in and making vodka sauce (my favorite) or letting me dollop loads of ricotta cheese on top. That being said, I've tried it alllllll. The good, the bad, and the ugly of vodka sauces.
This is the best of the best. Let's discuss.
First things first, let me just tell you that the technique behind this recipe is based on one that Ina Garten uses (so you know it's good) where you cook down the tomatoes in a sea of vodka (<– literally. A WHOLE CUP.) in the oven. Low and slow for a full ninety minutes. It will feel like forever especially when you've got that hearty comfort-full marinara sauce smell going on in your kitchen, but the end result is so worth the torture of having all those good scents pulsating through your nasal cavities for hours on end. The baking really concentrates the tomato flavor so the resulting sauce is incredibly rich.
Then you add heavy cream (another cup. IT'S THE HOLIDAYS. Comfort food is #TrendingInTheKitchen. We're not skimping here.) and fresh herbs and OHMYGOSH it's the best.
Also, I made it with mini raviolis because I'm extra like that. Try it and pinky swear you will never want to make vodka sauce any other way again.
And with the post comes the last of my year-long tenure of working with Pompeian Olive Oil. I use olive oil in almost every meal I make, so the quality is super important to me. I always have a bottle of Pompeian Olive Oil sitting on my counter, whether it's the the  Smooth,  Robust or Organic Extra Virgin Olive Oil (that I've used here) because I know I can take comfort in the fact that it's such a tasty, high quality product. All Pompeian olive oils are in compliance with the Non-GMO Project Verified Standard and bear the Non-GMO Project Verified Seal. Additionally, Pompeian was the first national brand of extra virgin olive oil to carry the USDA Quality Monitored Seal as well as the North American Olive Oil Association Seal. This ensures that Pompeian's products are held to rigorous standards and guarantee a quality product in every bottle. Not to mention the taste which is unreal. Give me a glug of oil and a piece of bread to dunk in it and I'm super happy.
Give me a pasta dish made with Pompeian Olive Oil….and I'm even happier.
Case in point.
Ravioli Alla Vodka
This ravioli alla vodka contains an entire cup of vodka and has you cook down the tomatoes in the oven until they have an incredibly rich and concentrated flavor. It insanely delicious and perfect for holiday feasting.
Ingredients
¼ cup Pompeian Extra Virgin Olive Oil
1 large white onion, minced
6 garlic cloves, minced
½ tsp red pepper flakes
1 tsp oregano
1 cup vodka
2 (28 oz) cans whole peeled tomatoes
salt and black pepper, to taste
5 oz baby spinach, thinly sliced
1 oz fresh basil, thinly sliced
1 cup heavy cream
2 lb fresh ravioli or ravioletti
Instructions
Heat oven to 375F.
Heat the olive oil in a Dutch oven or other oven-safe pan on the stovetop over medium heat. Add the onion and garlic to the pan and saute for 4-5 minutes, or until the onion is translucent. Add in the red pepper flakes and oregano and saute until fragrant, about 1 minute. Add in the vodka and simmer until reduced by half, about 7 minutes.
Add the whole peeled tomatoes into the pot, crushing each of the tomatoes through your fingers as you do so. Pour in the tomato juice liquid from the cans as well and stir to combine. Add 2 tsp salt and 1 tsp black pepper to the pot, then cover it with a tight fitting lid and place it in the oven. Bake for 90 minutes. Remove from the oven and let cool for 15 minutes.
Once cool, pour the tomato mixture into a blender and blend until smooth. Pour back into the pot, then stir in the baby spinach, basil and heavy cream. Simmer just until all the greens are wilted. Season to taste with salt and black pepper.
Meanwhile, bring a large pot of salted water to a boil and cook the pasta according to package directions. Drain and add it to the vodka sauce, stirring to combine. Remove from the heat and serve warm.
Notes
An Eats Well With Others Original