Roasted salmon topped with a sweet and spicy glaze served over a bed of creamed hominy.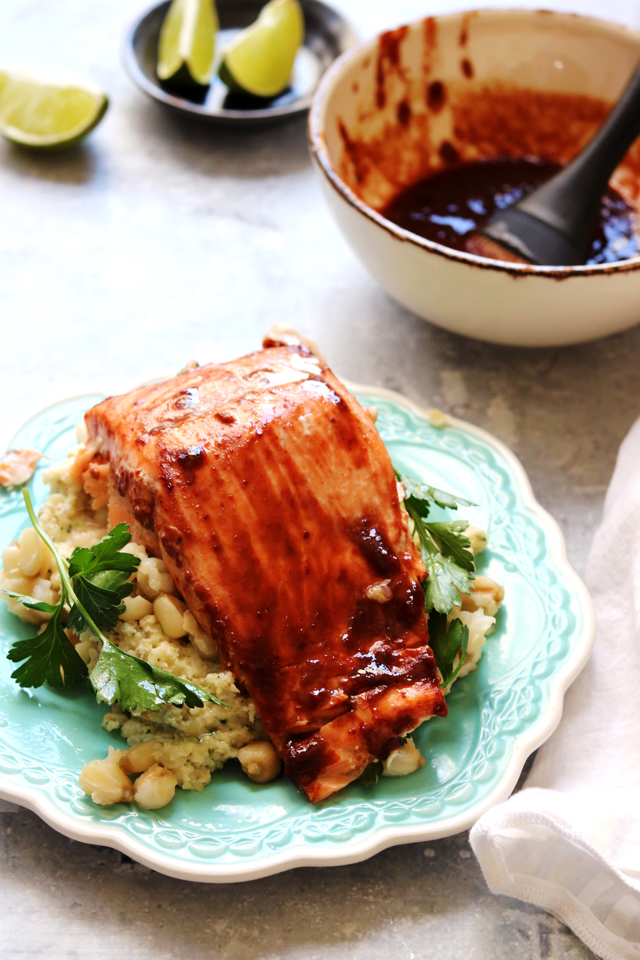 The weird/awesome thing about having a food blog for ten years is getting to look back at the written history of your life – the good, the bad, the ugly.
Like, in 2009 I could write a post about putting tomato on grilled cheese as if it were a serious recipe and then take a picture of it on the one green plastic plate I owned in college, with a point and shoot camera. And that was considered acceptable!!! A complete stranger even commented on it.
CRAZY.
Pretty sure if I did that now, this site would get pushed so far down on Google's rankings that it would never see the light of day.
I'm not sure that it's better now, what with all the time you're supposed to spend making sure you have a presence on social media, curating your pinterest boards and twitter feed and instagram photos so that they're on brand and look cohesive (but not too much) and always updated with new content.
But the food photos are prettier and we're all eating more adventurous, delicious things. So maybe it is.

Lest I forget the truly humble beginnings that got me to where I am (green plate not included), I'm trying to make it a point to re-shoot some of my favorite recipes from the early days of blogging. The recipes that are buried so far down that no one will ever find them again, especially because the photos that accompany them are, shall we say, unappealing.
Here we go.
I first posted this recipe for roasted sweet chipotle salmon back in 2011! Grey's Anatomy was still at its peak and I was basically salivating over Patrick Dempsey. I had so much free time and I didn't even know it!!!
These days I spend my weekends trying to smush as much cooking as possible into half a day and so recipes like this that require only about ten minutes of hands-on time are a GODSEND. Plus that smoky sweet chipotle glaze is just a dream.
Basically to make this, you whisk up the glaze, brush it over a few salmon fillets and then roast them in the oven. You will have excess glaze if you make the recipe as written so feel free to double it if needed. While those are cooking, hominy (either canned or home-cooked) gets pureed in a blender along with a bit of the cooking juice (or cream!!) until it's a creamy corny mash. In this incarnation I reserved some of the whole hominy pieces to stir in at the end for added texture, and I found it to be much better that way. It's a great (inauthentic) meal to make for Cinco de Mayo if you're going for something a little bit less traditional.
Roasted Sweet Chipotle Salmon with Creamed Hominy
Roasted salmon topped with a sweet and spicy glaze served over a bed of creamed hominy.
Ingredients
3 chipotle chiles from canned chipotle in adobo
2 tbsp apricot or raspberry preserves
1¼ tsp red wine vinegar
½ tsp ground cumin
2 (6-7 oz) wild Atlantic salmon fillets
2 cups cooked hominy, half a cup of cooking liquid or juice from the can reserved
1 tbsp butter
1 tbsp chopped fresh cilantro (or more to taste)
Instructions
Heat oven to 450F. Using the back of spoon, press the chipotles through a fine-mesh sieve into a small bowl. Mix the chipotle puree with the jam, vinegar, and cumin. Season the glaze with salt, to taste.
Coat a small rimmed baking sheet with nonstick spray. Arrange salmon on it in a single layer, skin-side down, and sprinkle with salt and black pepper. Spread half of the glaze over each fillet. Roast until just opaque in center, about 10 minutes.
Meanwhile, puree the hominy together with 5 tbsp of the reserved cooking liquid in a food processor until almost smooth. Transfer to a small skillet and add in the butter and cilantro. Stir over medium heat until warmed through, mixing in more reserved juice by teaspoonfuls until it reaches the desired consistency. Season to taste with salt and pepper.
Divide the hominy between 2 plates, top with the salmon and serve.