Fresh pappardelle with asparagus, peas, and saffron cream sauce.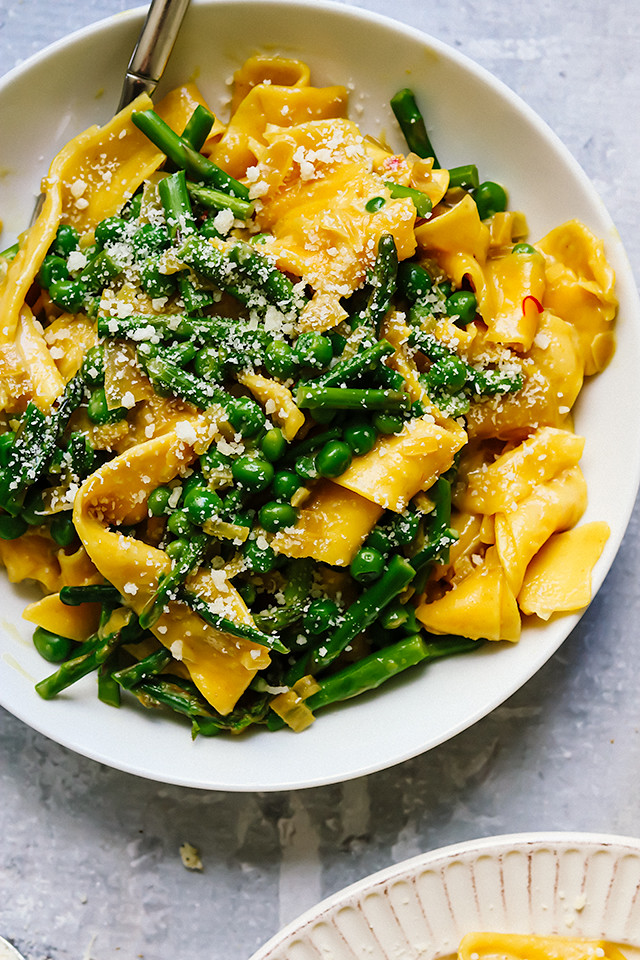 You may not be able to tell, what with not being allowed out of the house and all, but….it's SPRING!!!
Really and truly.
I don't know whether we'll get to feel the cool breeze on our skin before it gives way to summer's sultry heat so I'll celebrate the new season the best way I can and that's by eating my way through it.
What sort of grocery inventory issues have you been struggling with recently?
We've been able to get fresh produce pretty easily but dried goods like pasta or rice have been almost impossible to find.
FRESH pasta, on the other hand, has been readily available. Either no one knows what to do with it or everyone is making their own.
I'm betting on the former.
I actually made this meal the weekend before the city started to shut down.
The asparagus was leftover from my last in-person Trader Joe's run. Even though it was a little bit early for asparagus season at the time, it was so adorably pencil thin and I could already tell that bleak times were ahead, so I had to have it.
The recipe for this comes from Diana Henry's Simple cookbook, and it is as easy to prepare as the book's title suggests. It's a two pot endeavor, as the simple saffron cream sauce is made alongside your pot of boiling pasta water. The vegetables are cooked with the pasta for the last few minutes of cooking and then it's all tossed together. I love a good thick fresh chewy pasta for this because it really catches and soaks up the cream sauce well, but if all you have is dried, that will work too.
Pappardelle with Asparagus, Peas, and Saffron
Fresh pappardelle with asparagus, peas, and saffron cream sauce.
Ingredients
pinch of saffron
2 tbsp unsalted butter
3 shallots, minced
7 oz vermouth
2 cups vegetable broth
1 cup heavy cream
salt and black pepper, to taste
lemon juice
1 lb fresh pappardelle, fettuccine, or tagliatelle
1 lb asparagus, trimmed and cut into 1-inch lengths
2 cups frozen peas
finely grated parmesan cheese, to serve
Instructions
Place the saffron in a small bowl with 3 tbsp boiling water. Set aside.
Bring a large pot of salted water to a boil.
Meanwhile, in a large skillet, melt the butter. Saute the shallots in the butter until softened, about 3 minutes. Add in the vermouth and boil until it has reduced to about ⅓ cup. Add in the saffron water and simmer until reduced by two thirds. Add in the cream and bring it to a boil. Simmer until thickened enough to coat the back of a spoon. Season to taste with salt, black pepper, and lemon juice. Remove from the heat and set aside.
Cook the pasta according to package directions, until al dente, adding the asparagus tips and peas for the last few minutes of cooking. Drain and toss with the cream sauce. Serve topped with grated parmesan cheese.