An easy weeknight vegetarian chili made that uses up a lot of pantry staples, including beans, canned tomatoes, and vegetable broth.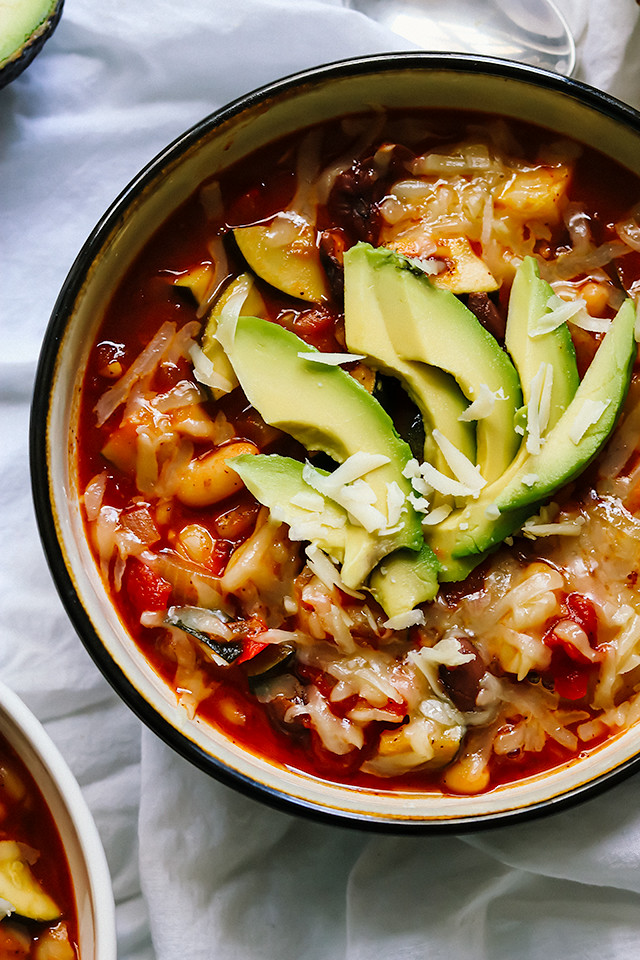 Let's talk dried beans!!
Apparently they're the new hottest quarantine food trend, never mind the fact that 90% of people have never seen (let alone cooked) a dried bean in their lives.
Meanwhile I've been over here cooking a pot of dried beans at least once a week for…..well, let's not date ourselves here. Forever, let's just say forever.
So I've gotten a few requests for (a) how to cook dried beans and (b) what the f to do with them once they're cooked.
Guys, it's so simple. All of it. Let's discuss.
Cooking a big pot of beans is one of my favorite weekly food prep strategies because one pound of dried beans can literally make enough meals to last you at least 1-2 weeks. And it's so so so simple!!
Here's what I do:
First, I pretty much always soak the beans from the night before. Soooommmeettiiimmeesss I forget and end up cooking them in the pressure cooker unsoaked, but it's always finicky to do that and a bit more unpredictable to determine how long they're going to need to cook. Just do yourself a favor and pre-soak. It makes things so much easier.
Next, I cook them! Lately I've been relying on my Instant Pot a whole lot for this. It's fast and I can walk away from it without worrying about leaving the stove on. To do this, I drain my pre-soaked beans and put them in the bowl of the Instant Pot. Cover the beans with water (I usually fill it to the 8 cup mark), then add in a handful of salt and two dried bay leaves. Then I pressure cook the beans on high for anywhere from 10-15 minutes. I use the Instant Pot Cooking Time Tables as a guide. They have a fairly comprehensive list of the most common types of beans and how long they should take to cook, soaked or unsoaked. Once the timer goes off, I shut off the Instant Pot and let it naturally release the pressure.
Don't have an Instant Pot? NO WORRIES. For years I cooked my beans in a pot on a stove, and sometimes still do depending on what kind of mood I'm in. All you do is drain your pre-soaked beans and add them to a large lidded pot. Fill the pot with enough water to cover the beans by about 2 inches. Add in a handful of salt and two dried bay leaves, then bring the water to a boil. Once boiling, decrease the heat to a simmer and cover the pot. Let the beans simmer for about 1 hour. Taste the beans around this time point to see if they're done. For most beans, especially if they're fresh and haven't been sitting on the supermarket shelf for a decade, this should be sufficient. If not, keep simmering and tasting at 10 minute intervals until they're done.
So now you've got a whole pot of freshly cooked beans to use up and no idea what to do with them?!
Well, currently my number 1, 2, and 3 ways to use up beans is to make this chili. It is so incredibly easy, kind of a set it and forget it situation, and also so incredibly rich in flavor. It's my forever chili, calling it now.
You can really use whatever beans you have for this or even a mix if you have a few odds and ends leftover in your pantry or fridge. I used mostly white beans that I had just cooked along with a handful of cooked black beans that had been hanging out in my fridge for a while. The only bean I would avoid here is red lentils because they tend to turn to mush and will definitely alter the texture here. They are much better for curries, dals, or soups.
Then come the veggies! The recipe calls for a mix of bell peppers and summer squash, but you can really use whatever produce you're able to get your hands on right now. Carrots, winter squash, and sweet potatoes would all be great here.
We ate this with lots of fixins' and big old biscuits on the side. It hit the spot in all the right comfort ways, and that is definitely what we need during these trying times.
Weeknight Vegetarian Chili
An easy weeknight vegetarian chili made that uses up a lot of pantry staples, including beans, canned tomatoes, and vegetable broth.
Ingredients
2 tbsp olive oil
2 onions, diced
1 red bell pepper, stemmed, seeded and cut into ½-inch pieces
salt and black pepper, to taste
4 garlic cloves, minced
1 tbsp chili powder
1½ tsp cumin
1 tsp ground coriander
1 tsp chipotle chili in adobo, minced
¾ lb dried white, black, or pinto beans, cooked according to package directions
1 (28 oz) can whole peeled tomatoes, chopped
1 (15 oz) can tomato sauce
1 cup vegetable broth
3 zucchini or summer squash, cut into ½-inch pieces
Instructions
Heat oil in a large Dutch oven over medium-high heat. Once hot, add the onions, bell peppers, and 1 tsp salt. Cook until the vegetables are soft and starting to brown, about 6-8 minutes. Stir in the garlic, chili powder, cumin, coriander, chipotle, and ½ tsp black pepper. Cook for 30 seconds, or until fragrant.
Stir in the beans, tomatoes, tomato sauce, vegetable broth, and zucchini. Bring to a boil. Decrease heat to low and simmer for 35-40 minutes, or until the squash is tender and the chili has thickened a bit.
Season to taste with salt and black pepper. Serve topped with your favorite chili toppings.