This healthy winter squash and chickpea salad is laced with a nutty, delicious tahini-based dressing….perfect for a good-for-you lunch or dinner!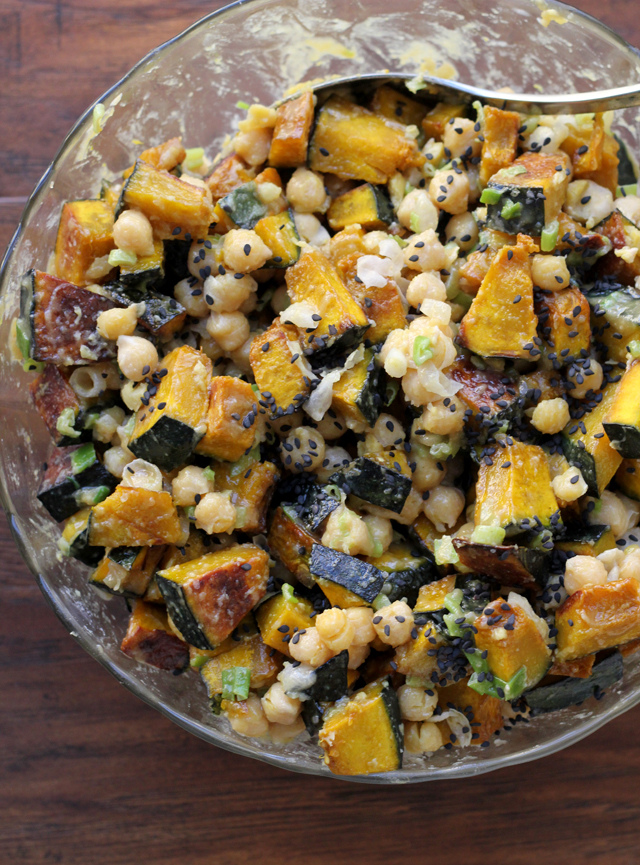 So we met with a potential caterer last night.
And then we came home and cried because we are going to have to eat bread and butter until November 29th of next year since that is the only way we are going to be able to afford this wedding.
And by butter, I obviously mean peanut butter because dairy butter is actually quite expensive.
And by peanut butter, I probably mean beans, and not the fancy Rancho Gordo kind that I love so much. But, like, Goya. Because what is cheaper than that?!
Things are going to start to get frugal around here.
But not in the flavor department!
I pinky swear. Well, at least I hope not. Because then even I will get bored of myself. And we can't have that.
Thankfully I have enough spices to last at least five lifetimes. And counting.
And I have meals like this up my sleeve, which use up a whole bunch of things I just happened to have sitting around in my pantry. Like black sesame seeds, sesame oil, and tahini. Totally normal.
Kabocha squash is pretty cheap these days, and so are scallions and chickpeas, so I can see us eating this well into the foreseeable future. Plus it's the.boy-approved. Which for a salad, kind of says a lot.
And with it's nutty sweet salty flavors, I'm kind of into it too. In a big way.
Can you believe we are HALF WAY THROUGH the 12 Weeks of Winter Squash?! That means you only have six more weeks to get involved. Get it.
Roasted Kabocha Squash and Chickpea Salad with Tahini, Scallions and Black Sesame Seeds
This healthy winter squash and chickpea salad is laced with a nutty, delicious tahini-based dressing.
Ingredients
1 kabocha squash, chopped into ½-inch cubes
1 tbsp olive oil
1 cup dried chickpeas, soaked overnight and boiled until tender
¼ cup tahini
sea salt
2 tsp olive oil
1 small bunch scallions, thinly sliced
1 tbsp toasted sesame oil
2 tsp black sesame seeds, toasted
Instructions
Heat oven to 400. Toss squash with olive oil and spread out on a parchment-lined baking sheet. Sprinkle with salt. Roast for 30 minutes or until tender.
Toss the squash with the chickpeas.
In a small bowl, whisk together the tahini, olive oil, scallions, and sesame oil. Season to taste with salt. Toss with the kabocha and chickpeas.
Top with sesame seeds.
Nutrition Information
Serving size:
¼ of recipe