A summery pasta with cherry tomatoes, mint, and burrata.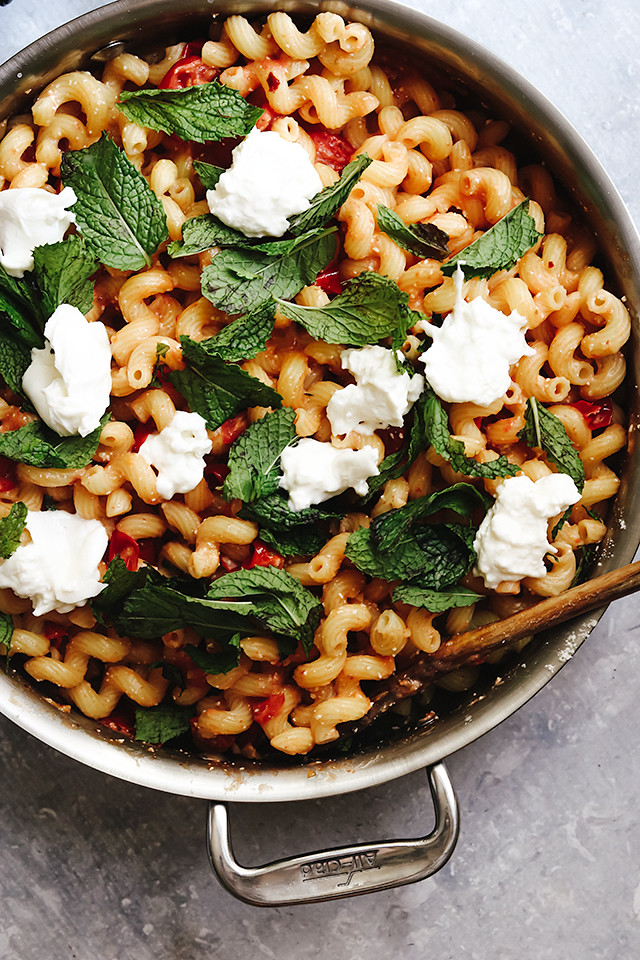 You guys! I had the biggest moment of mom pride on Friday.
It had nothing to do with burrata or cherry tomatoes or SUMMER PASTA (swoon) and everything to do with vaccines.
Obviously.
We took Remy for her (very very belated) 4 year old well visit and, first just let me say how impressed I was with our pediatrician's office. I did not see a single other patient while I was there. No snotty two year olds or thirteen year olds hacking up a lung. The waiting room was completely empty!!
Either everyone has left NYC or they just very strategically planned how to schedule their patients so as not to have any overlap. I don't know, but I'll just say that I felt very safe and did not come home feeling like I could have gotten the coronavirus, which is big for me because I get nervous just thinking about going in our elevator. So.
As if that wasn't amazing enough: Remy got TWO shots and she didn't even cry!!! She just casually watched them insert the needle into her skin like it wasn't even a thang. TWICE. And then she was like "uh, where's my lollipop?!" (which they did not give her, because CORONAVIRUS. Luckily I had brought reinforcements.)
Then we came home and ordered pizza for lunch, but only because we had already eaten our entire batch of this pasta for the week!!
And yes, I say "for the week" because that's how often I have been making it. It's too easy, too good, and it has burrata on top.
The sauce is a simple combination of olive oil, burst cherry tomatoes, red pepper flakes, and parmesan cheese that comes together in less time than it takes for your pasta water to boil. It's so full of fresh flavor, especially after being topped with handfuls of mint and dollops of burrata.
Good luck trying to NOT make it weekly (or even more frequently, ahem. Been there.)

Pasta with Cherry Tomatoes, Mint, and Burrata
A summery pasta with cherry tomatoes, mint, and burrata.
Ingredients
1 lb cavatappi or fusilli
2 tbsp olive oil
6 garlic cloves, minced
¼ tsp red pepper flakes
1 quart cherry tomatoes, halved
3 tbsp unsalted butter
4 oz parmigiano-reggiano cheese, grated
8 oz burrata, torn into bite sized chunks
3 cups fresh mint leaves, torn
salt and black pepper, to taste
Instructions
Bring a large pot of salted water to a boil. Add the pasta and cook to desired consistency. Drain, reserving ½ cup of the cooking water. Set aside.
Meanwhile, heat a 12-inch skillet over medium-high heat. Add the olive oil to the pan. Once hot, stir in the garlic, red pepper flakes, and a pinch of salt. Cook until fragrant, about 1 minute. Add in the tomatoes and cook until they start to burst and release their juices, about 8 minutes.
Add the pasta to the skillet along with a bit of the reserved pasta water, if needed to make a sauce. Increase the heat to high and add in the butter and parmigiano-reggiano. Toss until everything is well coated, adding more pasta water if necessary. Season to taste with salt and black pepper.
Divide the pasta among serving bowls. Top each with chunks of the burrata and a handful of fresh mint just before serving.