Hoagies get to know their vegetarian side in these baked falafel sandwiches with harissa-tomato sauce and tzatziki.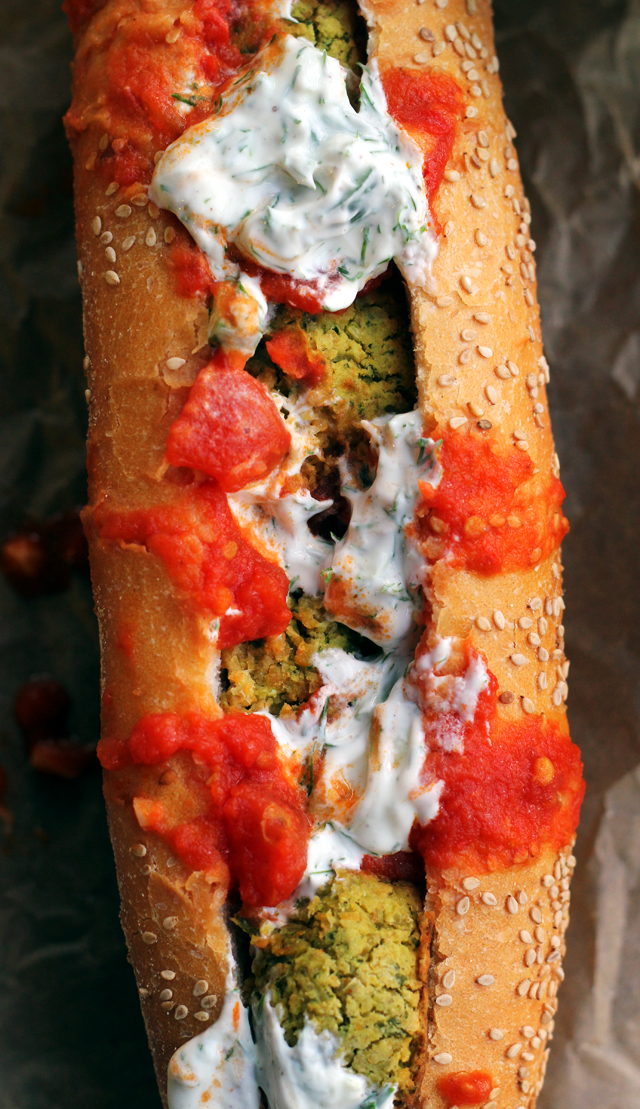 So apparently there's this thing called "winter shape".
I do not approve.
What happened to the days when winter was the time to be lazy, eat all the cookies, get pleasantly plump, and finally fill out those sweaters your third aunt once removed got you for Christmas two years ago?
What will we have to strive for come April if our bodies are already totally beach perfect?!?
How will the gyms capitalize on our muffin tops come January 1st with all sorts of sales and deals and incentive what nots if there are no muffin tops to speak of?!?
So many questions and almost no answers.
I was informed of this paradox by one of the instructors at my gym who dared to ask the class what our "winter shape goals were".
My response was something along the lines of "still fit in my clothes come spring".
Somehow I don't think that's quite the level of enthusiasm he was going for.
Everyone else was in the class was super gung ho and spewing forth answers like "Do 2700 sit ups every day!", "Give up gluten!" and "Limit my non-raw food intake to once a week!"
Veto, veto and WHO ARE YOU.
If it's all the same to you, I'll keep my gluten, my pasteurized milk, and any and all food that is heated above 100F.
And I'll really really enjoy it.
Starting with these hoagies.
Now that football-watching season is here, the.boy attempts to eat all sorts of shenanigans. Some days I let it slide, while others I barricade the kitchen. (It's a crap shoot.)
And 99.9% of the time, I'm all like HEY! Why does that guy get all the fun?
Subs and hoagies are usually chock full of meat, and even if there is a vegetarian option, it's a snoozefest.
But not anymore.
These baked falafel hoagies take sandwiches to a whole new level of crazy awesome. Not only are the falafel themselves moist and totally full of protein, fiber and great Middle Eastern flavor, but they are smothered in a spicy harissa-tomato sauce and a refreshing lemon dill tzatziki.
It's kind of the perfect bite. I advise you to go for it.
Baked Falafel Hoagies with Harissa Tomato Sauce and Tzatziki
Hoagies get to know their vegetarian side in these baked falafel sandwiches with harissa-tomato sauce and tzatziki.
Ingredients
For the falafel
1 cup packed kale
1 tbsp olive oil
juice of ½ lemon
pinch of salt
1½ cups cooked chickpeas, rinsed
4 cloves garlic, minced
2 large shallots, chopped
2 tsp ground cumin
½ tsp coriander
pinch of black pepper
pinch of cayenne pepper
For the harissa tomato sauce
1 tbsp olive oil
2 garlic cloves, minced
28 oz canned diced tomato
2 tbsp harissa
1 tsp sugar
For the tzatziki
2 cups Greek yogurt
2 cups diced cucumber
½ cup fresh dill, diced
¼ cup lemon juice
2 garlic cloves, minced
½ tsp salt
¼ tsp black pepper
4 hoagie rolls
Instructions
For the falafel, heat oven to 425. Line a baking sheet with parchment paper and set aside.
In the bowl of a food processor, pulse together the kale, olive oil, lemon juice, and salt until smooth. Add the chickpeas, garlic, shallots, cumin, coriander, black pepper, and cayenne pepper. Pulse until mixture is combined but not pureed.
Scoop the mixture into 2-3 tbsp sized balls and place them on the prepared baking sheet. Bake for 35-40 minutes, or until starting to brown. Let cool while you prepare the remaining ingredients.
For the tomato sauce, in a large pot over medium heat, heat the olive oil. Stir in the garlic and let simmer for 30 seconds or until fragrant. Stir in the diced tomato, harissa, and sugar. Season to taste with salt and black pepper. Set aside.
For the tzatziki, in a large bowl, stir together the Greek yogurt, cucumber, dill, lemon juice, garlic cloves, salt and black pepper. Season to taste.
To make the sandwiches, halve 4 hoagie or sub rolls. Fill with the falafel and then top with the tomato sauce and tzatziki.
For more sandwich ideas, check out these: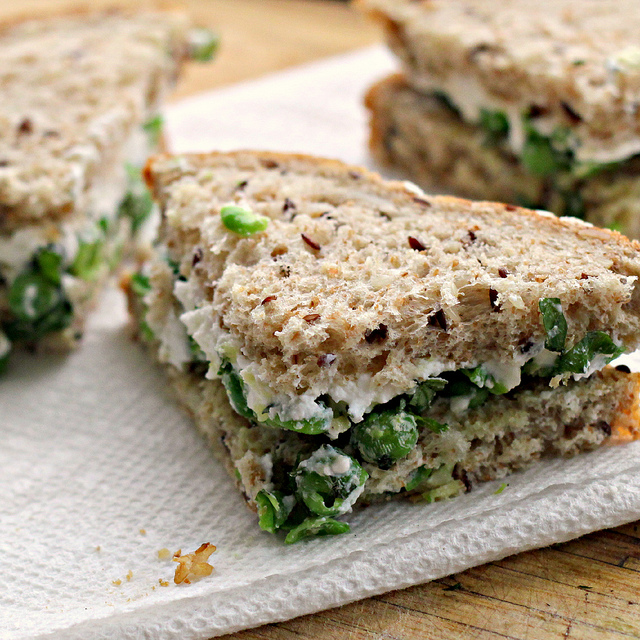 Gingered Pea Tea Sandwiches with Ricotta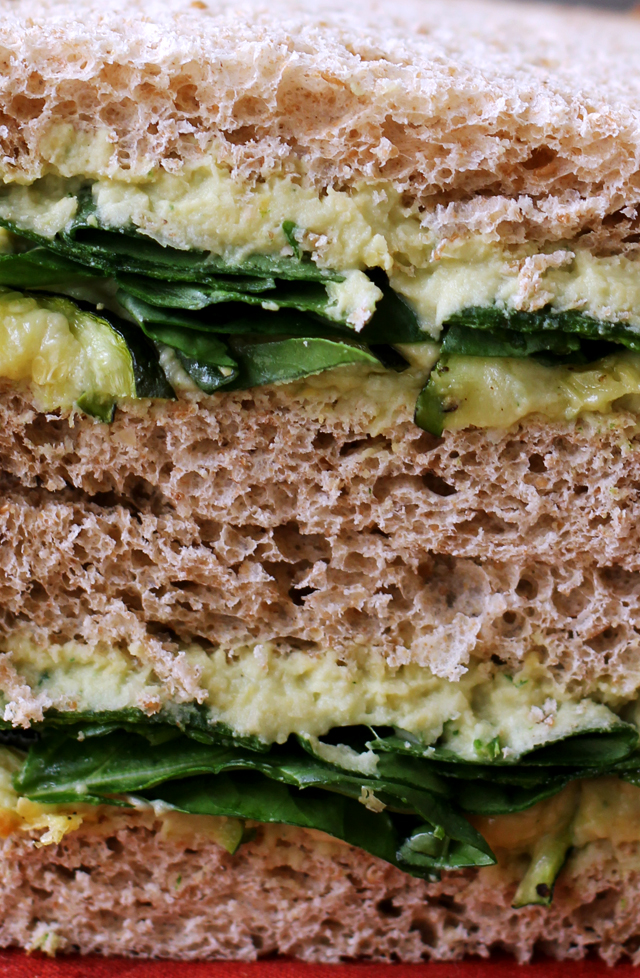 Roasted Zucchini, Garlic and Basil Hummus Sandwiches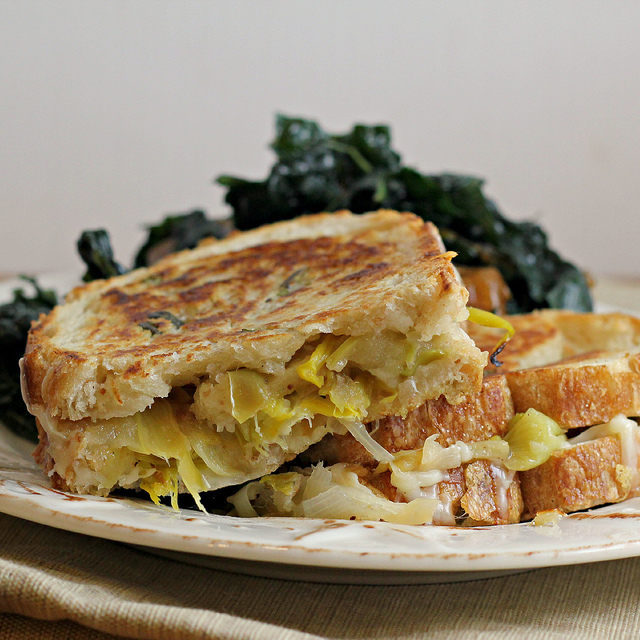 Apple, Leek and Gruyere Grilled Cheese
From Around the Web:
Lasagna Grilled Toast Sandwiches from Diethood
Chipotle Peach BBQ Farro Sandwiches from Oh My Veggies
Grilled Cheese Sandwiches with Broccoli, Sauteed Red Onions, and Red Pepper Flakes from Blogging Over Thyme
Gruyere, Fig Jam and Arugula Breakfast Sandwiches from How Sweet Eats
Apple Sandwiches with Almond Butter and Granola from Garnish With Lemon