String bean casserole is lightened up with homemade spicy sriracha baked onion rings and a smoky creamy cream-less sauce.
Disclosure: This post was sponsored by Silk. As always, my thoughts and opinions are my own. Thank you for supporting the brands that keep me inspired in the kitchen!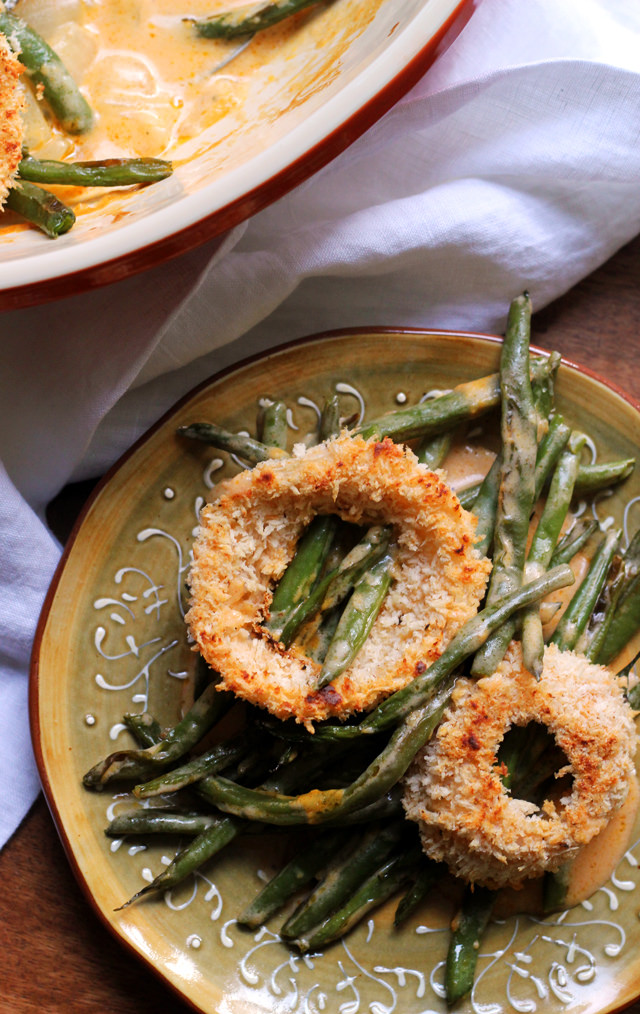 I'm having very conflicted feelings about Thanksgiving this year.
On the one hand THANKSGIVING! CRANBERRY SAUCE! ALL THE PIE!
On the other hand, 48 hours before the wedding do I really need to be in the kitchen cooking all the things?
This seems like an existential crisis in the making. Send help. (And pie.)
I refuse to miss out on a single second of Thanksgiving cheer and overeating, though, so I've been spacing my favorite parts of the holiday out throughout the past few weeks, all under the auspices of recipe testing and #foodbloggerproblems, though we all know these are really the best problems to have.
One of the Thanksgiving classics that I love to hate and hate to love is the green bean casserole. With can after can of condensed cream of something soup mixed all up in there, it's usually more of a "don't ask, don't tell" situation as I shovel bite after bite into my mouth in ignorant bliss. But when you're DIY-ing Thanksgiving over a three month period, you do kind of have to figure out what goes into things, as it turns out. Having never actually made it myself, I was fairly horrified that most recipes call for artificial this, that, and the other thing, while categorizing the dish as a vegetable. Ummm, what now? 
That was not going to fly in my kitchen, so I set to making a green bean casserole that was not only made with all totally fresh REAL things, but also had some smoky spicy jazzed up flavor going for it. Dare I say, it might even classify as a real live legitimate health food?
I dareth.
There are a few (not so) small things that set this green bean casserole apart from it's processed food filled brethren.
To start, I totally nixed the shelf stable weirdo fried onion crispy things for panko-crusted baked onion rings that have been double dipped in a mixture of buttermilk and sriracha. They bring the heat in that slow subtle burn kind of way. It's a good thing.
Then, the green beans are roasted instead of steamed or boiled so that they get all crispy caramelized on the outside. You might confuse them with French fries and try to eat a whole batch in one sitting, straight from the pan. I've been there. It's okay. Just make double what you think you'll need and everything will work out.
Finally, since I refuse to let the "cream of" brigade within a 200 foot radius of my apartment door, I used Silk Original Unsweetened Almondmilk to make a creamy without the cream sauce that gets a hint of smokiness from a dash of smoked paprika. It adds some much-needed umami to the casserole party.  Feel free to lick the pot clean.
Everything is tossed together in a casserole pan and baked until thickened.
Serve as dinner, with bread to sop up all that sauce, or as the side dish that it was meant to be. There are no rules when it comes to pre-Thanksgiving! Eat as desired.
Smoky String Bean Casserole with Sriracha Buttermilk Onion Rings
String bean casserole is lightened up with homemade spicy sriracha baked onion rings and a smoky creamy cream-less sauce.
Ingredients
For the onion rings
1 medium Vidalia onion, thickly sliced
2 cups panko bread crumbs
1 tbsp salt
1 tbsp garlic powder
1 tsp black pepper
½ tsp cayenne pepper
2 cups buttermilk
1 tbsp sriracha
For the casserole
1½ lb fresh string beans, trimmed and halved
2 tbsp olive oil
salt and black pepper, to taste
2 tbsp unsalted butter
1 medium onion, diced
2 tbsp all purpose flour
1 cup vegetable broth
1 cup Silk original unsweetened almondmilk
½ tsp smoked paprika
Instructions
Heat oven to 475F. Line a baking pan with parchment paper.
In a large, shallow bowl, stir together the breadcrumbs, salt, garlic powder, black pepper, and cayenne. Set aside. In a separate bowl, whisk together the buttermilk and sriracha. Dip each onion slice into the buttermilk mixture, then dredge with the panko mix. Repeat with another coat of buttermilk and a second layer of bread crumbs. Set on the parchment-lined baking sheet. Repeat with remaining onion rings.
Bake onion rings for 25-30 minutes, or until golden brown and crispy. Set aside.
Lower oven to 450F. In a large bowl, toss together the string beans and olive oil. Season to taste with salt and black pepper. Spread out on a second parchment-lined baking sheet. Roast for 15-20 minutes in the oven until crispy and starting to brown. Remove from oven.
Meanwhile, in a large saucepan, heat the butter over medium heat. Add the onions to the pan and saute until translucent, about 4-5 minutes, stirring frequently. Stir in the flour and saute for 1 minutes, stirring constantly. Slowly stir in the vegetable broth and almond milk. Simmer until mixture is thickened. Stir in the smoked paprika. Season to taste with salt and black pepper.
In a large casserole, toss together the string beans with the sauce. Top with the onion rings.
Place in the oven and bake until bubbly, about 15-20 minutes. Serve immediately.
Notes
An Eats Well With Others Original
Nutrition Information
Serving size:
⅙th of recipe
 Sign up and get Silk® coupons, new offers and recipes once a month AND monthly giveaways like a chance to win Silk® for an entire year!
Follow Silk® on Facebook for even more great ideas for creating healthier plant-based, dairy and gluten free recipes!
For more Thanksgiving side dishes, check out these: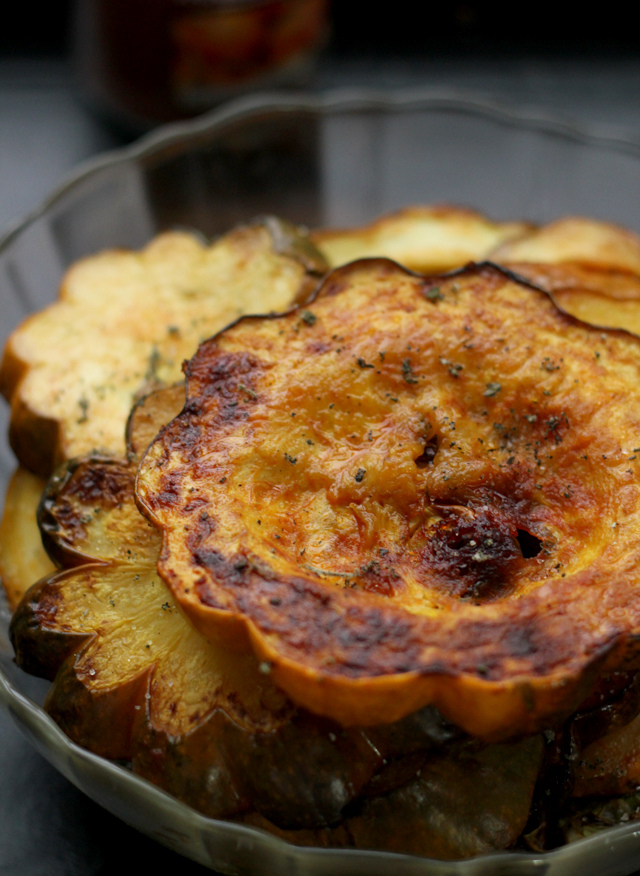 Roasted Acorn Squash and Brussels Sprouts with Honey, Smoked Paprika and Sage Salt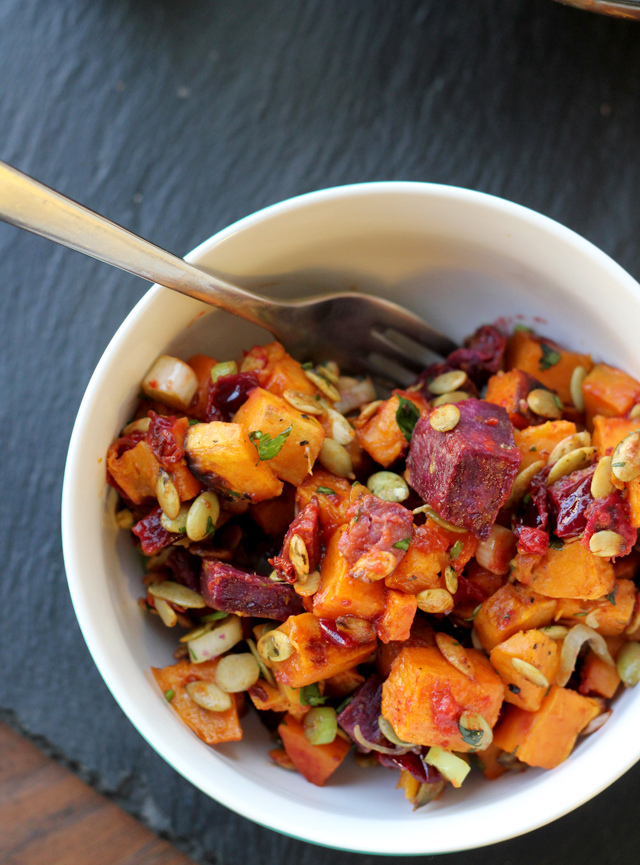 Roasted Sweet Potato Salad with Cranberry Chipotle Dressing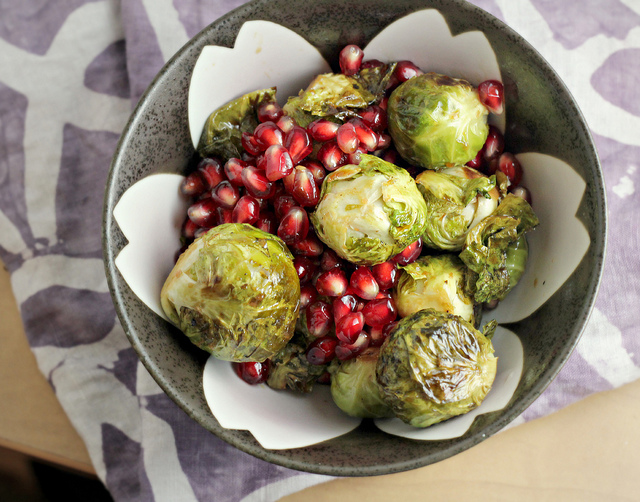 Roasted Brussels Sprouts with Pomegranates
From Around the Web:
Balsamic Brussels Sprouts with Maple, Walnuts and Feta from The Law Student's Wife
Citrusy Brown Rice with Butternut Squash and Pomegranate from The Roasted Root
Roasted Citrus Thyme Ombre Carrots from See and Savour
Tart Cherry Glazed Brussels Sprouts from Love & Olive Oil
Roasted Brussels Sprouts with Cream and Aleppo Pepper from Healthy Green Kitchen
This conversation is sponsored by Silk. The opinions and text are all mine.