These sweet smoky roasted brussels sprouts and acorn squash rings make the perfect fall veggie side dish!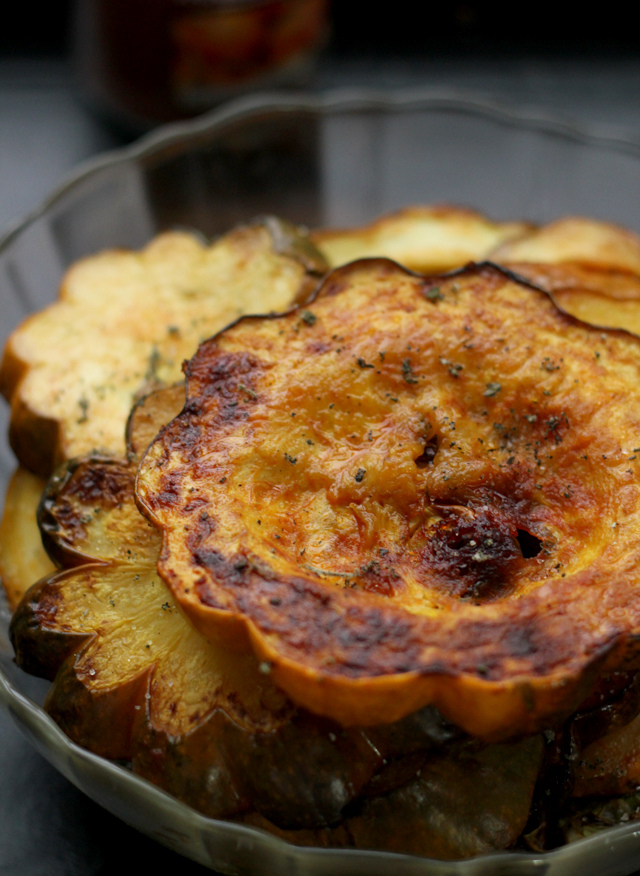 This time of year always afflicts me with side stress.
Not, like…stress in my side.
That would be weird.
Actually this is the first November in approximately four years that I haven't been running-injured on Thanksgiving. And my thighs are oh so thankful for it.
They celebrated by running a 4 mile race on a 23-but-feels-like-8-degree-fahrenheit morning this past Sunday with one of my oldest running friends.
I almost lost a pinky and part of my earlobe. It was a worthy cause.
But I digress.
Side stress = stress over sides.
Especially when you demand that those sides be modestly healthy, mostly veggie…and appeal to the palate of the general population (aka your brother). Not an easy task.
You would think, being a vegetarian, that I'd be pretty adept at this kind of thing. But my tastes are decidedly…out there. And no one wants to eat a meal that consists entirely of pumpkin served twelve ways.
Or do they?
Well this is acorn squash served only one way, but it's one of the most delicious, crowd-pleasing ways that I've ever encountered. Acorn squash slabs are brushed with a honey smoked paprika salty blend, while brussels sprouts are tossed with it, and then the two get all roasted up to sweet smoky salty side dish perfection.
I served it at my work Thanksgiving potluck and it was demolished. Even the veggie-haters ate it. And that says something.
If you are in any kind of position to change up your Thanksgiving menu at this late date or even if you just happen to have some extra sprouts and squash tucked away in your fridge, then you need to give this a go.
Side stress ain't got nothin' on this.
One year ago…Roasted Brussels Sprouts with Pomegranates, Roasted Carrot and Red Quinoa Salad
Four years ago…Butternut Squash Puree
Roasted Acorn Squash and Brussels Sprouts with Honey, Smoked Paprika, and Sage Salt
These sweet smoky roasted brussels sprouts and acorn squash rings make the perfect fall veggie side dish!
Ingredients
2 medium acorn squash, trimmed
1 lb brussels sprouts, trimmed and halved
4 tbsp olive oil
4 tsp honey
2 tsp smoked paprika
1 tsp kosher salt
4 large sage sprigs (about 16 leaves)
2 tsp coarse sea salt
Instructions
Preheat the oven to 350. Slice the squash crosswise into ½-inch rings, scooping out the seeds from the center of each.
In a small bowl, whisk together the oil, honey, paprika, and kosher salt. Arrange the squash on a large baking sheet lined with parchment paper and the brussels sprouts on a second baking sheet lined with parchment paper. Brush the honey/oil mix over the acorn squash slices and toss the brussels sprouts with the rest. Place the sage leaves in a small baking pan.
Transfer all the pans to the oven. Roast the sage leaves until they are crisp, about 15 minutes. Set aside. Raise the oven temperature to 400. Continue roasting, turning the squash once midway through, for about 30 minutes.
Transfer the squash and brussels sprouts to a platter. Crumble the sage in a small bowl and mix with the coarse sea salt. Sprinkle some of the sage salt over the veggies before serving.
Notes
Adapted from
Cook This Now: 120 Easy and Delectable Dishes You Can't Wait to Make
Nutrition Information
Serving size:
⅛th of recipe