This pizza-sized galette is filled with a savory butternut squash, caramelized onion, and cheesy mix that will leave you craving slice after slice!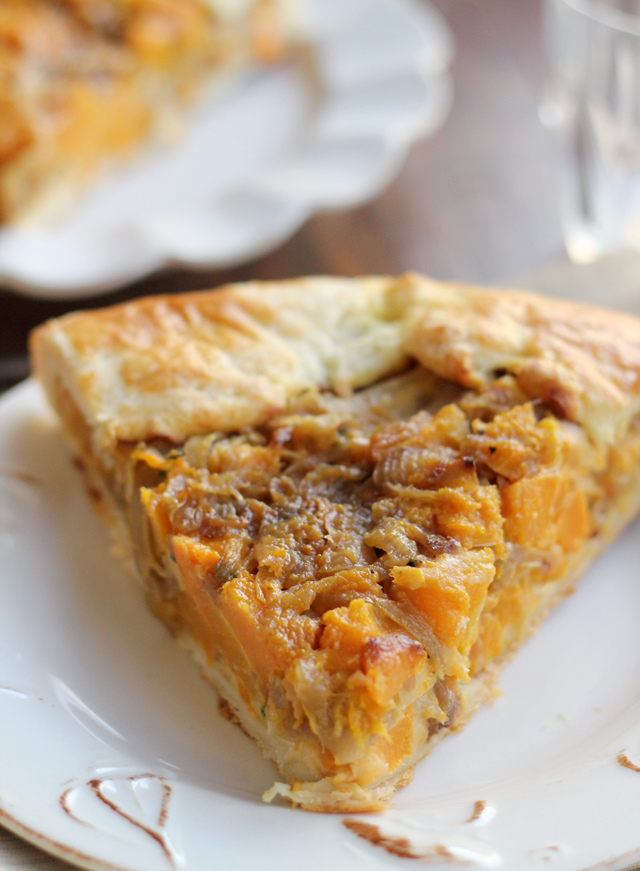 If you've spent your life up to this point imagining galettes as a pinkies up kind of food, so fragile that any local shift in atmospheric temperature and pressure will almost certainly break them. Well, this is the bull in the proverbial china shop.
The offensive lineman mid-pliè in ballet class.
A pizza in buttery flaky crust clothing.
It's time to leave any and all preconceived notions you had of delicate crusts, finicky fillings and slices that you felt really should leave you full given just how much butter they contain but inevitably did not, at the door.
Because this is none of those.
Rather, it's some kind of distant relative on the big boned side of the galette family.
The side that has to shop in the husky department at Macy's.
The side you want to go to all-you-can-eat-sushi with. (Because it's just no fun when you're the only one putting back six rolls in one sitting. Not that I know anything about that…)
The side that you kind of don't want to go anywhere near your Thanksgiving table for fear that they will eat ALL THE PIE and 99% of the stuffing in one sitting.
Except opposite because you totally want this galette on your Thanksgiving table.
I've made a whole bunch of vegetarian Thanksgiving options this year (and last year and the year before that) but this is absolutely my favorite. Sweet caramelized roasted butternut squash is mixed up with with savory sweet caramelized onions and creamy melty fontina.
And then packaged in the flakiest of flaky crusts. Which is also, coincidentally, the easiest-to-work-with of flaky crusts.
Not to mention that it's HUGE. Literally as big as a pizza and more than enough to serve a crowd.
Or just two people. Times three nights. Gluttony at it's finest. And most worth it.
This is my submission to Week 4 of the 12 weeks of winter squash! Check below to see what others have done with them this week. And feel free to add links to anything you've made with winter squash this week as well!
One year ago…Sweet Corn Pancakes with Blueberry Balsamic Sauce
Two years ago…Caramel Apple Cheesecake Pie, Butternut Squash and Potato Pie with Tomato, Mint and Manchego
Three years ago…Butternut Squash and Vanilla Risotto, Smashed Sweet Potatoes and Butternut Squash with Five-Spice Marshmallows
Four years ago…Butternut Baked Ziti, Coconut Cupcakes
Butternut Squash and Caramelized Onion Galette
This pizza-sized galette is filled with a savory butternut squash, caramelized onion, and cheesy mix that will leave you craving a second slice!
Ingredients
For the crust
2½ cups all purpose flour
½ tsp salt
16 tbsp unsalted butter, chilled and cut into ½-inch cubes
½ cup Greek yogurt
1 tbsp white wine vinegar
⅓ cup ice water
For the filling
1 large (2½ lb) butternut squash
3 tbsp olive oil
1½ tsp salt
freshly ground black pepper
1 tbsp butter
2 large Spanish or Vidalia onions, thinly sliced in half moons
¼ tsp sugar
¼ tsp cayenne pepper
2 cups grated fontina cheese
2 tsp chopped fresh sage
1 egg yolk beaten with 1 tbsp water, for glaze
Instructions
For the crust, combine the flour and salt in the bowl of a food processor, pulsing to combine. Add the butter and pulse until the texture is like cornmeal, with the biggest butter pieces being the size of pebbles. Add in the sour cream, vinegar and water and pulse just until the dough comes together. Pat the dough into a ball, wrap it in plastic and chill it for at least one hour and up to two days.
While the dough is chilling, prepare the squash. Peel it, halve it and scoop out the seeds. Cut it into ½-inch cubes and toss with 2 tbsp olive oil. Spread out on a parchment-lined baking sheet in a single layer. Sprinkle with ½ tsp salt and black pepper. Roast at 400 for 30-45 minutes, stirring once halfway, until squash is tender. Set aside to cool slightly.
While the squash is roasting, melt the butter and the remaining tbsp olive oil in a heavy skillet. Add the onions and cook over medium-low heat, adding in the sugar and remaining tsp of salt. Stir occasionally, until soft and tender, about 20-25 minutes. Stir in the cayenne pepper.
Mix together the squash, onions, cheese, and sage in a large bowl.
On a floured work surface, roll out the dough into a 16--inch round. Transfer to a parchment-lined pizza pan or baking sheet. Spread the squash mixture over the dough, leaving a 2-inch border. Fold the border over the filling, pleating it as necessary, leaving the center open. Brush the outside of the crust with the egg/water mixture.
Bake at 400 until golden brown, 30-40 minutes. Remove from the oven and let stand 5 minutes before serving.
Notes
Adapted from
The Smitten Kitchen Cookbook