Homemade chocolate pudding in a graham cracker crust – chocolate pudding pie just like mom always used to make it (but homemade)!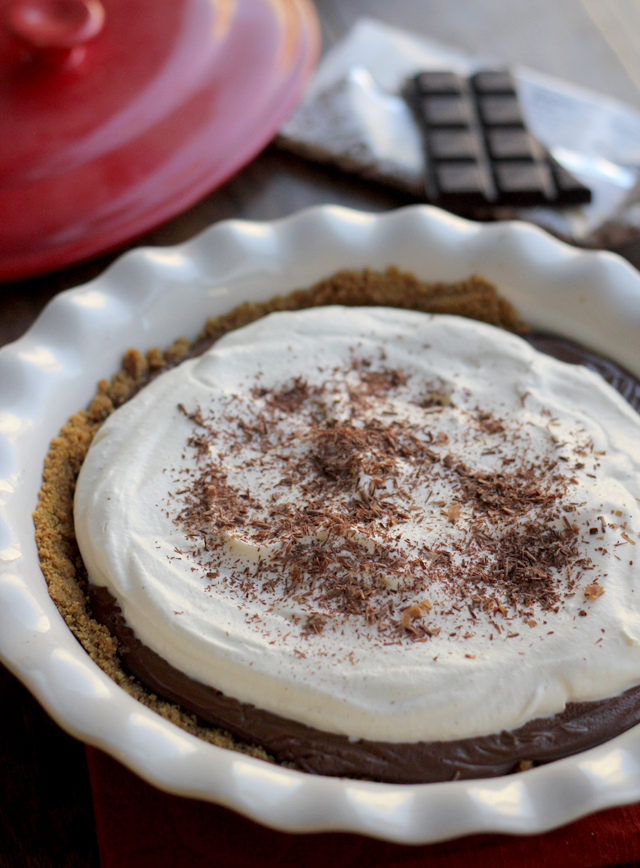 Hi. Sorry.
Sorry for (in my mind, heart, and soul) promising you a salted caramel pie today.
Sorry for trusting a certain foodie magazine and not my gut instinct when it told me to pour liquid gold (aka sweetened condensed milk) into a glass pan, cover it tightly and then bake it for two hours so that it could turn into smooth silky almost burnt sugar gold.
Sorry when it all turned to chunky beige mush instead.
I would show you a picture, but the.boy actually LAUGHED AT ME when he saw it. Then he looked at what it was suppose to look like in the magazine and he laughed more.
Then he looked at the pan again and gagged.
I just can't put you through that kind of emotional rollercoaster.
Would I do it all again just to end up with this chocolate pudding pie in my life?
Hands down. Absolutely. Without a doubt. Yes.
I actually grew up eating chocolate pudding pie at Thanksgiving every year, but when my mom made it she would use a premade crust and pudding from a box. Don't get me wrong, it was AMAZING, but that kind of semi homemade thing just doesn't jive well with this everything-from-scratch vibe I've got going on.
So when I found myself with an empty pie crust and nothing to fill it with…I knew what I had to do. Chocolate pudding pie. Or bust.
And in about 10 minutes, I had a chocolate pudding filling on my hands. That's seriously quick it was. I'm pretty sure the boxed stuff actually takes LONGER than that.
I am never going back to my semi-homemade ways. At least, not when there's rich decadent just-like-your-momma-made-it-but-better pie to be had.

So….it is the LAST.DAY.OF.PIE.WEEK. And I am kind of beside myself.
Can I just bake pies all of next week too and we'll just call it pie week squared? Or are you guys sick of all the butter and sugar? I hope not because there is a lot more where this came from in the next few weeks. So get your stretchy pants ready.
To see our beloved confections out, we hosting one last CRAZY giveaway! This time one lucky person will be winning a 13 Cup KitchenAid food processor!! I have one of these and could not make pie crust without it. It's non-negotiable. And crazy fabulous. See details for how to enter below! And make sure you check out these awesome posts from my fellow #PieLadies!
Toasted Coconut Caramel Cream Pie – The Baker Chick
Chocolate Drizzled Pecan Pie Bites– Nutmeg Nanny
S'mores Hand Pies– Chocolate and Carrots
Pumpkin Coconut Pie– Dessert for Two
Chocolate Pudding Pie– Eats Well with Others
Cranberry Apple Pie– Keep it Sweet Desserts
Caramel Chess Tart- Bake or Break
Pumpkin Ice Cream Pie with Chocolate Almond Bark- Tracey's Culinary Adventures
White Chocolate Peppermint Cream Pie– Dinners Dishes and Desserts
Smoked Salmon and Spinach Quiche– Country Cleaver
Apple Pie Ice Cream– Carla's Confections
Triple Fruit Slab Pie– Foodie with Family
One year ago…Quinoa and Sweet Potato Croquettes
Two years ago…Rosemary White Bean Soup with Fig and Walnut Tapenade
Three years ago…Brussels Sprouts with Chestnuts, Pancetta and Parsley
Four years ago…Cranberry Chutney
Chocolate Pudding Pie
Homemade chocolate pudding in a graham cracker crust - chocolate pudding pie just like mom always used to make it (but homemade)!
Ingredients
For the crust
5 oz graham cracker crumbs
¼ cup brown sugar
¼ tsp salt
4 oz butter, melted
For the filling
¼ cup cornstarch
⅓ cup plus 2 tbsp sugar, divided
3 tbsp unsweetened cocoa powder
¼ tsp salt
2 cups lowfat milk
1 cup half and half
4 oz bittersweet chocolate, finely chopped
1 tsp pure vanilla extract
1 cup chilled heavy cream
Instructions
Preheat oven to 350.
In a large bowl, combine the graham cracker crumbs, brown sugar, salt, and melted butter until they are well mixed. Pat into a 9-inch pie pan. Bake for 10 minutes, or until set. Set aside to cool.
For the filling, whisk together the cornstarch, ⅓ cup sugar, cocoa powder, and salt in a heavy 2-quart saucepan. Gradually whisk in the milk, making sure to mix in the dry ingredients in the corners of the pan. Bring to a boil over medium heat, whisking constantly, and then boil for 2 minutes, still whisking, allowing the mixture to thicken. Remove from the heat and whisk in the chocolate and vanilla.
Pour the filling into the shell and cover with wax paper or plastic wrap that has been sprayed with cooking spray. Let chill for at least 2 hours.
Just before serving, beat the cream with the remaining 2 tbsp of sugar until it holds firm peaks. Spoon onto the pie and garnish with chocolate shavings.