This roasted squash with yogurt, walnuts, and spiced green sauce makes for a stunning side dish. Add chickpeas to make it a main course!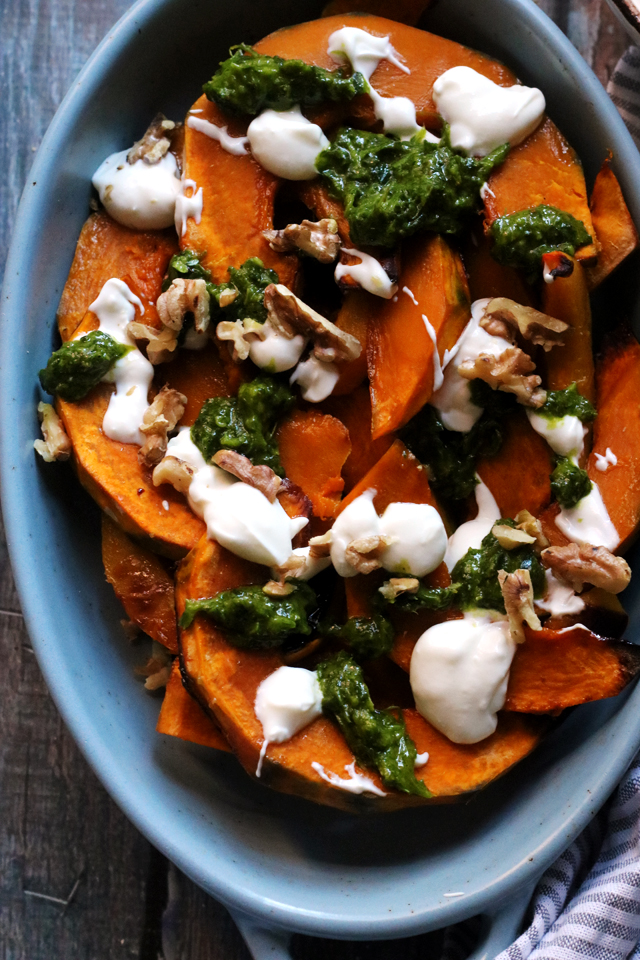 Side dishes are not my forté. I suspect that has something to do with the fact that vegetarian meals don't often require them, or at least the ones that I make don't. This is in part intentional because during the week I barely have time to get one course on the table, let alone multiple meal components. BUT it also means that on holidays or special occasions that require one main dish and a bunch of sides or appetizers, I am generally at a loss on what to make.
Knowing that I'm hosting both Christmas and Christmas Eve in a few weeks, I've started auditioning dishes for the big days. There have been hits, there have been misses, and then there was this roasted squash with yogurt, walnuts, and spiced green sauce.
HOUSTON. WE HAVE A WINNER.
A medley of sweet roasted squash (I've used kabocha and carnival squash, but any winter squash will do) is paired with a thick and creamy lemony yogurt sauce and a bright lightly spiced herb-filled green sauce. Topped with toasted walnuts and a drizzle of olive oil, it combines flavors and textures that somehow work to contrast and compliment each other simultaneously.
There are a few components that go into this, but each of them can be prepared ahead of time so that assembly on the day of serving goes smoothly and quickly.
What I quite ironically love most about this dish, though, is that it can double as both a side and a main meal. At home I've tossed it with some harissa-roasted chickpeas to give it a little bit of a protein boost as well as more substance and staying power. However, I can also see it being quite excellent as is served over some warm pita or flatbread to round out the meal.
Roasted Squash with Yogurt, Walnuts, and Spiced Green Sauce
This roasted squash with yogurt, walnuts, and spiced green sauce makes for a stunning side dish. Add chickpeas to make it a main course!
Ingredients
For the spiced green sauce
½ tsp coriander seeds
1 tsp cumin seeds
seeds from 4 cardamom pods
4 oz can chopped green chiles, drained
3 garlic cloves
1 bunch cilantro leaves
1 bunch parsley leaves
1 tbsp fresh lemon juice (plus more to taste)
salt and black pepper
½ cup extra virgin olive oil
For the squash
1½ cups whole milk yogurt
1 garlic clove, grated
1 tbsp lemon juice
salt and black pepper
1 kabocha squash
1 acorn or carnival squash
olive oil
2 tbsp maple syrup
¼ cup toasted walnuts, chopped
Instructions
For the spiced green sauce
Toast the coriander, cumin, and cardamom seeds in a dry skillet over medium heat until fragrant, shaking the pan frequently. Turn out of the skillet onto a plate to cool, then grind to a fine powder. Set aside.
Place the chiles and garlic in the bowl of a food processor. Pulse until finely chopped. Add in the cilantro, parsley, spice powder, lemon juice, 1 tsp salt, and a few grinds of black pepper. Pulse until chopped into a coarse puree. With the processor running, drizzle in the olive oil until combined. Season to taste with salt, black pepper, and lemon juice. Cover and refrigerate until ready to use.
For the squash
Heat oven to 400F.
Meanwhile, line a fine-mesh sieve with cheesecloth and set it over a bowl. Place the yogurt in the cheesecloth and allow to drain while you prepare the squash, at least 1 hour.
Once the yogurt is drained, pour into a bowl and stir in the grated garlic, lemon juice, and ¼ tsp salt. Set aside.
Peel the skin off of the squash. Cut them in half and scoop out the seeds, then cut into ½-inch slices. Toss the squash slices a few tbsp of olive oil and the maple syrup. Spread onto two parchment-lined baking sheets and season with salt and black pepper. Place in the oven and roast for 30 minutes, rotating the pans halfway through. Allow to cool slightly.
Arrange the squash on a platter, topped with dollops of the yogurt, green sauce, and walnuts. Serve at room temperature.