A festive cranberry pie topped with a thick oat-pecan crumble.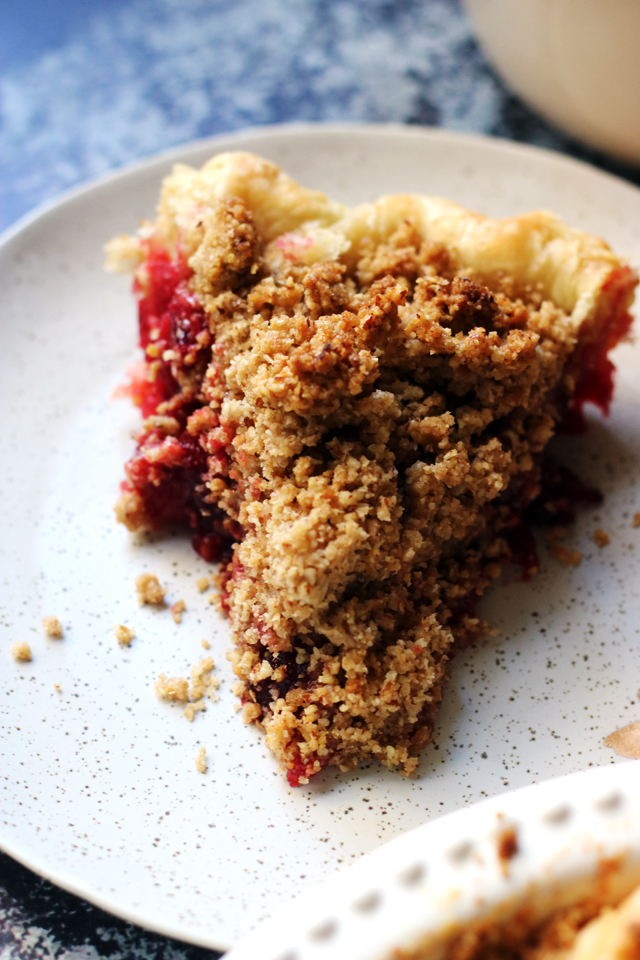 Don't mind me. Still here, making and eating and professing my love of pie.
I JUST CAN'T STOP.
Pie making has become an addiction of sorts.
I've only just gotten the hang of rolling the dough into an ovoid sort of shape without cracks and tears everywhere and, not only that, I can do it in under five minutes. It only took ten years. And finding the perfect all-butter pie crust recipe (Four and Twenty Blackbirds, ILOVEYOU.)
But yeah, now I just keep doing it, trying to perfect it even more. Get the process even faster. My crimps more crimpy. My flakes more flaky. Y'know.
Pretty soon I may even try adding decorative pie toppers and from there, the sky is the limit. I may never stop.
There aren't that many fruits that are good enough to be pie-d at this time of year, but cranberries are the underdog among them.
Everyone is all apples! pumpkin! pear! pecan!, when really they should be yelling CRANBERRY!! from the rooftops. Not only are they the perfect combination of sweet-tart, but they also carry an incredibly high pectin load so they self-gel ensuring an extra flaky bottom crust.
In the words of Paul Hollywood, no soggy bottoms here. (<3 <3 <3 Great British Baking Show).
The cranberries are cooked on the stovetop ahead of time just until they start to thicken and are lightly spiced with cinnamon and ginger to sweeten them a bit more. They are then plopped into the center of the pie crust and topped with a ultra thick pecan-oat crumble.
Some may call the ratio of crumble:filling:crust excessive. (It's like… 5:2:1). I call it perfection.
Long live the pie!

Cranberry Pie with Oat-Pecan Crumble
A festive cranberry pie topped with a thick oat-pecan crumble.
Ingredients
For the crust
1¼ cups all purpose flour
½ tsp kosher salt
1½ tsp sugar
¼ lb (1 sticks) cold unsalted butter, cut into ½-inch pieces
½ cup cold water
2 tbsp cider vinegar
½ cup ice
For the filling
4½ cups fresh or frozen cranberries
1 cup sugar
zest of 1 mandarin orange
pinch of salt
1 tbsp cornstarch
For the oat-pecan crumble
⅔ cup rolled oats
¾ cup pecans
½ cup all-purpose flour
⅓ cup granulated sugar
⅓ cup dark brown sugar
1 tsp ground cinnamon
½ tsp ground ginger
¼ tsp sea salt
6 tbsp unsalted butter, melted and cooled
Instructions
For the crust
Whisk together the flour, salt, and sugar in a large bowl. Add the butter to the flour mixture and toss to coat. Using a pastry blender, cut the butter into the flour until only pea-sized pieces of butter (or smaller) remain.
In a separate small bowl, combine the water, cider vinegar, and ice. Sprinkle 2 tbsp of the ice water mixture over the flour-butter mixture. Toss with your hands until fully incorporated. Add more of the ice water, 1-2 tbsp at a time, using your hands to mix. Add just enough of the water mixture so that the dough comes together into a ball. Wrap in plastic wrap and refrigerate for at least 1 hour.
Roll out the pie disc into an 11-inch round. Use this to line the pie plate and crimp the edges as desired. Place in the freezer while you prepare the filling.
For the filling
Combine the cranberries, sugar, mandarin zest, salt, and cornstarch in a medium pot over medium heat. Cook until the cranberries start to release some juice, about 5 minutes. Then cook another 5 minutes more, stirring frequently until the filling has thickened and all of the cranberries have burst. Transfer to a bowl and allow to cool for 5-10 minutes.
For the crumble
Place the oats in the bowl of a food processor and grind until they form a powder. Add in the pecans and process until coarsely ground. Add in the flour, sugar, brown sugar, cinnamon, and sea salt. Pulse to combine. Add in the melted butter and pulse just until thick crumbs form. Set aside.
For the pie
Heat oven to 375F.
Pour the cranberry filling into the prepared pie crust and top with the crumble.
Place on a parchment- or foil-lined baking sheet and bake for 45-50 minutes, or until the juices are bubbling. Allow to cool to room temperature before serving.