Linguine with lemony pea pesto, artichokes, and ricotta is the epitome of spring eating!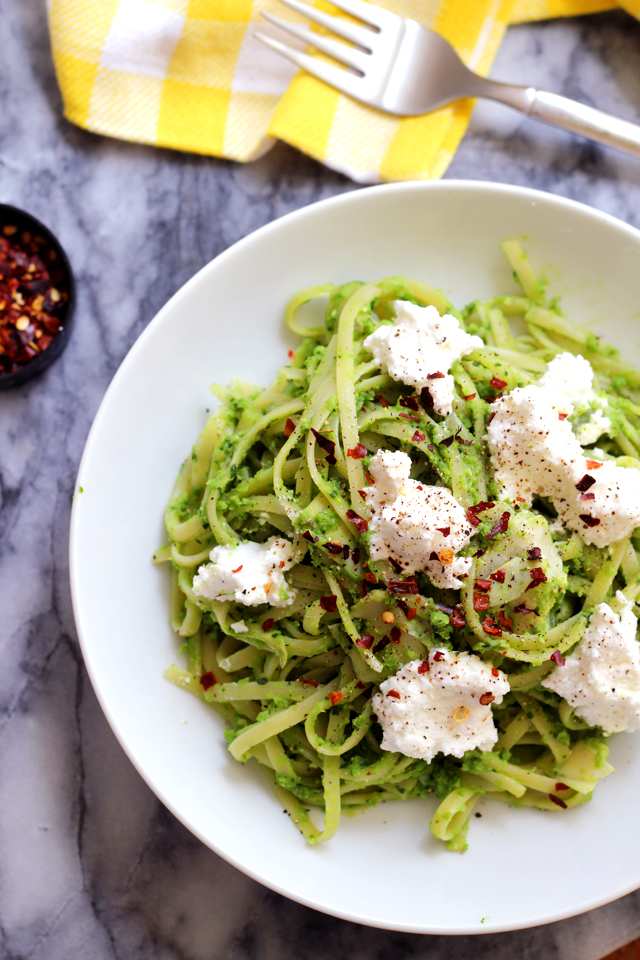 I downloaded a week's worth of recipe photos off my camera after making this only to find that they were
All. Pasta.
All FIVE RECIPE'S WORTH OF THEM.
Uhhh, cravings much?
I promise I'll try to spread them out so we don't all go into too much of a carb coma, but given that it's a gazillion degrees here and this pasta takes all of boiling a pot of water and pressing GO on a food processor to make, I couldn't resist sharing it first.
Also, it's just really dang good. So there's that.
If you've never thought to bulk up your pesto with all sorts green vegetables, then I am about to BLOW.YOUR.MIND.
It's such a genius idea, especially when feeding picky eaters. As a kid, I hesitated to eat any vegetable in its natural state, but for some reason pesto was totally kosher. Think of all the nutrients my mom could have stuffed into me if she had just blended them up with some basil, pine nuts, garlic, and olive oil!!!
The possibilities are endless.
The sweetness of peas plays especially well with the bright basil flavor and a touch of lemon lends just enough tartness to round it all out. I tossed it with linguine and chopped artichoke hearts and OF COURSE dollops of ricotta because how could you not!?
Sprinkles of red pepper flakes and freshly ground black pepper are highly recommended, though not mandatory if you're feeding sensitive taste buds. Like your kids. Or your husband. Or anyone else in your life with an embarrassingly low spice tolerance.
Linguine with Lemony Pea Pesto, Artichokes, and Ricotta
Linguine with lemony pea pesto, artichokes, and ricotta is the epitome of spring eating!
Ingredients
For the lemony pea pesto
16 ounces frozen peas
1 ounce basil leaves
2 cloves garlic, minced
2 tablespoons pine nuts
2 tablespoons olive oil
1 tablespoon fresh lemon juice
Salt, to taste
For the pasta
1 lb linguine
1 (14 oz) can quartered artichokes, coarsely chopped
2 cups ricotta
red pepper flakes and black pepper, to taste
Instructions
Bring one large and one medium pot of salted water to a boil. Add the peas to the smaller pot and cook for 5 minutes, or until bright green and heated through. Drain.
In the bowl of a food processor, pulse the peas, basil, garlic, and pine nuts together until they are minced. Stream in the olive oil while the food processor is still running and puree until creamy and well-combined. Add the lemon juice to the food processor bowl and pulse until they're fully incorporated. Season to taste with salt.
Cook the linguine until al dente, according to package directions. Drain.
In a large bowl, toss the linguine with the pesto and the artichoke hearts. Serve topped with dollops of ricotta, red pepper flakes, and black pepper, to taste.
Notes
An Eats Well With Others Original
Nutrition Information
Serving size:
⅙th of recipe