If you are berry-obsessed then these ultimate blueberry pancakes will ROCK YOUR MORNING with berry bursts in every bite!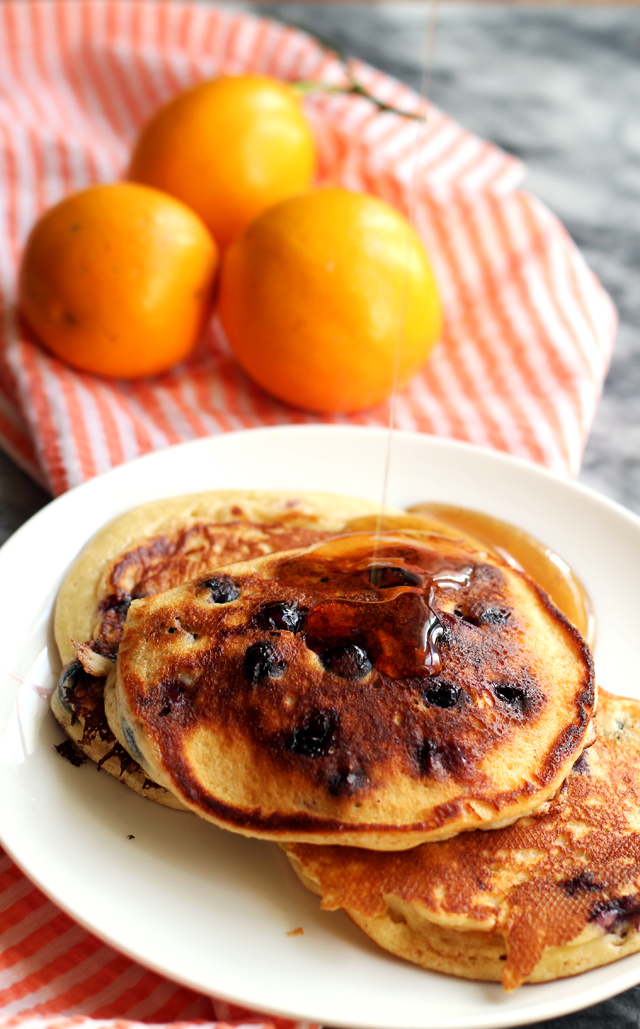 I'm alive!!!
And still quite with child. In belly.
In extra extra large belly. Seriously, a lot of my maternity clothes don't even fit anymore. That's how large.
And I am STUBBORN, so with three-ish (or less! pretty please, less!) weeks left to go, I refuse to buy more. Thankfully, currently being on my surgery rotation means I can wear scrubs every day during the week and then I pretty much live in leggings and too-small tops all weekend.
It's classy.
To be honest, these last few weeks I've felt like I've been hit by a truck-sized load of EXHAUSTION. It's like the first trimester all over again, except with an actual being inside of me who moves constantly and gives me Braxton Hicks constantly and makes me eat Tums constantly.
This little girl and I are going to have words when she finally pops out. And by that I mean, I'm probably going to eat her feet.
Literally.
Suffice it to say, my cooking mojo has been all over the place. Except, apparently, when it comes to BREAKFAST.
I could spend hours dreaming about breakfast, wishing for pancake French toast crepe omelet mornings all day every day.
There is truly no limit to my obsession, and I've been allowing myself to indulge as much as and whenever possible because who knows when this kiddo will make her appearance and put all of my lazy weekend mornings to an end. Combine this with my near-constant berry cravings and you'll understand why I HAD TO HAVE these ULTIMATE blueberry pancakes. They are originally from my friend Ashley's site. She calls them the "blueberry pancakes of your dreams" and she is so right because I haven't stopped dreaming about them since I made them a few weeks ago.
Crazy, vivid, I-can-almost-taste-them preggo style dreams.
There is really nothing better than waking up knowing that these are in your near future. Heck, maybe I'll even get my act together and freeze a few batches for quick post-baby breakfast eats…if I can restrain myself from eating them all first!
Ultimate Blueberry Pancakes
If you are berry-obsessed then these ultimate blueberry pancakes will ROCK YOUR MORNING with berry bursts in every bite!
Ingredients
3 large eggs, separated into yolks and whites
1 cup Greek yogurt
3 tbsp whole milk
3 tbsp dark brown sugar
½ tsp salt
1½ tsp vanilla extract
2 tsp baking powder
⅔ cups + 2 tbsp all-purpose flour
1½ cups fresh blueberries
butter, for the pan
Maple syrup, for serving
Instructions
In a large bowl, whisk together the egg yolks, Greek yogurt, milk, drak brown sugar, salt, vanilla, baking powder, and flour. Stir in the blueberries until just combined.
In a separate bowl, whisk the egg whites until soft peaks form. Fold the egg whites into the blueberry pancake batter a third at a time until fully incorporated.
Melt some butter on a griddle or in a large pan over medium heat. Ladle ⅓ cup batter scoops on the pan, making sure not to crowd it. Cook until the edges begin to brown and the batter bubbles and pops. Flip and cook for another 1-2 minutes. Remove to a plate. Repeat with remaining batter.
Serve topped with maple syrup.
Nutrition Information
Serving size:
3-4 pancakes