Eggplant-based veggie burgers are topped with sweet salty honey-beer glazed caramelized shallots and a layer of melted cheese to make plant-based burger that you won't forget.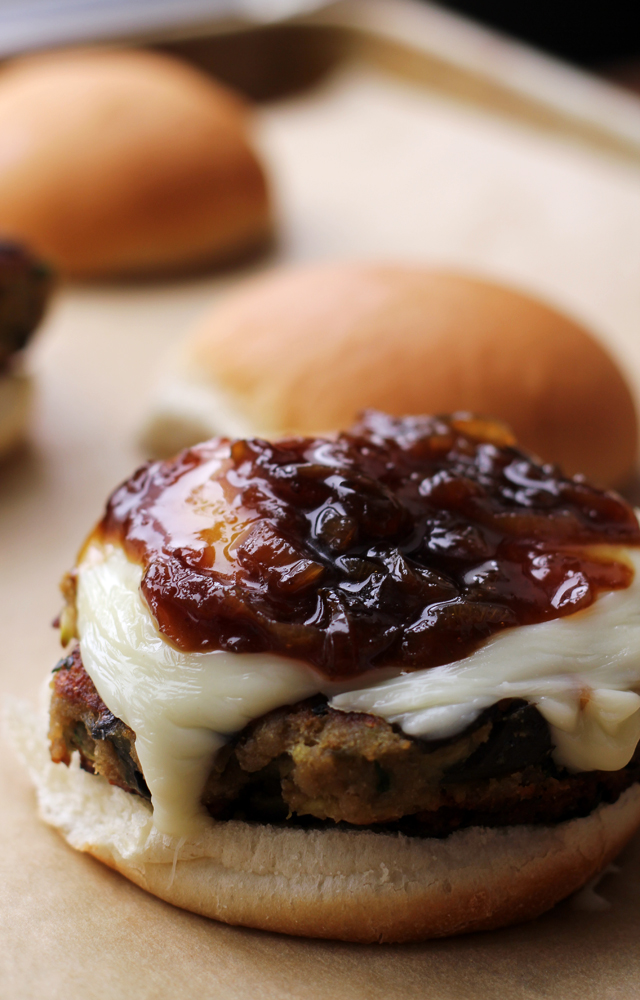 After a Saturday night of bachelor partying in Atlantic City that ended in a 3:30AM return home and a half hour of sitting by the toilet begging his body to throw up, I doubt beer-glazed anything was what the.boy wanted to see on our dinner table.
But that's just the kind of fiance I am. Always so conscientious about my future husband's food needs/wants/gag reflex.
Thankfully for the.boy (and our bathroom sink), these honey beer-glazed caramelized shallot-topped veggie burgers taste very little like the brew from whence they came and very much like the perfect mix of sweet, salty, and melted cheese.
AKA the perfect burger bite.
These burgers are a riff on my eggplant parm burgers, which have quickly become my favorite form of veggie burger-ing to date. Don't get me wrong – I love a good bean burger, but there's something about the meaty feeling that eggplant lends to these that makes them a bit more toothsome and satisfactory than their legume counterparts.
So much of burger consumption is really about the toppings, however: a thick layer of cheese is non-negotiable, and now so is a hefty smear of these caramelized shallots. A fair amount of the flavor in them does come from what kind of beer you use. I went with a summer ale, but you should definitely use something with a full-bodied flavor that you really enjoy drinking, because even though the glaze won't taste explicitly of alcohol, it will take on whatever flavor undertones that were in the beer you used.
This recipe is my submission to this month's Recipe Redux, then theme of which is cooking with spirits!

Eggplant Burgers with Honey Beer-Glazed Caramelized Shallots
Eggplant-based veggie burgers are topped with sweet salty honey-beer glazed caramelized shallots and a layer of melted cheese to make plant-based burger that you won't forget.
Ingredients
For the burgers
1 large eggplant (about 1 lb)
kosher salt, to taste
1 cup whole wheat bread crumbs
¼ cup parmesan cheese
2 tbsp minced parsley
freshly ground black pepper
1 egg, lightly beaten
4 oz provolone or gruyere
For the shallots
2 tbsp olive oil
2 shallots, thinly sliced
½ cup beer (I used Blue Moon)
1 tbsp soy sauce
1 tbsp Dijon mustard
2 tbsp honey
Instructions
For the burgers
Cut the eggplant into 1-inch cubes. Bring a pot of salted water to a boil. Add the eggplant and boil uncovered until eggplant is soft, about 10 minutes, pushing them down as necessary so that they stay in the water. Drain and let cool. Press out as much water from the eggplant as possible (I used this Potato Ricer to do it. Very finely chop eggplant.
In a bowl, combine the eggplant with the breadcrumbs, cheese and parsley. Season to taste with salt and pepper. Mix in the egg.
Split eggplant mixture into four patties. Cook on an electric grill or shallow fry in olive oil for 3 minutes on each side, turning once halfway. Transfer to a plate lined with paper towels.
Preheat oven to 350.
When ready to serve, place each burger on a parchment-lined baking sheet. Cover with a slice of cheese. Heat in the oven until cheese has melted, 2-3 minutes.
For the caramelized shallots
Heat a large skillet over medium-high heat. Add the oil to the pan and swirl to coat. Add the shallots to the pan and cook for 2-3 minutes, or until starting to brown. Add the beer, soy sauce, mustard, and honey to the pan. Bring to a boil and then simmer until liquid thickens into more of a glaze and the shallots are cooked through, about 7-10 minutes, stirring frequently.
Serve burgers topped with shallots.
For more fun veggie burgers, check out these: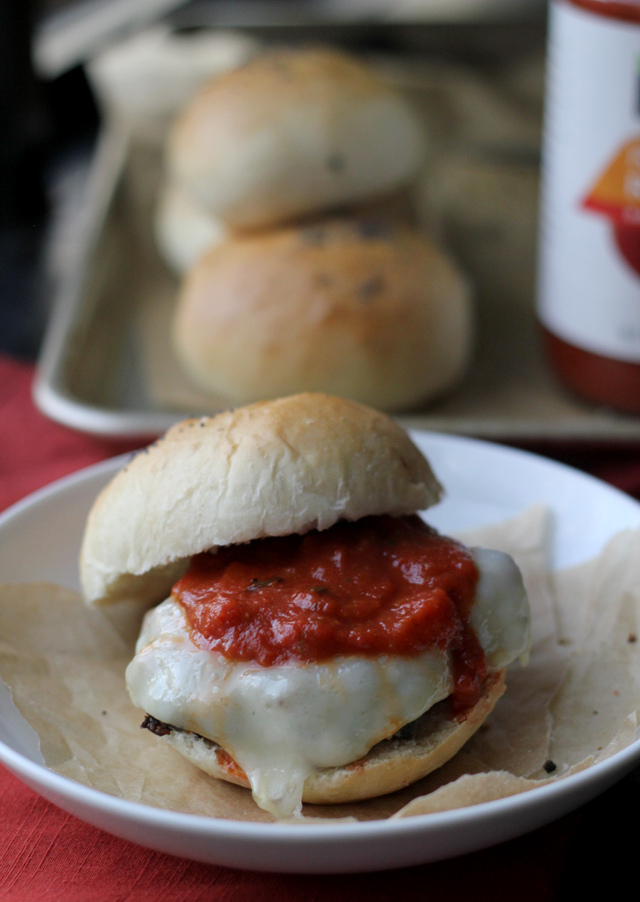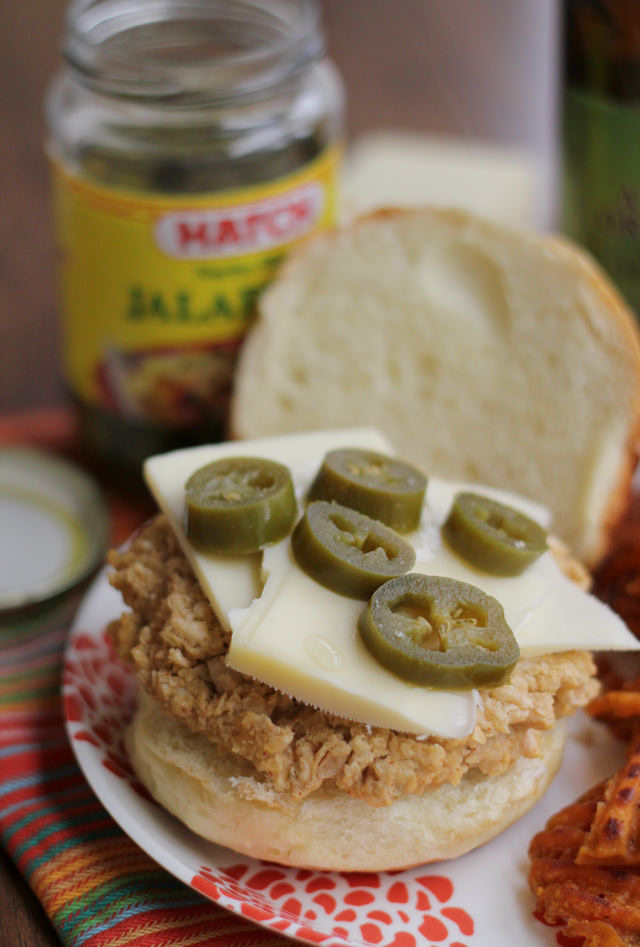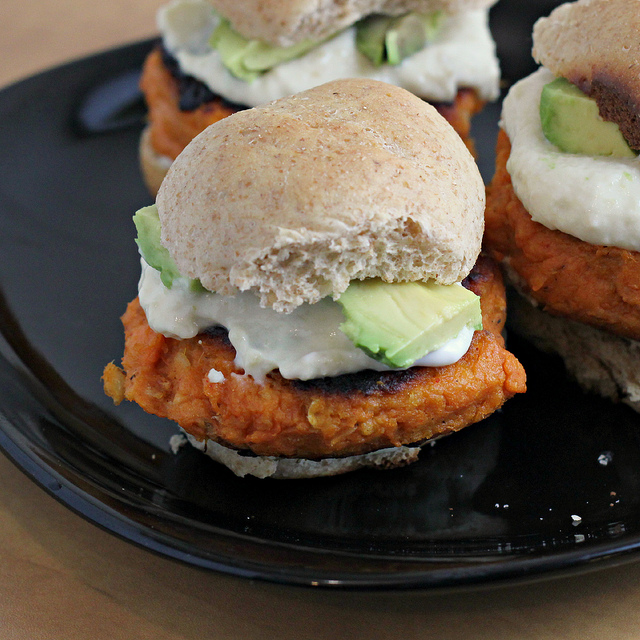 From Around the Web:
Pimiento Farmer's Market Veggie Burgers from Vegetarian Ventures
Lentil-Chickpea Veggie Burgers with Avocado Green Harissa from Cookie + Kate
Thai Sweet Potato Veggie Burgers from Oh She Glows
Chipotle Black Bean Burgers from Bev Cooks
Tex-Mex Pinto Bean Burgers from Cinnamon Spice and Everything Nice