Kale and squash blossom-stuffed cheesy quesadillas get topped with a fresh and fruity strawberry kiwi salsa to make a perfect sweet and savory bite.
Disclosure: This post was sponsored by Zespri Kiwifruit! However, as always, all my thoughts and opinions are my own. Thank you for supporting the brands that keep me inspired in the kitchen.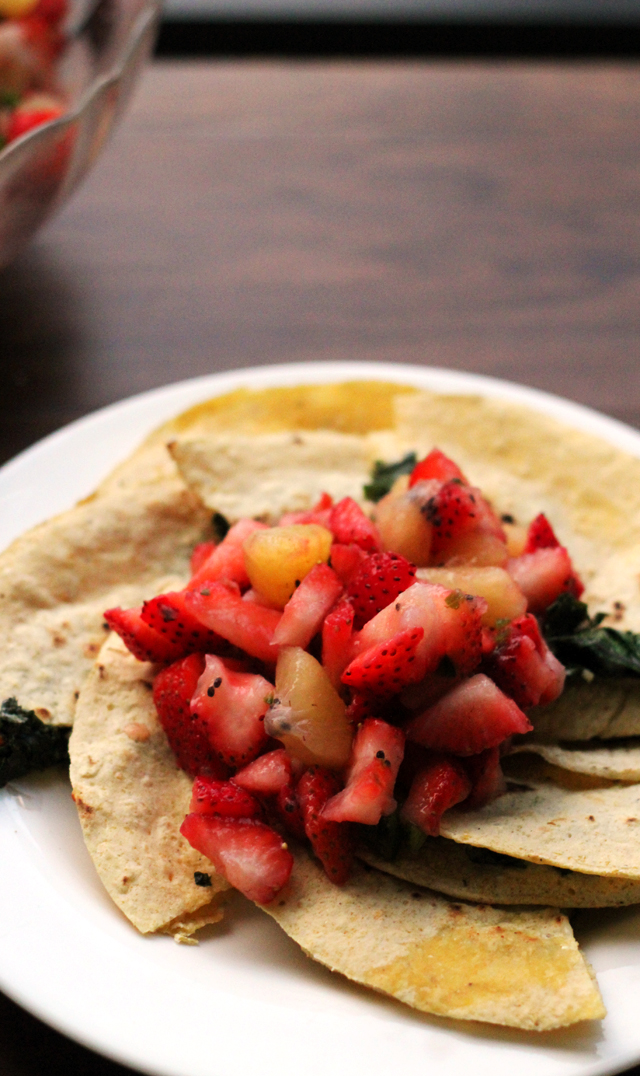 So, about my brush with death last week.
Apparently in this world, there are the kind of people who avoid the possibility of imminent danger at all costs.
And then there are the kind of people who eat kiwis with reckless abandon even though there is a very real possibility that their fairly minor childhood allergy to these most perfect of fruits might have escalated in the past fifteen years to anaphylactic shock-like levels.
While huddling in a corner in fetal position whenever anyone sets off fireworks outside because loud noises scare her.
I'll let you guess which one I am.
But DON'T WORRY, because on my way to Zespri's exclusive kiwifruit tasting event, I made sure to take note of the fact there was an urgent care center less than a block away.
The kind that has epi-pens inside.
Just in case.
Really, we're going to laugh about this someday.
Although, to be fair, if I had gone into anaphylactic shock after that first bite of Zespri's SunGold kiwis?
It would have been worth it.
Because, YUM.
It was mostly sweet with just a hint of tart and ALL THE JUICINESS in every bite.
And I am thanking all the heavens above that I have somehow miraculously outgrown my allergies, not just because I got to avoid a trip to a sketchy medical center in the West Village, but also because now I can eat all the kiwis I missed out on over the past 27 years!!
Life is good.
So, you might be wondering what makes Zespri SunGold kiwifruits so much better than your average green kiwi, and while they are both totally delicious in most every way, they are also pretty different.
Where green kiwis are hairy on the outside, SunGolds have a smooth skin that is totally amenable to eating out of hand.
Where green kiwis are occasionally so tart they make your mouth pucker when you eat them, SunGolds taste like nature's candy.
Where green kiwis are green, SunGolds are gold.
That being said, both varieties are extremely good for you, with a serving of kiwis (about 2 medium fruits) coming in at around 100 calories and containing MORE vitamin C than an orange and MORE potassium than a banana.
Well, color me kiwi-obsessed.
Since that fateful day last week, I've been eating kiwis on the regular and trying to inject them into just about every meal that I can without the.boy having me committed. This past Friday, I snuck them into dinner in strawberry kiwi salsa form, and I can promise you that our Tex-Mex nights are never going to be the same again.
Mainly because they will forever be smothered in this fruity sweet spicy mix that barely even requires quesadillas – just a spoon and a mouth to shove it into.
As much as I would be okay with inhaling a huge bowl of fruity-liciousness and calling it dinner, the.boy requires something a little more substantial. So clean-out-the-fridge quesadilla night it was! I stuffed my 'dillas with a big bunch of sauteed kale, squash blossoms that had found their way into my fridge, and gratuitous handfuls of melty cheese. However, you can feel free to stuff them as your heart desires.
So long as you strawberry kiwi salsa them. (<–non-negotiable)
To find out more about Zespri kiwifruit, check out their website and their facebook page! Zespri SunGold kiwis should be available in your local produce section, but if you can't find them than make sure to ask your store manager about them so they can start stocking them! To see which stores carry them in your area, check out Zespri's store locator
Squash Blossom and Kale Quesadillas with Strawberry Kiwi Salsa
Kale and squash blossom-stuffed cheesy quesadillas get topped with a fresh and fruity strawberry kiwi salsa to make a perfect sweet and savory bite.
Ingredients
For the salsa
1 lb strawberries, hulled and coarsely chopped
4 SunGold kiwifruit, skinned and coarsely chopped
1 jalapeno, seeded and minced
For the quesadillas
2 tbsp olive oil
1 bunch of kale, stems removed and leaves coarsely chopped
8 squash blossoms, thinly sliced
salt and black pepper, to taste
16 corn tortillas
4 oz grated oaxaca cheese or mozzarella
Instructions
In a large bowl, toss together the strawberries, kiwifruit, and jalapenos. Set aside.
Heat the olive oil in a large skillet over medium heat. Add in the kale and squash blossoms, sauteing until wilted and tender. Season to taste with salt and black pepper.
Divide the kale filling among half of the corn tortillas. Top with the cheese and a second corn tortilla. Heat a small nonstick skillet. Put a filled quesadilla on the pan and heat for 1-2 minutes on each side, or until cheese is melted. Repeat with remaining quesadillas. Serve topped with fruit salsa.
Notes
An Eats Well With Others Original
Nutrition Information
Serving size:
2 quesadillas
For more party-in-your-mouth Mexican meals, check out these: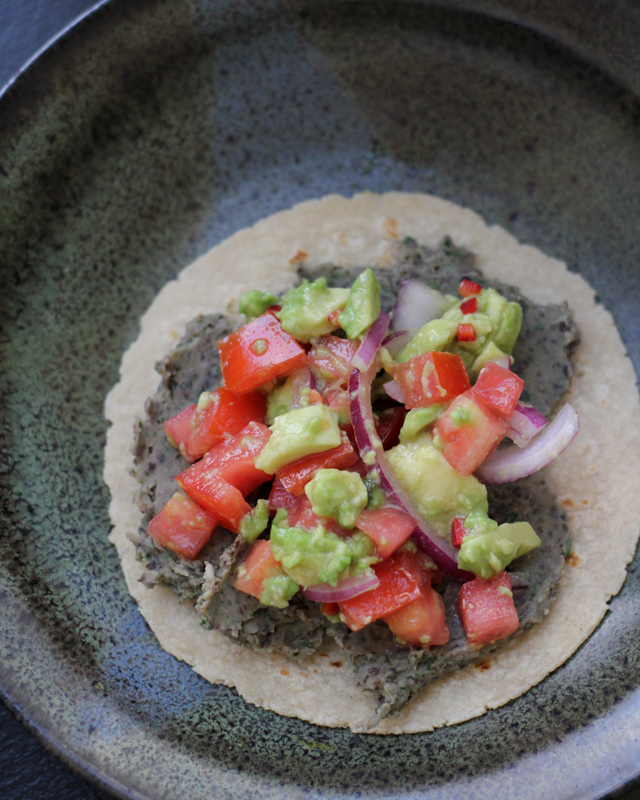 Black Bean and Salsa Quesadillas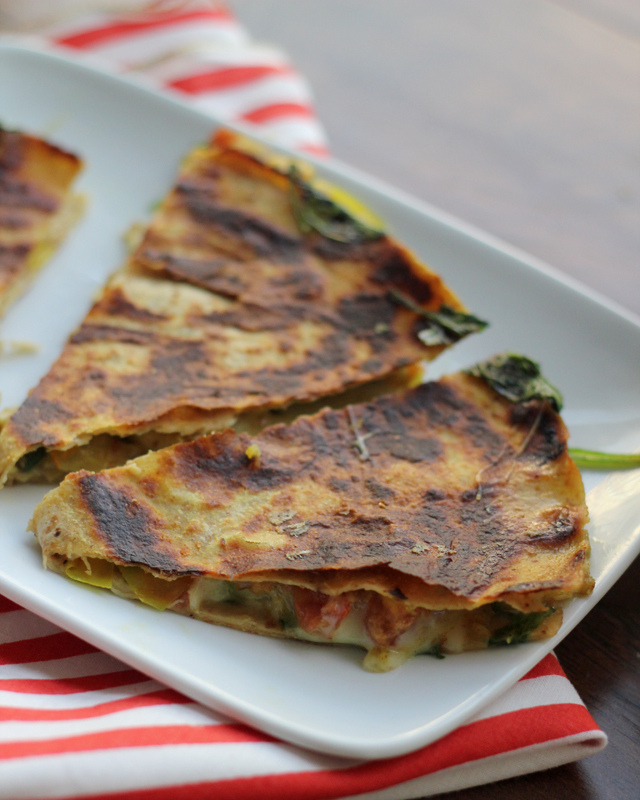 Curried Spinach and Zucchini Quesadillas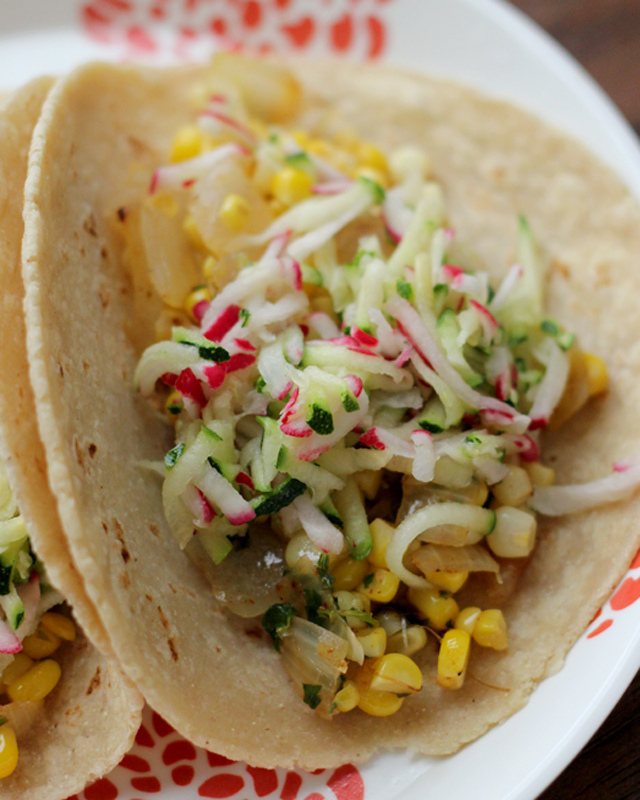 Tacos with Corn and Zucchini Radish Slaw
From Around the Web:
Black Bean, Corn, and Quinoa Picadillo Tacos from Closet Cooking
Roasted Veg Tacos with Avocado Cream and Feta from Naturally Ella
Smashed Garbanzo Breakfast Quesadillas from Scarletta Bakes
Caramelized Pineapple Quesadillas from How Sweet Eats
Apricot Salsa Quesadillas from Top With Cinnamon