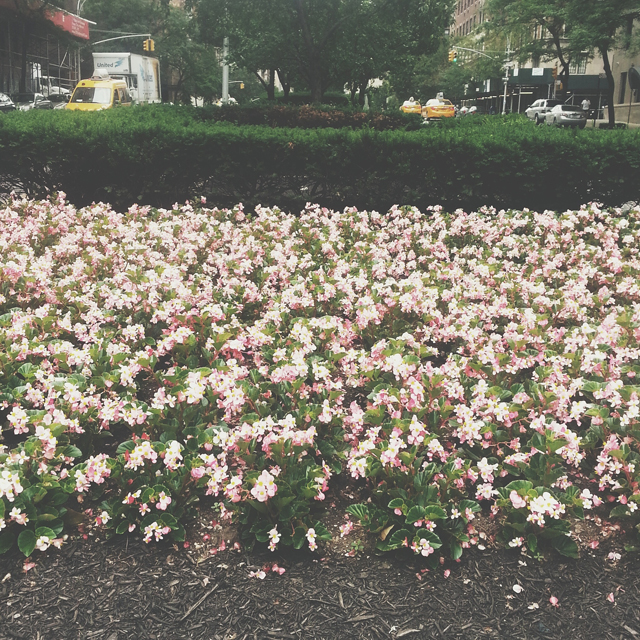 1. Why buy flowers when you can "borrow" them from Park Avenue as you're dragging yourself back home from Central Park after an early morning run? So pretty.
2. Did anyone else have a MAJOR FREAK OUT MOMENT over this peachpluotplumnectarine recall situation?! I only spent all night googling to make sure the nectarines I had on my counter were okay to eat. And tweeted Whole Foods five times. I still have no real answers other than that the label on my fruit says Sunsweet, which is NOT the same as Sweet2Eat. So I think they're okay.
3. Although last week I totally ate a whole container of Sweet2Eat peaches, so I'm probably doomed.
4. Wedding update – we ordered my bridal shower invitations last night! They have spatulas all over them. So appropriate.
5. The.Boy and I have started watching House of Cards now that we're done with Breaking Bad. Honestly, in some ways it's equally as disturbing. Why do seemingly reasonable people feel like they can JUST KILL EVERYONE?! I don't understand.
6. I went a little squash blossom crazy over at Oh My Veggies this week. Check out my recipe for stuffed squash blossoms. Baked not fried. And goat cheese. Who could resist?!
7. Coming home to find that you left your refrigerator open all day. Non ideal.
8. Getting a phone call from your fiance mid-run to let you know that you left your refrigerator open all day and he was going to up the temperature to FROZEN and there was nothing you could do about it.
9. And then running home to rescue/swaddle/cuddle your zucchini collection. Because, FROZEN.
10. But at least you don't have to wait for butter to soften.