This thick and hearty wheat berry and white bean soup with savoy cabbage is full of robust flavor and fresh wintry seasonal ingredients.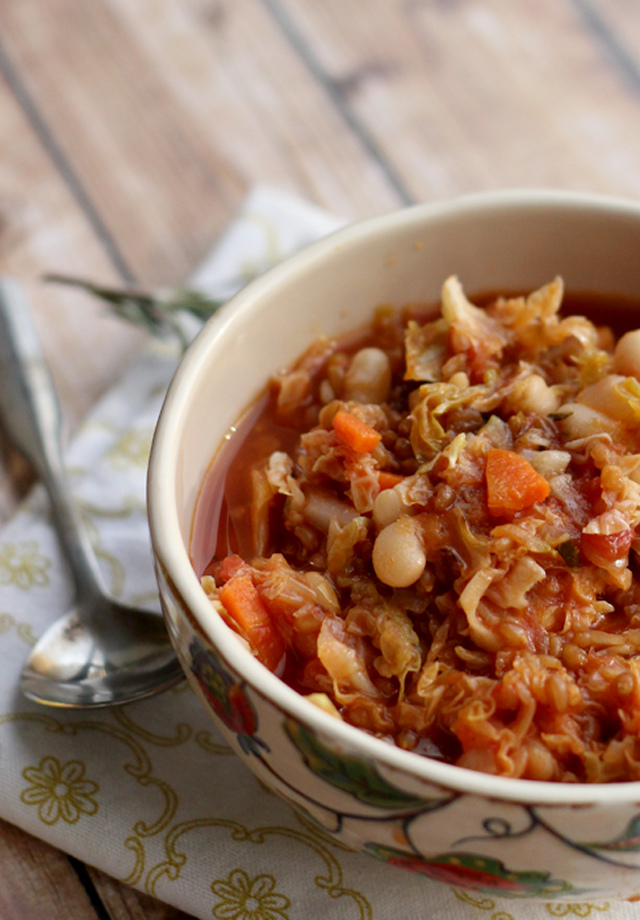 Look, you don't love cabbage, I don't love cabbage, nobody loves cabbage.
But we are going to EAT THIS SOUP AND WE ARE GOING TO LIKE IT.
I know because the.boy REALLY doesn't like cabbage and he loved it.
Not that I told him there was cabbage in it until after he licked the bowl clean…but a girl's gotta do what a girl's gotta do.
And a girl's gotta eat cabbage when the craving strikes.
As for the.boy, well…I have no idea what he thought those pale yellow shreds were as he was shoveling them into his mouth. And now I'm almost afraid to ask.
I have to be honest, even I only like cabbage in very particular circumstances.
Slaw = dry heaving. Stir fries = okay but I probably won't go for seconds. Soups = forget a bowl, just pass me the whole pot!
It's a texture thing.
Anyway, I'm not really sure what came over me when I saw this recipe in Vegetable Literacy
, but all of a sudden I could imagine exactly what it would taste like and I needed it right that second (and no I'm not pregnant). And I was right.
It is hearty and toothsome from the white beans and wheat berries (though you could swap those our for farro, barley, or spelt berries!), but full of fresh flavor from the tomato-infused broth. And I can't really explain what role the cabbage plays other than that you just feel good after eating a whole bowl of it. It must be the whopping vitamin C punch and cholesterol-lowering properties that it packs.
So even if the mere thought of putting a cabbage shred to your lips makes your skin crawl, I beg you to give this soup a try with the logic that, if it could win over the cabbage-hating individual that I cohabitate with…it can weasel its way into the heart of just about anyone. (And clear out their arteries in the process.)
One year ago…Brown Butter Snickerdoodles
Three years ago…Cookie Dough Truffles
Four years ago…Brazilian Salmon Fish Stew
Wheat Berry, Cabbage, and White Bean Soup
This thick and hearty soup is full of robust flavor and fresh wintry seasonal ingredients.
Ingredients
1 cup wheat berries
1 cup dried cannellini beans
salt, to taste
3 tbsp olive oil
1 onion, diced
2 tsp minced rosemary
1 carrot, peeled and cut into ¼-inch dice
28 oz canned crushed tomatoes
1 Savoy cabbage, shredded
freshly ground black pepper, to taste
Instructions
Soak the wheat berries and white beans in water for 6-8 hours.
Drain and combine the wheat berries and white beans in a large pot. Cover with water by about 2-inches and add a tbsp of salt. Bring to a boil, then reduce heat and simmer, covered, for an hour or until beans are tender. Drain, reserving the cooking liquid.
Heat the olive oil in a large pot over medium-low heat. Add in the onion, rosemary, and carrot. Cook for about 15 minutes, stirring occasionally. Add in the canned tomatoes, cabbage, and 1 tsp salt. Cook until the cabbage has wilted, about 5 minutes. Add in the beans, farro, and bean cooking liquid plus enough water to equal 3 cups. Simmer for about 20 minutes.
Season to taste with salt and black pepper.