You get a double dose of delicious with these double-layered peanut butter cheesecake brownies!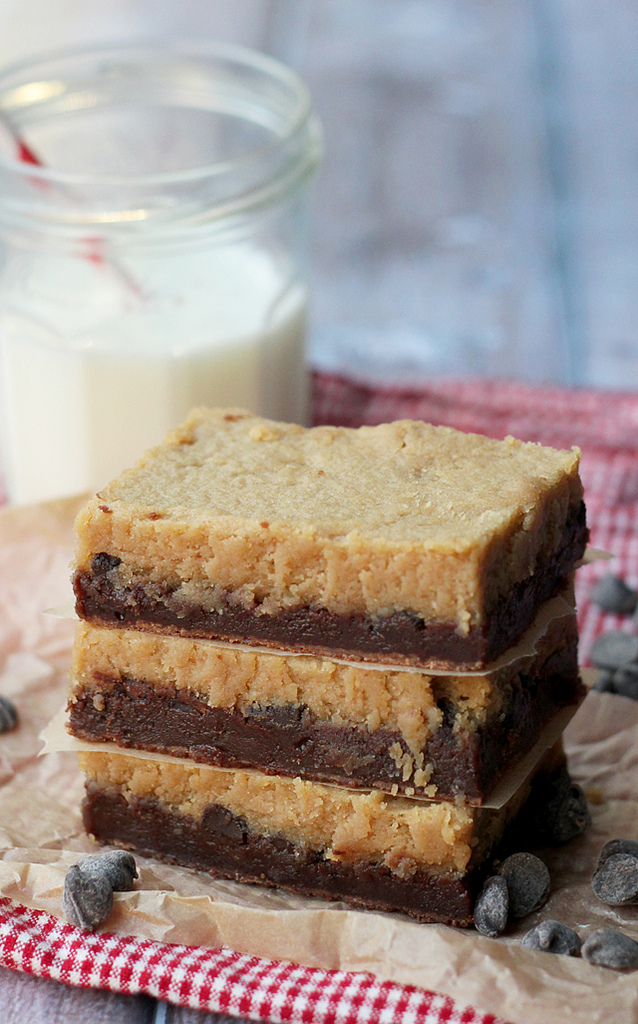 I got an almost-kiss when I presented these to the.boy for breakfast yesterday.
Why almost, you ask?
Well, when you are simultaneously trying to shove a brownie in your face whilst trying to kiss your fiance it's kind of a half-kiss, half-brownie-face-smash, mostly-trying-to-get-as-little-brownie-near-my-mouth-as-possible-lest-he-miss-out-on-a-single-crumb situation.
However, these are so fantabulous that it is fairly likely (okay 100% chance) that I attempted to catch a bite midair as he was raising them from the pan to his mouth.
Brownie sequestration attempt – thwarted.
It was truly one of the finest interceptions that I ever did see.
Maybe all this football not-watching is rubbing off on me, after all.
Or maybe it's just that the power of the PB+chocolate combo is such that it drives you to do crazy things.
Like almost-kiss your girlfriend.
Or full-on tackle your boyfriend.
Or run home to make a second pan after the first is devoured.
I don't doubt it.
One year ago…Flatbread Pizza with Broccoli Rabe and Ricotta
Two years ago…Green Goddess Enchiladas, Quinoa, Fennel and Pomegranate Salad
Three years ago…Pasta with Ruby Chard and Cranberries
Five years ago…Salmon with Lemon, Rosemary and Capers, Brown Rice with Lime, Cilantro, and Jalapeno
Peanut Butter Cheesecake Brownie Bars
You get a double dose of delicious with these double-layered brownies!
Ingredients
For the brownies
¾ cup butter
6 oz dark chocolate, chopped
1½ cups sugar
½ cup brown sugar, packed
1½ tsp vanilla
3 large eggs
1 cup all-purpose flour
¾ cup semi-sweet chocolate chips
For the peanut butter cheesecake
8 oz reduced fat cream cheese, softened
¼ cup butter, softened
1 egg
½ cup sugar
½ tsp salt
½ tsp vanilla extract
1 cup creamy peanut butter
Instructions
Preheat oven to 350. Line a 9x13-inch baking sheet with aluminum foil and spray with cooking spray. Set aside.
In a microwave-safe bowl, combine the butter and chocolate for the brownies. Microwave on high for 60 seconds. Stir. Continue to microwave in 15-second intervals, stirring after each, until both the chocolate and the butter are melted.
Whisk the sugars into the chocolate mixture. Whisk in the vanilla and eggs until well-combined. Stir in the flour until it is just incorporated.
Pour the brownie batter into the prepared pan and spread it out evenly with an offset spatula. Sprinkle it with the chocolate chips. Set aside while you prepare the peanut butter cheesecake.
In the bowl of a stand mixer fitted with the paddle attachment, cream together the cream cheese and butter until fluffy, about 2-3 minutes. Mix in the egg, sugar, salt, and vanilla on high for 2 minutes. Mix in the peanut butter on high for 2 minutes. Pour the cream cheese layer over the brownie layer, spreading it evenly and smoothly until it covers the whole pan.
Bake for 38-42 minutes or until the top is golden and the center is set but still a bit loose, as it will cook more as it cools.
Allow to cool for at least one hour and then cover and refrigerate for at least three hours or overnight. Cut into squares and serve.
Notes
Slightly adapted from
Peanut Butter Comfort: Recipes for Breakfasts, Brownies, Cakes, Cookies, Candies, and Frozen Treats Featuring America's Favorite Spread