This strata is the breakfast of champions with its kale, butternut squash, and creamy bechamel base.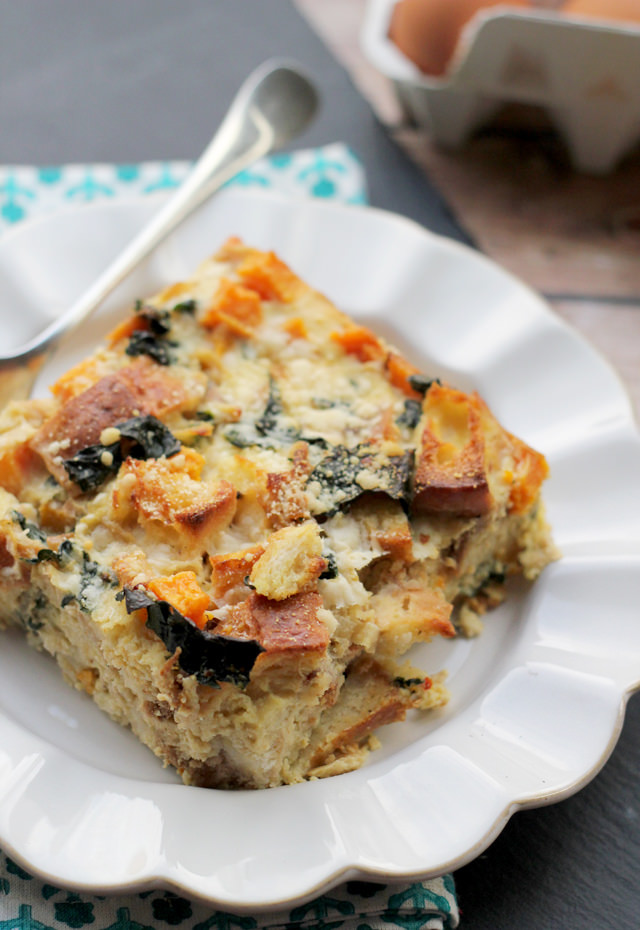 You can consider this my butternut swan song.
(Cue the.boy breathing a huge sigh of relief.)
(Then cue me cackling because using "swan song" and "butternut" and "me" in the same sentence is just…not a possible real life thing. In his dreams, maybe. But who really wants to go there.)
It is, however, the last week of the 12 Weeks of Winter Squash!
If that were a Facebook status, I would dislike it. Or just…not "like" it.
Because you can either be apathetic or wholeheartedly enthusiastic(!!) on Facebook, but dislike is just not okay.
Anyway, time flies when you're having fun and especially when you're having fun while eating orange vegetables.
Mostly because that's basically fun squared.
Given that these are basically my favorite 12 weeks of the year, I knew I had to see them out with a bang.
A butternut breakfast strata bang.
And this savory bread pudding in breakfast form definitely does bring it. With healthy elements of kale and butternut squash, combined with the decadence of a seriously rich bechamel and caramelized onions, it is full of flavor and pretty much perfect to wake up to.
So with that, I would like to say thank you to everyone who made this year of squash-ing so much fun, and especially to my co-host – the lovely and adorable Heather of Girlichef (who I am going to get to meet on Tuesday!!).
Sayonara, butternut. I'll catch you on the flip side (probably tomorrow. But not a second sooner!)
Link up your winter squash posts for the week!

One year ago…Meyer Lemon Ice Cream
Two years ago…Poached Eggs in Tomato Sauce With Chickpeas, Feta and Swiss Chard, Sparkling Champagne Cupcakes
Three years ago…Braised Veal Shanks with Gremolata and Whipped Root Vegetables
Four years ago…Chocolate, Cranberry, and Pecan Rugelach
Five years ago…Sweet Potatoes with Honey Butter
Butternut Squash and Kale Strata
This strata is the breakfast of champions with its kale, butternut squash, and creamy bechamel base.
Ingredients
2 lb butternut squash, peeled, seeded and cut into ½-inch dice
¼ cup olive oil
kosher salt
freshly ground black pepper
2 medium onions, thinly sliced
1 large bunch kale, stems and ribs removed, leaves coarsely chopped
2 garlic cloves, minced
pinch of red pepper flakes
2½ tbsp unsalted butter
¼ cup flour
2½ cups milk
1 cup heavy cream
½ cup creme fraiche
1 tsp sugar
8 large eggs
¾-pound baguette, cut into 1-inch pieces
⅓ cup grated Parmesan cheese
Instructions
Preheat the oven to 425. Spray a 9x13-inch baking dish with cooking spray. Set aside.
Toss the butternut squash cubes with 1 tbsp olive oil, salt, and black pepper. Bake for 25 minutes, or until tender. Reduce the oven temperature to 325.
Meanwhile, heat 2 tbsp olive oil in a large pot. Add in the onions, season with salt, and cook over low heat, stirring occasionally, until caramelized, about 25 minutes. Remove to a bowl.
In the same pot, heat the remaining tbsp of olive oil. Add in the kale, garlic, and red pepper flakes, and saute until kale wilts, about 5 minutes. Season with salt. Combine with the onions.
In a medium saucepan, melt the butter. Add in the flour and, whisking constantly, cook for about 3 minutes, until a light golden paste forms. Slowly whisk in 1 cup of the milk and cook, whisking constantly, until very thick, about 8 minutes. Remove from the heat and whisk in the heavy cream, creme fraiche, sugar, 2 tsp salt, ½ tsp black pepper, and the remaining milk. Let cool.
Beat the eggs into the bechamel. Pour into a large bowl with the bread cubes, butternut squash, kale, and onions. Mix well. Pour into the prepared baking dish. Let sit for about 30 minutes, pressing the bread cubes into the milk every 10 minutes so they soak it up.
Bake for 55 minutes, until almost set. Increase the oven temp to 475. Sprinkle the parmesan cheese over the top of the strata, and then bake for about 10 more minutes. Let rest for 15 minutes before serving.
Notes
Slightly adapted from
Food & Wine
Nutrition Information
Serving size:
⅛th of recipe