Sweet, spicy, smoky, and earthy is the best way to describe this butternut squash and smoky black bean kale salad.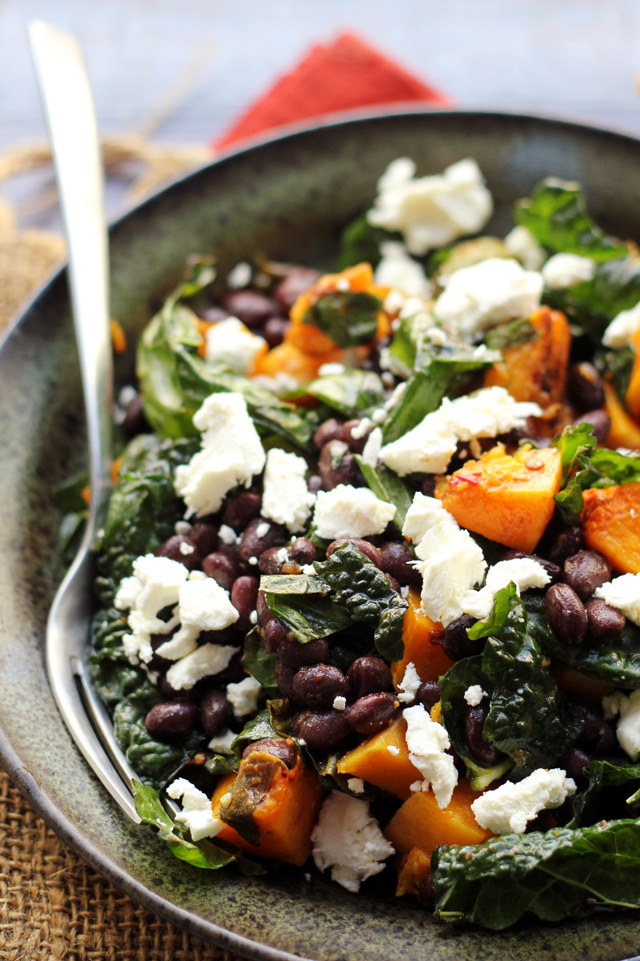 My boss told me something about himself last week that is so disturbing to me, that I'm not sure our relationship will ever be the same again.
Are you sitting down?
Okay, breathe.
So….
The man doesn't believe in kale.
Cue unanimous gasp.
RIGHT?!?!?
Normally, I would think he just hasn't had it prepared the right way, but we have the SAME FAVORITE RESTAURANT where they pretty much make the best kale salad on the face of this earth.
I mean, it's objectively the best. Not even kidding.
Now I just don't know whether to distrust every opinion he's ever relayed to me about anything ever or shove as much kale into his face as possible until he concedes defeat.
Somehow the latter just seems like the better option. You know, for my professional future.
Let's get salading.
I really can't imagine anyone disliking this salad with it's sweet smoky spicy (VERY spicy) earthy notes. With every bite you pretty much activate all your taste buds, which just keeps you wanting more and more and more and more.
Until you realize you're a kale lover. Plain and simple.
(And butternut squash, smoky black beans, and goat cheese are pretty dang okay too.)

Butternut Squash and Smoky Black Bean Kale Salad
Sweet, spicy, smoky, and earthy is the best way to describe this butternut squash salad with smoky black beans.
Ingredients
1 medium butternut squash, peeled, seeded, and cubed (1/2-inch pieces)
3 tbsp olive oil, divided
salt and black pepper, to taste
2 tbsp red wine vinegar
1 tbsp dijon mustard
1 tbsp honey
1 tbsp adobo sauce
2 garlic cloves, thinly sliced
2 cups cooked black beans
1 large bunch lacinato kale, stemmed and cut into thin slices
½ cup goat cheese, crumbled
Instructions
Heat oven to 400. In a large bowl, toss together the butternut squash, 1 tbsp olive oil, and salt and black pepper to taste. Spread out on a parchment-lined baking sheet and roast for 20-30 minutes, or until tender. Set aside.
In a small bowl, stir together ½ tsp salt, red wine vinegar, dijon mustard, honey, adobo sauce, garlic cloves, and ¼ tsp black pepper. Taste for seasoning. Set aside.
When the squash is done roasting, toss it with the kale, black beans, and dressing. Serve topped with crumbled goat cheese.
Butternut squash and kale are a match made in food heaven! Check out these: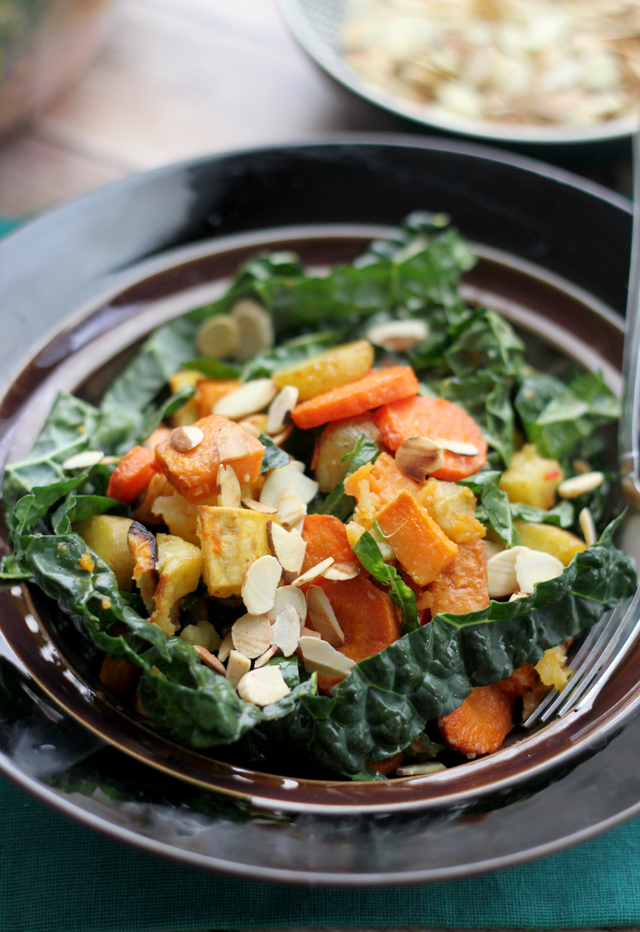 Miso-Harissa Roasted Carrot, Squash, and Two-Potato Salad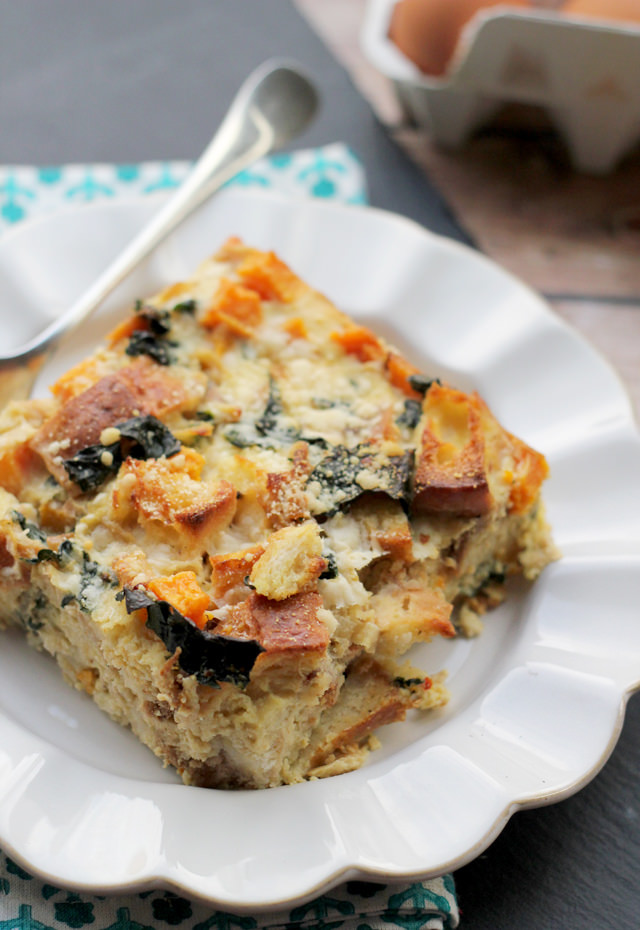 Butternut Squash and Kale Strata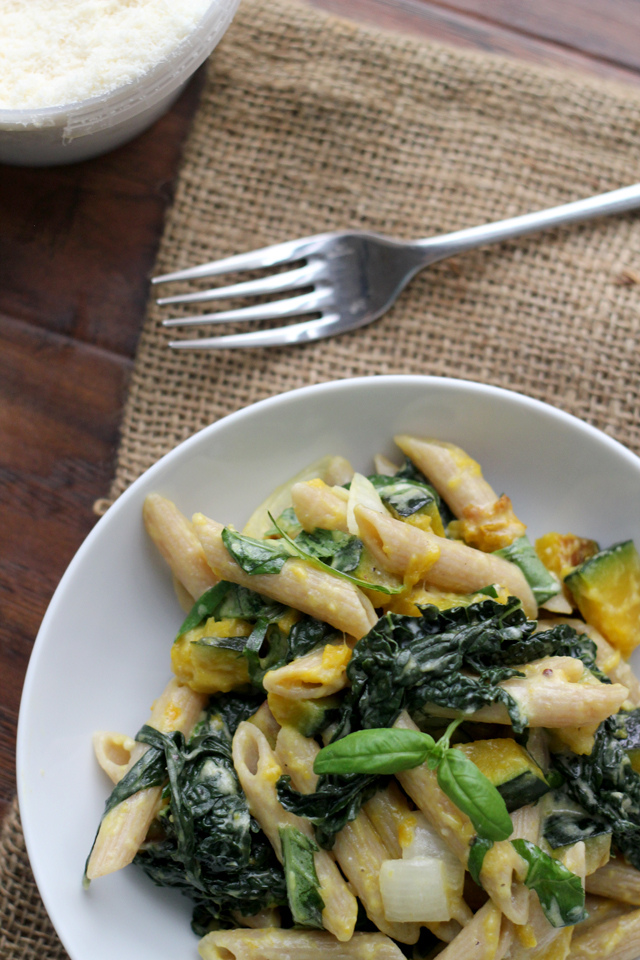 Penne with Butternut Squash, Kale and Goat Cheese
From Around the Web:
Kale and Butternut Squash Minestrone from Yummy Supper
Pappardelle with Butternut Squash, Walnuts and Baby Kale from Saveur
Roasted Acorn Squash and Apples with Quinoa, Kale and Tahini Maple Dressing from Edible Perspective
Kale and Delicata Squash Salad with Citrus-Maple Vinaigrette from Oh My Veggies
Brown Butter Spaghetti with Baby Kale and Roasted Butternut Squash from Cook Here, Eat This