Silky sweet corn and tart raspberries are paired together in this recipe for sweet corn and raspberry swirl ice cream. It's a summer must-have!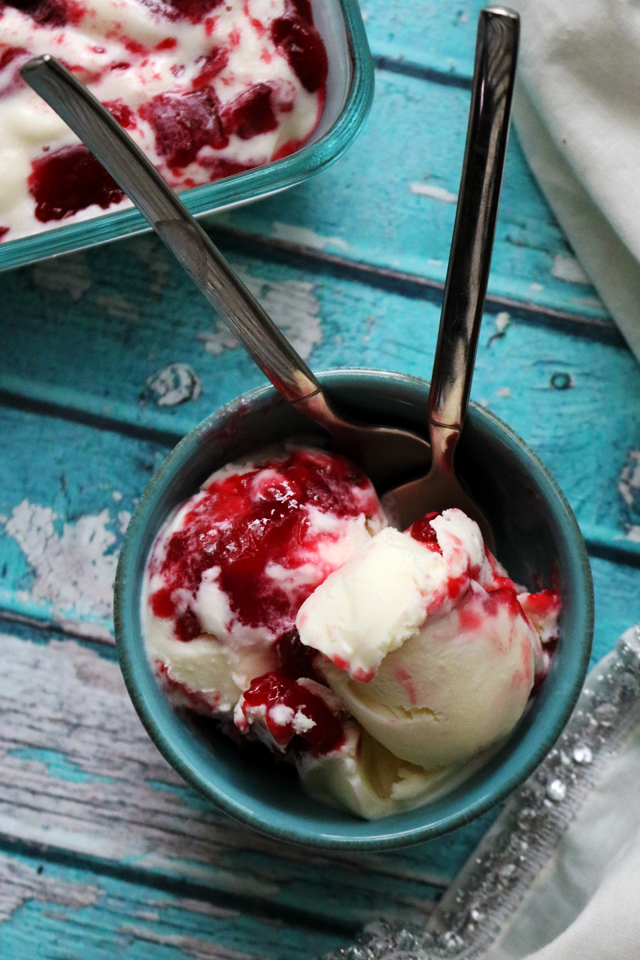 Although, I really should have named this:
Why I Will Never Be Back to My Pre-Pregnancy Weight
(and no, I'm not even that sorry about it).
Look, THIS IS REAL LIFE. So here are the facts:
(a) I'm not a Kardashian.
(b) I don't have some superhuman ability to be skinnier six weeks (or even, heck, a YEAR) postpartum than I was prepartum. (see above for explanation)
And (c) I really really like ice cream.
ESPECIALLY Jeni's Splendid Ice Creams delivered straight to my door from Ohio on a bed of dry ice,
BUT I can totally "settle" for Jeni's made at home. It's almost just as good.
And way less expensive.
And maybe even more satisfying? Hard to say.
Every summer I forget how EASY ice cream making is and so I put off making it until the very last possible weeks only to remember that it is very not hard!!
Last summer I was actually so deep in the throes of newborn mom life that I didn't make any ice cream at all. Say it ain't so.
I REFUSE to let that ever happen again.
So this summer I'm making up for lost time by starting ice cream season around here as soon as I could wrap my head around it. AND I'm kicking it off with my favorite Jeni's flavor, OBVIOUSLY.
Sweet corn and raspberry, you are my one true love in life. After my child. And my husband. Some days.
If you have the opportunity to get your hands on this Jeni's flavor this summer, then JUST DO IT. And if not…JUST MAKE IT. You won't regret it.
Corn in dessert may sound weird to you, but I promise it's such a good thing!!
In this ice cream the corn gets steeped into the custard base so it's not super bold but it's definitely there. And it pairs so perfectly with the swirls of sweet tart thick stick-to-your-tongue raspberry sauce that appear in every bite.
The flavor is really unique and it just SCREAMS summer. So don't let yours go by without it.

Sweet Corn and Raspberry Swirl Ice Cream
Silky sweet corn and tart raspberries are paired together in this recipe for sweet corn and raspberry swirl ice cream. It's a summer must-have!
Ingredients
1 ear sweet corn, husked
2 cups whole milk
1 tbsp + 1 tsp cornstarch
3 tbsp cream cheese, softened
¼ tsp fine sea salt
1 ¼ cups heavy cream
⅔ cup sugar
2 tbsp light corn syrup
For the raspberry sauce
2 cups raspberries
1 cup sugar
Instructions
To make the raspberry sauce, combine the berries and sugar in a small saucepan. Melt the sugar over medium-high heat and bring to a boil. Continue boiling, stirring occasionally, and cook until mixture reaches 220F. Allow to cool slightly, then force through a fine mesh sieve to separate out the seeds. Refrigerate until chilled, about 4 hours or overnight.
For the ice cream, slice the kernels from the corn cob into a bowl. Run the back of your knife against the cob to scrape out as much of the corn "milk" as possible, reserving as much of the liquid as possible.
Mix 2 tbsp of the whole milk with the cornstarch in a small bowl until it forms a slurry.
In a large bowl, whisk together the cream cheese and salt until smooth.
Fill a large bowl with ice and water. Set aside.
In a medium saucepan, combine the remaining milk, cream, sugar, corn, corn "milk" and corn syrup. Bring to a boil over medium-high heat and allow to boil for 4 minutes. Remove from the heat and force it through a fine-mesh sieve into a bowl. Again, mash the corn casings against the side of the sieve to release as much corn "milk" as possible into the custard. Discard the corn casings.
Return the custard to the saucepan and whisk in the cornstarch slurry. Bring back to a boil over medium-high heat and cook until slightly thickened, stirring constantly with a heatproof spatula, about 1 minute.
Remove from the heat and gradually whisk the hot milk mixture into the cream cheese until smooth. Pour into a 1 gallon Ziploc bag, seal closed, and submerge in the ice water bath. Place in the refrigerator and let chill until cold, about 30 minutes.
Pour the ice cream custard into a frozen ice cream maker canister. Churn until thick and creamy, about 20-25 minutes.
Pack the ice cream into a storage container, alternating it with drizzles of the raspberry sauce. Freeze in the coldest part of your freezer until firm, at least 4 hours.
Notes
Recipe from
Jeni's Splendid Ice Creams at Home