Spinach and white bean veggie burgers are topped with a smooth and creamy greek yogurt avocado crema.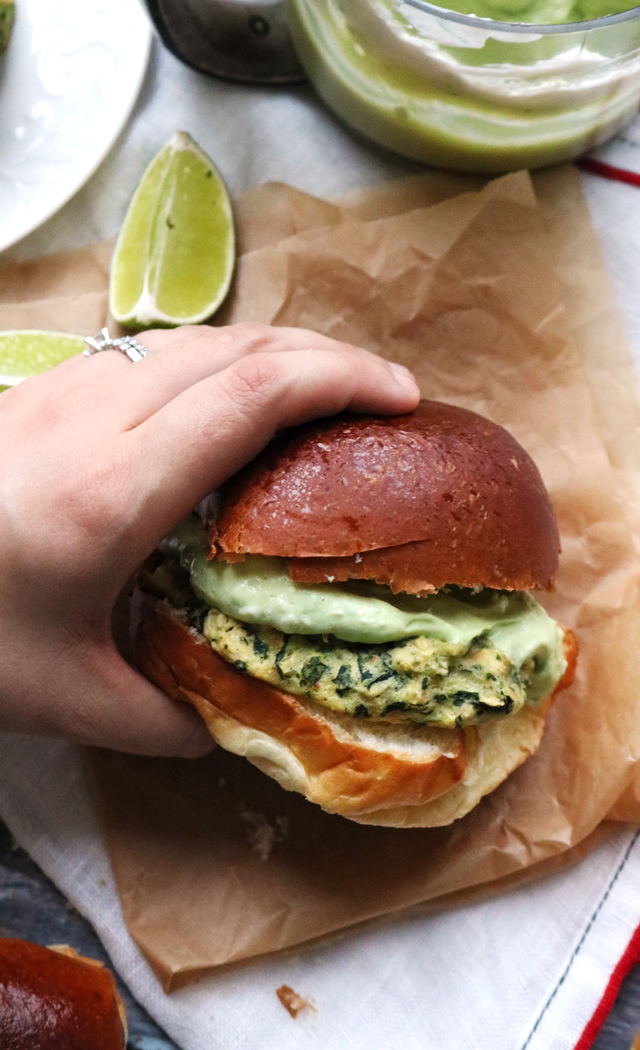 We've been hit with THE PLAGUE!!!!!
Or, you know. The Common Cold.
(SAME DIFFERENCE.)
My seemingly sweet, adorable, innocent cherub-faced child was patient 0. Obviously, given that she pretty much licks the floor everywhere we go.
I was hit next and we're still crossing our fingers that the.boy comes out unscatched because the only thing worse than the common cold is the man cold. And if he gets sick I'll never hear the end of it. It's bad enough that I have one child wiping her nose into my hair every five minutes, but TWO.
NO. Thank you.
I'm sure the fact that we basically ate french fries for a week straight has nothing to do with this, but still my method of combat involves stuffing us full of as many veggies as possible so that our immune systems can really attack this thing at full force.
Veggie burgers are one of my favorite ways to sneak vegetables in my child. She actually loves all things green (<– please say it will last!!) and is picky about random things like eating PASTA (<– seriously, though. WHO IS SHE.) so it doesn't require much trickery on my part, but it's always easier if it all comes in one neat green burger package. Maybe it's more that the veggies help me get her to eat her beans? Yes, that sounds right.
It also doesn't hurt that her two favorite things in life (after Elmo, of course) – greek yogurt and avocado – are married to make the avocado crema that tops these. It is super luscious and creamy and will have you convinced you're eating something you shouldn't.
But, no. YOU SHOULD.
Really.
Greens and Beans Burgers with Greek Yogurt Avocado Crema
Veggie burgers made with greens and white beans are topped with a smooth and creamy greek yogurt avocado crema.
Ingredients
2 tbsp olive oil
6 oz baby spinach
2 garlic cloves, minced
3 cups white or cannellini beans, drained and rinsed
¼ cup flour
2 large eggs
2 tbsp grated parmesan cheese
2 scallions, thinly sliced
¼ tsp salt
¼ tsp freshly ground black pepper
8 burger buns, toasted
For the avocado crema
⅔ cup full fat Greek yogurt
1 avocado, pitted and peeled
salt and black pepper, to taste
Instructions
Heat oven to 350F.
Heat the olive oil in a medium saucepan over medium heat. Add the spinach and garlic to the pan. Saute until spinach is wilted, about 5 minutes. Remove from the heat.
Put the spinach mixture in bowl of a food processor. Add in the beans, flour, eggs, parmesan cheese, and scallions. Pulse until mixture starts to come together but is not completely pureed. Season to taste with salt and black pepper and then pulse again.
Use your hands to form 8 bean burger patties and place on a parchment-lined baking sheet. Place in the oven and bake for 25-30 minutes, or until cooked through.
Meanwhile, make the avocado crema. To do this, clean the food processor bowl and then add the greek yogurt and avocado to it. Puree until completely smooth. Season to taste with salt and black pepper.
Serve the burger patties on the burger buns topped with the avocado crema.
Notes
Adapted slightly from
Seriously Delish: 150 Recipes for People Who Totally Love Food