Watermelon, cucumber, and heirloom tomatoes are tossed with a lemony vinaigrette, toasted cornbread cubes, and arugula to make a hearty summer panzanella.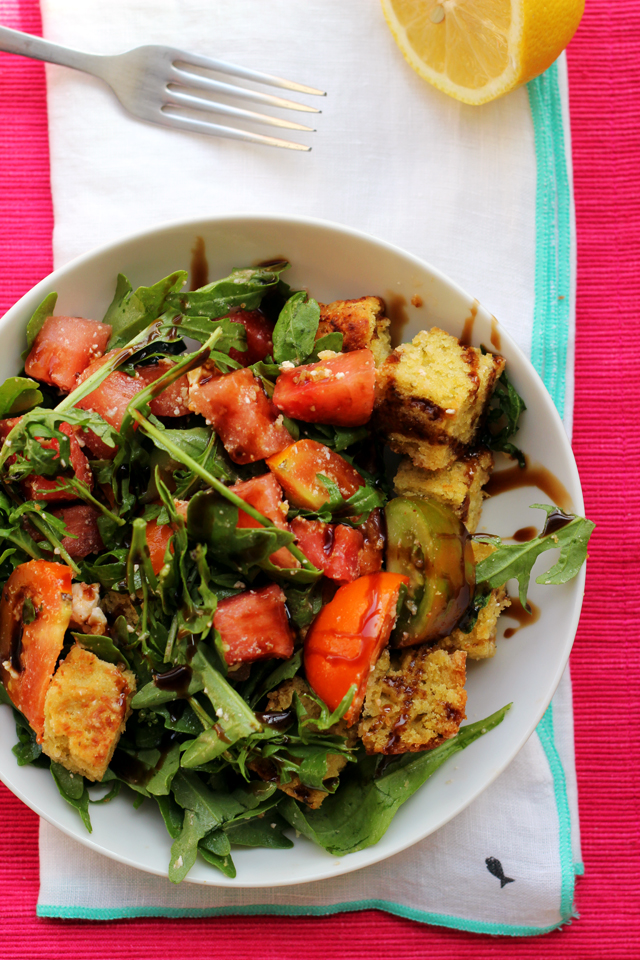 I ate salad for lunch EVERY DAY LAST WEEK.
And no one even gave me a crown or cookie or cash reward or anything.
What's that about?
In fact, the.boy even had the audacity to question the fact that I was pondering having a second brownie yesterday.
The last time I checked, (a) it was Sunday a.k.a the weekend a.k.a calories-don't-count-day and (b) there is no law against thinking about excessive brownie consumption (though NYC's former Mayor Bloomberg probably tried to pass one).
And doesn't he realize what a picture of salad-a-day perfection I was last week?
Phooey on him.
I know I kind of like to play the martyr, but between us, though?
The whole salad a day thing was pretty not hard.
Like, at all.
Did I mention that there were croutons?
And watermelon and feta and croutons and the cutest baby heirloom tomatoes you ever did see?
And a subtly spicy lemon aleppo pepper dressing and balsamic syrup glaze?
And more croutons?
I am honestly not really much of a crouton junkie, but pesto+cornbread crunch+beer bread has certain powers of persuasion that other carb varietals just don't have.
And yes, I understand that it takes a certain kind of crazy to make a loaf of bread solely to let it get semi-stale and toasty so that it can soak up dressing/tomato/watermelon juices better.
Crazy, but worth it.
Because, THESE CROUTONS.
You guys.
So, salad-a-day! FTW!
Though I still won't say no to a cookie reward at the end of the week.
Hint hint.
Summer Panzanella with Watermelon, Pesto Cornbread, and Feta
Watermelon, cucumber, and heirloom tomatoes are tossed with a lemony vinaigrette, toasted cornbread cubes, and arugula to make a hearty summer panzanella.
Ingredients
For the cornbread
1 cup cornmeal
2¼ cup all purpose flour
2½ tbsp granulated sugar
1 tbsp baking powder
1½ tsp salt
12 oz beer
¼ cup pesto
½ cup unsalted melted butter, divided
2 tbsp parmesan cheese
For the salad
1 loaf pesto cornbread (or any cornbread!), cut into 1-inch cubes
1 cucumber, seeded and cut into ½-inch dice
1 lb baby heirloom tomatoes, quartered
1½ lb seedless watermelon, cut into ½-inch cubes
6 oz feta, crumbled
5 oz arugula
2 tbsp lemon juice
1 tsp aleppo pepper
3 tbsp olive oil
salt, to taste
balsamic glaze, to drizzle
Instructions
For the cornbread, heat oven to 375. Lightly grease a 9x5-inch loaf pan and set aside.
Whisk flour, sugar, baking powder, and salt in a large bowl. Pour in the beer, pesto, and ¼ cup melted butter. Stir to combine, until the dough just comes together. Pour the mixture into the loaf pan.
Pour the remaining butter over the dough and sprinkle the parmesan cheese on top. Bake for 45-60 minutes, or until a toothpick inserted comes out clean. Let cool completely.
Raise the oven temperature to 400. Cut the loaf into cubes and place on a parchment-lined baking sheet. Bake for 10 minutes, or until toasted. Let cool while you prepare the salad.
In a large bowl, toss together the cucumber, heirloom tomatoes, watermelon, and feta.
In a small bowl, whisk together the lemon juice, aleppo pepper, olive oil, and salt, to taste.
Toss the fruit and veggie mix with the dressing, bread cubes, and arugula. Serve immediately, drizzled with balsamic glaze.
Notes
An Eats Well With Others Original
For more summer panzanella recipes, check out these: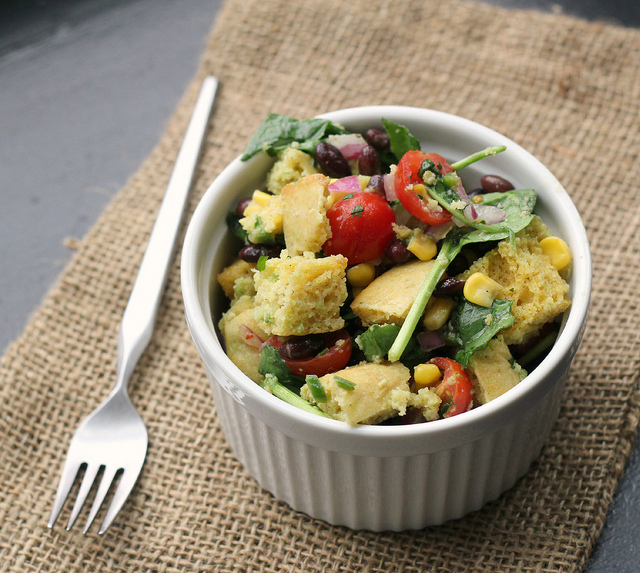 Cornbread and Black Bean Panzanella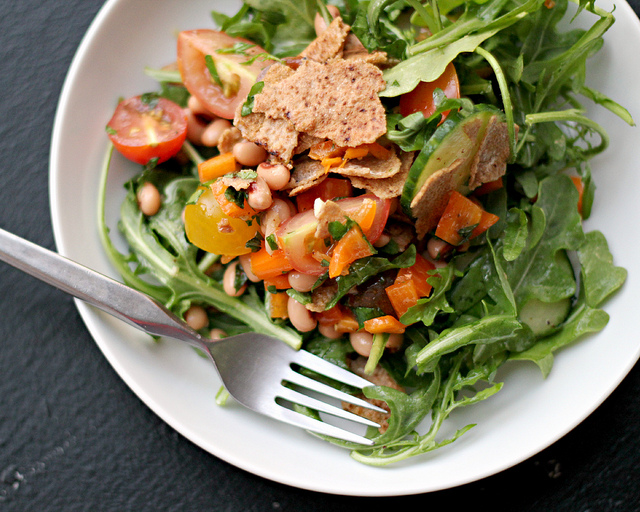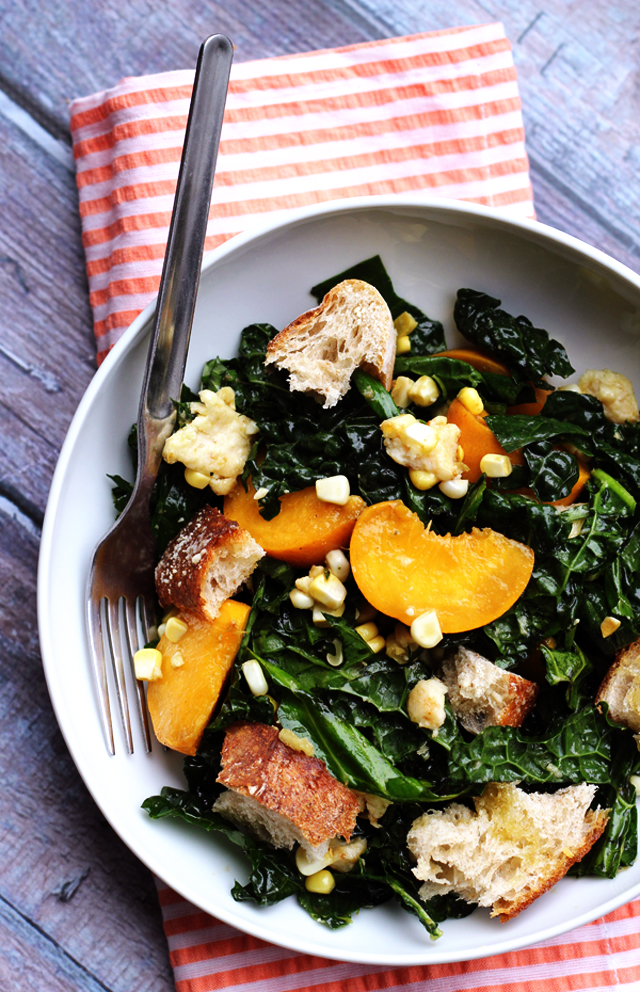 Kale Salad with Peaches, Corn and Honey-Basil Vinaigrette
From Around the Web:
Chickpea, Spring Onion and Tuscan Kale Salad from The First Mess
California Dreamin' Panzanella from Bittersweet Blog
Fresh Tomato and Mozzarella Panzanella from Kitchen Joy
Cherry Kale Panzanella from Jelly Toast
Roasted Ratatouille Panzanella from The Veg Life