A sweet tart plum pie is topped with a crunchy, nutty marzipan crumble topping and served with a dollop of whipped cream on top – the perfect way to top off a late summer meal.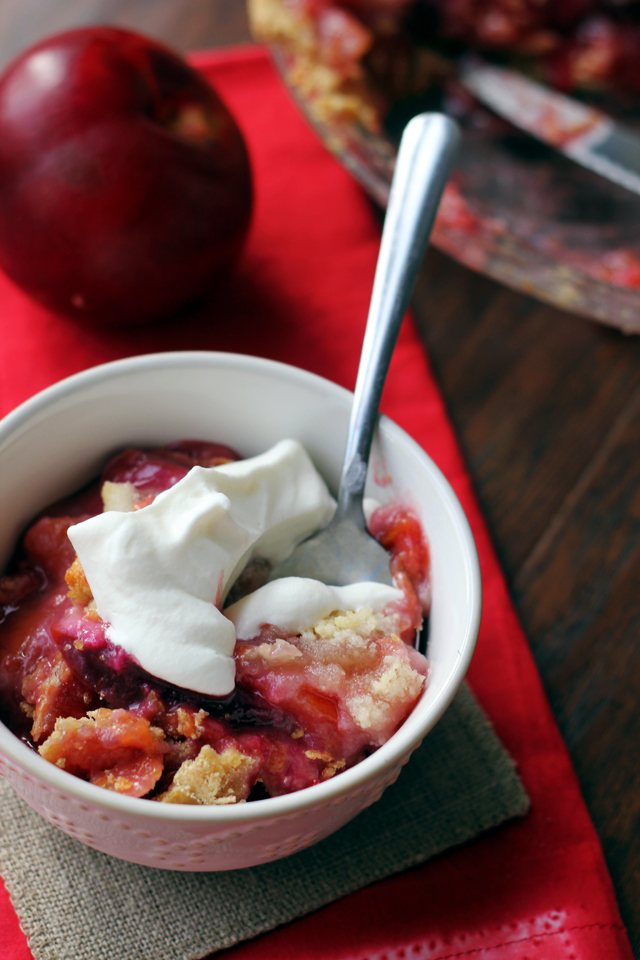 Sometimes real life is messy.
Your pies don't turn out as pretty as they taste,
there always seems to be plum juice dripping down your chin just as your boss walks into the lunchroom to ask you a question,
and you seem to live under the constant threat of having your belongings forcibly removed from your apartment so that someone else can live there.
Oh, you thought that little issue was resolved weeks ago?
Yes, well, so did I.
Until I received a notice under my door yesterday letting me know that someone would be coming to inspect my apartment today between the hours of 9 and 5.
Oh! I thought. I wonder what they're inspecting. (<– blissful ignorance)
Ensues a flutter of emails between the student housing manager and myself in which he "reminds me" that I am, supposedly, moving out this weekend.
And I inform him that I am very much not.
As doing so would make me homeless.
He still has not responded.
This does not bode well.
All of a sudden the days when my biggest problems were messy pies and scraggly pie crusts and having too-juicy plums (<–THE HORROR!) don't seem so bad.
For the solutions to all of these things involve a bowl, a scoop of whipped cream, a marzipan crumble topping, tart-sweet plum filling, a spoon….
…and not a single roll of packing tape.
Yes, I think I choose the former.
So if you need me this weekend, I'll be decidedly not vacating my apartment.
And eating all the pie.
I mean, it was a tough choice. But yeah, I'm definitely going with the pie.
This pie. THIS PIE.
It's a hot mess, but in the best way.
Extra juicy sweet tart filling. Nutty almond paste crumble topping. The ultimate in flaky buttery crusts.
You just can't go wrong.
My plums were a bit TOO juicy, which I think accounted for most of the messiness.
But what is a little bit of messiness in light of so much plum-almond goodness, really?
Plum and Marzipan Crumble Pie
A sweet tart plum pie is topped with a crunchy, nutty marzipan crumble topping and served with a dollop of whipped cream on top - the perfect way to top off a late summer meal.
Ingredients
For the pie dough
1¼ cups all purpose flour
1 tsp sugar
½ tsp salt
5 oz unsalted butter, cubed and chilled
2-4 tbsp cold water
For the pie dust
¼ cup all purpose flour
¼ cup sugar
For the pie
2 lb plums, pitted and cut into ½-inch thick slices
1½ to 2 cups sugar
¼ cup cornstarch
1 egg, beaten
1 tsp sugar
10 oz almond paste
⅓ cup almond flour
2 tbsp cold unsalted butter, diced
2 tbsp sugar
Instructions
For the pie crust, put the flour, sugar, and salt in the bowl of a food processor and pulse to combine. Drop the butter into the bowl through the feed tube, pulsing as you do until the mixture resembles coarse crumbs. Add in the water 1 tbsp at a time, pulsing constantly, just until the dough starts to come together.
Remove the dough from the food processor and form into a disk. Wrap in plastic wrap and refrigerate for 1-2 hours, or overnight.
For the pie dust, sift together the flour and sugar in a small bowl. Set aside.
For the pie, put half of the plums and ¾ cup sugar into a medium saucepan. Cook, stirring frequently, over medium heat until the fruit starts to release it's juices, about 10 minutes.
Stir the raw plum slices into the cooked plums. Stir in another ¾ cup sugar and taste for sweetness. Stir in the cornstarch and let cool to room temperature.
Roll out the dough to a 13-inch circle on a lightly floured surface. Place onto a 9-inch pie, centering it. Gently press into the bottom and sides of the pan. Press the dough so that it extends ½-inch from the side of the pan, then trim the excess. Crimp the edges. Chill for 15 minutes, or until cool.
Heat oven to 350.
Sprinkle the bottom of the crust with 1½ tsp pie dust. Fill the crust with the filling. Paint the edges with the beaten egg and sprinkle with 1 tsp sugar.
Place the pie on a baking sheet and bake for 30 minutes, or until the edges start to brown.
Meanwhile, make the marzipan crumble. To do this, in the bowl of a food processor, add the almond paste and pulse a few times. Add the almond flour and pulse to blend. Continue pulsing as you add the butter and sugar, stopping when it turns into pea-sized pieces.
After 30 minutes, remove the pie from the oven and sprinkle the marzipan crumble over the top. Bake for an additional 35-45 minutes, or until the marzipan is golden and crunchy and the filling is bubbling. Make sure to check the pie frequently and tent with foil if the edges start to get too brown.
Allow to cool completely before serving.
Notes
Adapted from
Sweet
For more summer pies, check out these: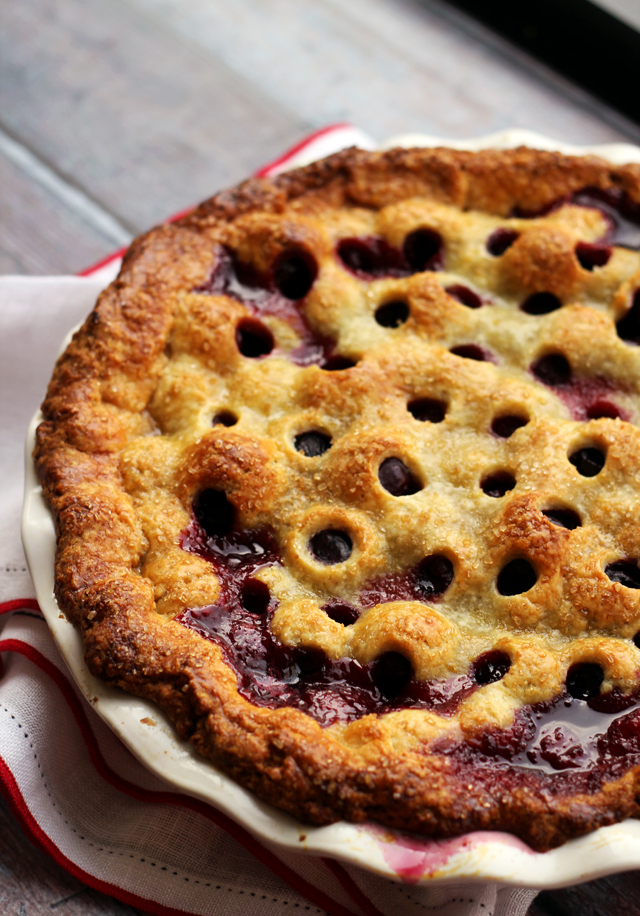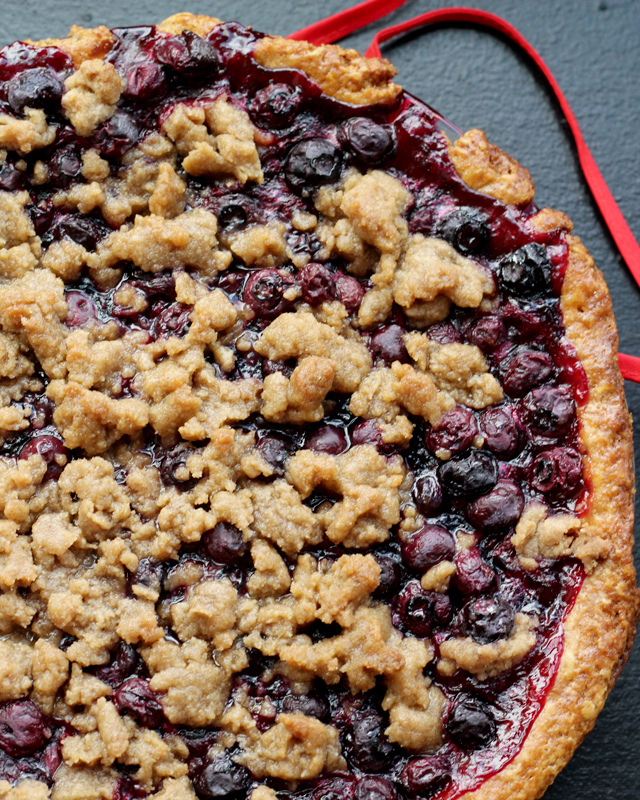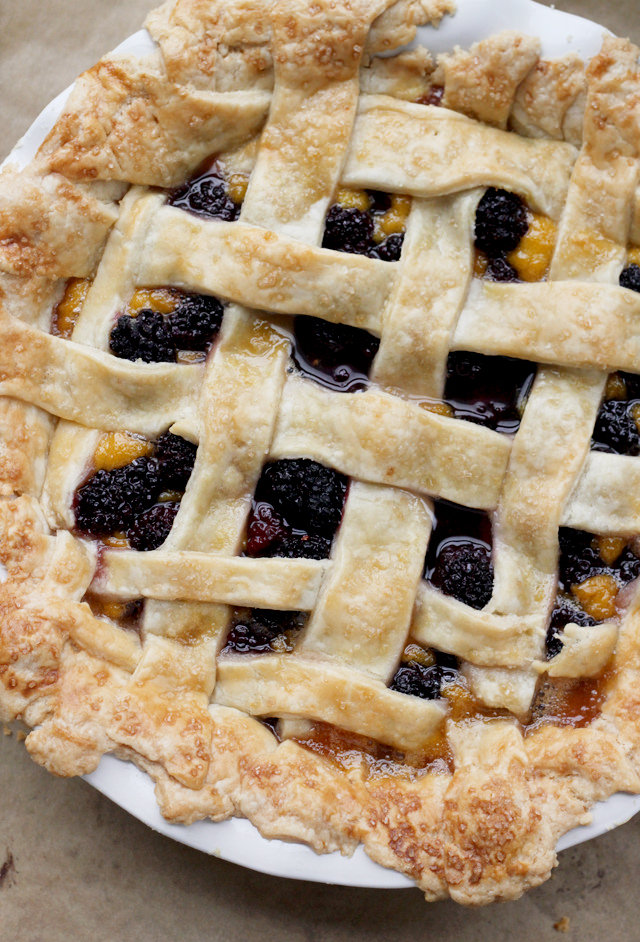 From Around the Web:
Classic Blueberry Nectarine Pie from Country Cleaver
Blueberry Apricot Tart with Pistachio Crust from Vegetarian Ventures
Strawberry Pop Tart Pie from Willow Bird Baking
Drunken Cherry Galettes from Confections of a Foodie Bride
Strawberry Rhubarb Meringue Tartlets from Completely Delicious