This is a Sponsored post written by me on behalf of Cooper Cheese for SocialSpark. All opinions are 100% mine. These two-bite chard-stuffed mac 'n' cheese bites are the perfect party appetizer or comfort-filled side dish!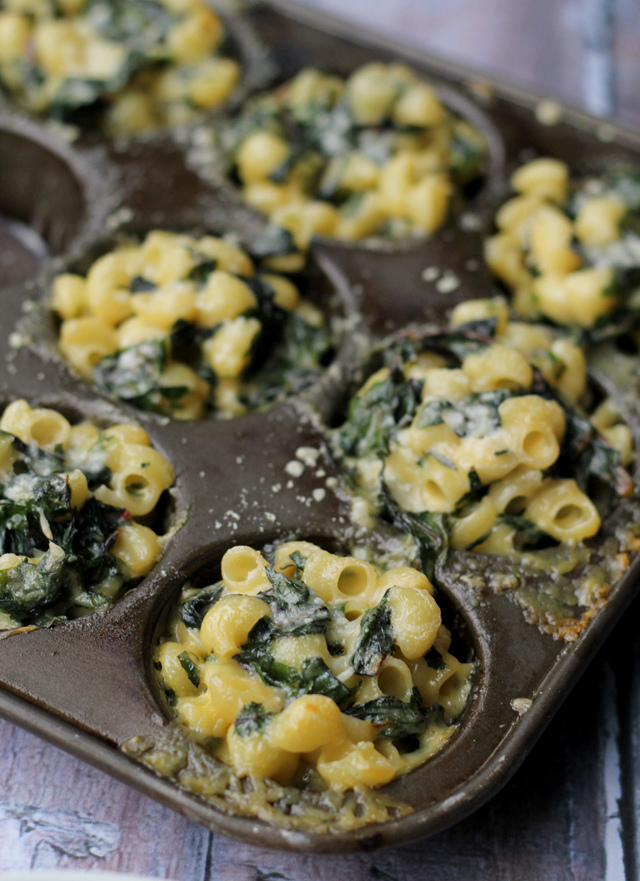 January is a tricky month.
Everyone is shoving veggies at you and trying to brainwash you into believing that cauliflower pizza crusts taste "just as good, I swear!" as their carby gluten-filled counterparts (<–LIES).
While simultaneously trying to convince you that you should wrap everything-but-the-kitchen-sink in a refrigerated crescent roll and call it football food.
These feel like mutually exclusive propositions. Of the worst kind.
I'll take my chard WITH my spicy creamy cheese sauce thankyouverymuch.
And I refuse to apologize for it.
Mac and cheese has been around since the beginning of time (or…since Thomas Jefferson imported both mac and cheese from Europe, into the US, so that he could serve it at a state dinner).
That pretty much categorizes it as "comfort food that is not to be messed with".
I mean, if it's good enough for TJ, then it's good enough for me.
Similarly, the Cooper deli cheese that I used in these delectable little bites, has been around since 1893. Well, not the actual cheese itself, but the company that makes it, and the process that they use hasn't changed either – from the craftsmanship of the cheesemaking right down to the packaging. Why fix something that isn't broken, you know?
Well, this American cheese melted down perfectly with some pepperjack that I had in my fridge to make a spicy creamy cheese sauce that rivals the stovetop mac'n'cheese of my childhood. Tossed with macaroni and wilted-down swiss chard, and baked into muffin cups, these make for the perfect single-serving handheld mac and cheese bites that will satisfy all of your comfort food cravings.
Now we can all have our creamy cheesy comfort food. And eat it, too.

To find out more about Cooper Deli Cheese, check them out on Facebook and on Twitter!
Spicy Chard Mac 'n' Cheese Bites
These two-bite mac 'n' cheese bites are the perfect party appetizer or comfort-filled side dish!
Ingredients
2 bunches swiss chard, destemmed and coarsely chopped
½ lb elbow or other small macaroni
1½ tbsp butter
2 tbsp flour
¾ cup milk
8 oz Cooper Deli Yellow American cheese
4 oz pepperjack cheese
1 egg yolk
¼ cup parmesan cheese
Instructions
Heat oven to 425.
Heat ½ cup water in a large pot. Add in the chard and steam until wilted, about 2-3 minutes. Remove from pot and let cool. Squeeze out as much water as possible and finely chop. Set aside.
Bring a large pot of salted water to a boil. Boil the macaroni for 5 minutes, then strain and toss with the chard.
In a small pot, melt the butter. Whisk in the flour and, whisking constantly, cook for 2 minutes. Slowly whisk in the milk. Bring to a boil. Stir in the cheeses and cook until milted, stirring constantly. Remove from the heat and stir in the egg yolk.
Mix the cheese sauce with the pasta and chard.
Grease two muffin tins. Scoop the batter among 14 of the cups, really packing it in. Sprinkle with the parmesan cheese.
Bake for 10-15 minutes, or until top is starting to brown. Let cool for 5 minutes before serving.
Notes
An Eats Well With Others Original