Spicy vegetarian chili cheese fries satisfy any and all comfort food cravings, while remaining meat-free and delicious.
Disclosure: This post was sponsored by BeyondMeat. As always, my thoughts and opinions are my own. Thank you for supporting the brands that keep me inspired in the kitchen!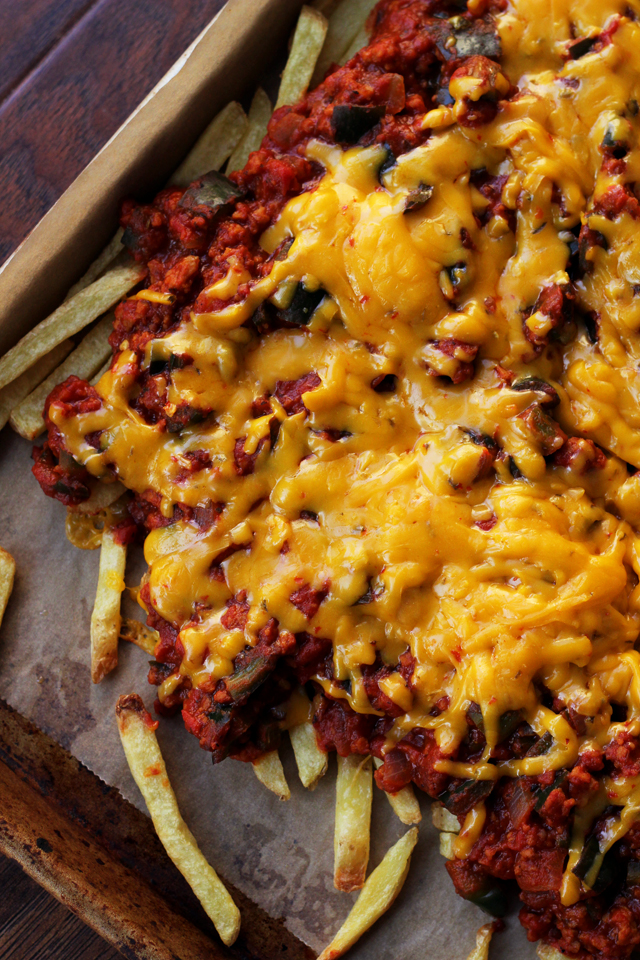 Oh, so we're eating our feelings now, are we?
Mine taste like cheesy spicy chili-smothered french fries.
With a side of OUR WEDDING INVITATIONS ARE GOING OUT TODAY.
This meant a whole weekend of making "life-altering" (I use the term loosely) decisions about what size address label stickers to use, whether we should put the RSVP cards inside the return envelopes or not, and what the proper way to address a formal invitation is if the wife is a doctor but the husband isn't (Dr. and Mr., in case you ever find yourself in a similar quandary).
Plus a trip to Men's Wearhouse that ended in the.boy screaming at the manager that we would not be giving them our business at any point in the near future.
I think we should count our lucky stars that my feelings didn't also come with a quart of cookie dough ice cream and a vat of hot fudge.
Wake me when November ends?
Thankfully there are few crises in this world that cheesy bowls of comfort can't smooth over. And these chili cheese fries are no exception. (I'm convinced they would do wonders in the Middle East.)
Not only are they smothered in the kind of ooey gooeyness that makes any day seem like a good one, but they're kind of good for you. (<–Craziness.)
I'm usually a beans-in-my-chili kind of gal, but sometimes you want something that has a more meaty texture, without the whole came-from-an-animal thing. I recently discovered BeyondMeat's Beef-Free Crumbles in the freezer aisle at my local grocery store, and they have quickly weaseled their way into my chili pot, which, if you know how highly I value my chili, is no easy feat.
Made from non-GMO pea protein, these beef-free beefy bites have the same protein content and amino acid composition as beef, but without all the cholesterol and saturated fat. Not to mention that they are also gluten-free, soy free, and Kosher. Texturally, they mimic ground beef very accurately, and so it's no coincidence that BeyondMeat describes them as the "meat" of the future. After all, more and more people are looking to incorporate meat-free meals into their lives, and being that this tastes so much like meat, adding it into your meals is an easy way to do so. You can find out more about BeyondMeat in their NY Times feature or from their stint on The Today Show! Check out their store locator to see where you can find BeyondMeat in your area.
To encourage my readers to try BeyondMeat, they have offered to give away 6 SWAG kits to my readers, which include all kinds of cool products and lots of free coupons, in addition to one $100 gift card to a BeyondMeat product retailer of your choice (Whole Foods would be one of them, but so are many natural food stores!). In addition, every entrant will receive a FREE BeyondMeat product coupon. There's no downside to entering when everyone's a winner! See the widget below for details on how to enter!

I've taken a few shortcuts so that these can be on the table A.S.A.P, because I think we all know that when a craving for comfort hits, it comes hard and fast and takes no prisoners.  Frozen fries are thrown in the oven while the chili simmers away on the stovetop, getting all deep smoky and spicy. The chili is then spread on top of the pan of cooked fries along with a hearty sprinkling of grated cheddar, and then the whole hot mess is sent back to the oven for a few minutes to get all melty and whatnot.
So much better than if my feelings tasted like celery sticks, don't you think?
Vegetarian Chili Cheese Fries
Spicy vegetarian chili cheese fries satisfy any and all comfort food cravings, while remaining meat-free and delicious.
Ingredients
22 oz frozen French fries
2 tbsp olive oil
1 onion, chopped
4 poblano peppers, seeded and cut into ½-inch cubes
salt and black pepper, to taste
11 oz beef-free crumbles
28 oz canned crushed tomatoes
1 tsp smoked paprika
3 tbsp tomato paste
1 tbsp brown sugar
1 tbsp distilled white vinegar
6 oz spicy cheddar cheese, grated
Instructions
Heat oven to 425. Arrange the frozen fries on a parchment-lined baking sheet. Place in the oven and bake according to package instructions.
Meanwhile, heat the olive oil in a large pot. To the pot, add the onions and pepper, along with salt and black pepper to taste. Saute over medium heat until peppers start to soften, about 5-8 minutes.
Stir the beef-free crumbles into the pot and saute for a few minutes, until warmed through.
Add the crushed tomatoes, smoked paprika, tomato paste, brown sugar, and vinegar into the sauce. Simmer until starting to thicken, about 3-4 minutes.
When the fries are done cooking, top them with the chili and the grated cheese. Put back in the oven and cook for another 3-4 minutes, or until cheese is melted.
Serve hot.
Notes
An Eats Well With Others Original
Nutrition Information
Serving size:
¼ of recipe
For more cheesy comfort, check out these: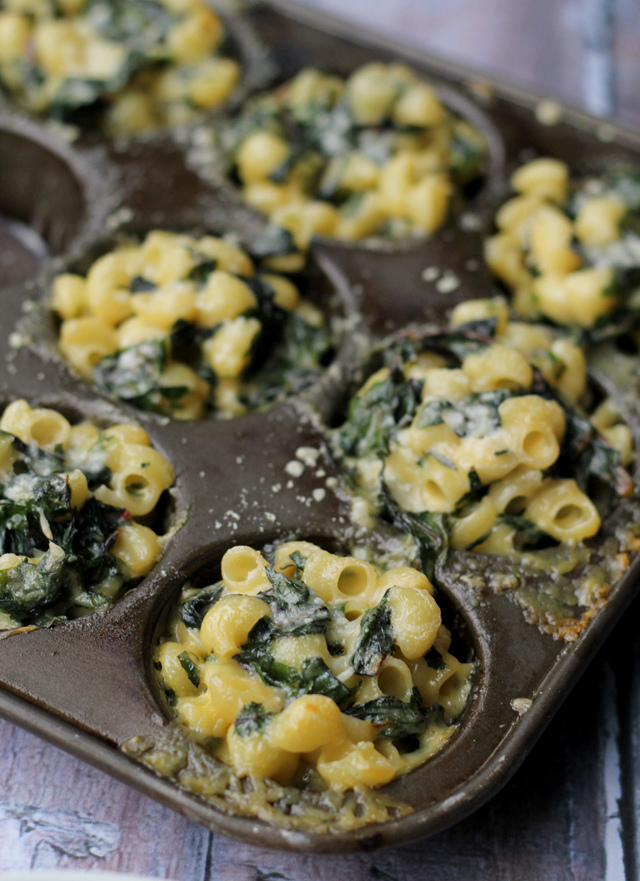 Spicy Chard Mac 'n' Cheese Bites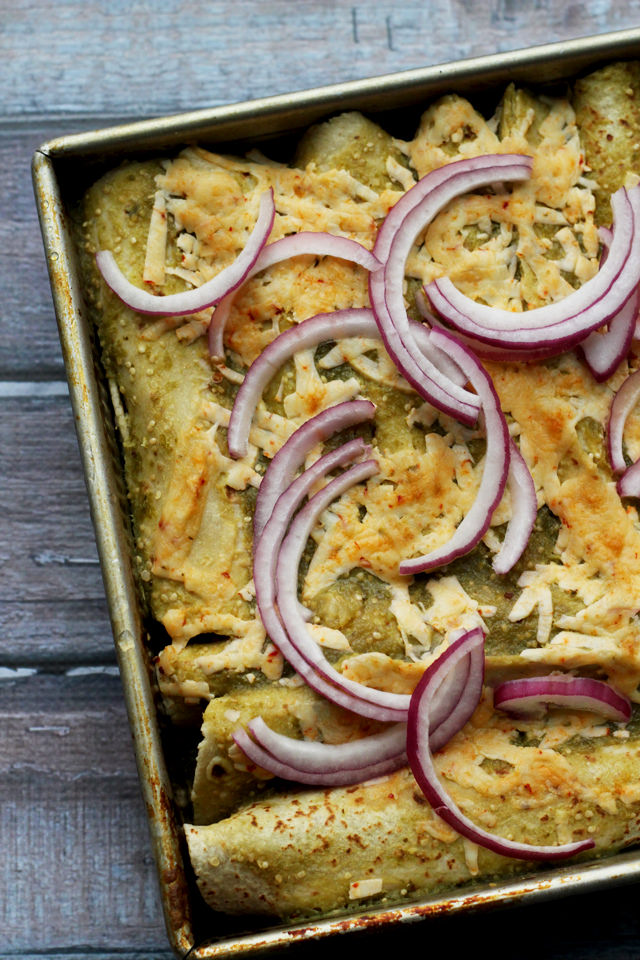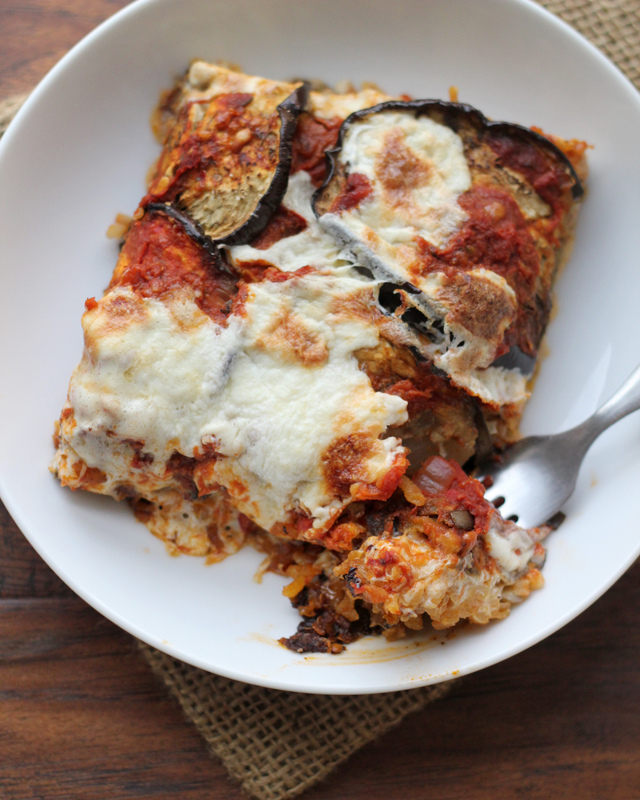 Eggplant, Mozzarella, and Saffron Rice Bake
From Around the Web:
Smoked Cheddar Mac and Cheese with Baked BBQ Tofu from Oh My Veggies
Baked Goat Cheese from The Wicked Noodle
Burrata and Jalapeno Corn Grilled Cheese from Climbing Grier Mountain
Peppery Cheese Bread from Taste and Tell
Baked Mozzarella Sticks from Diethood