These pumpkin chess pie bars combine the best of both pumpkin and chess pies to make the ULTIMATE fall dessert!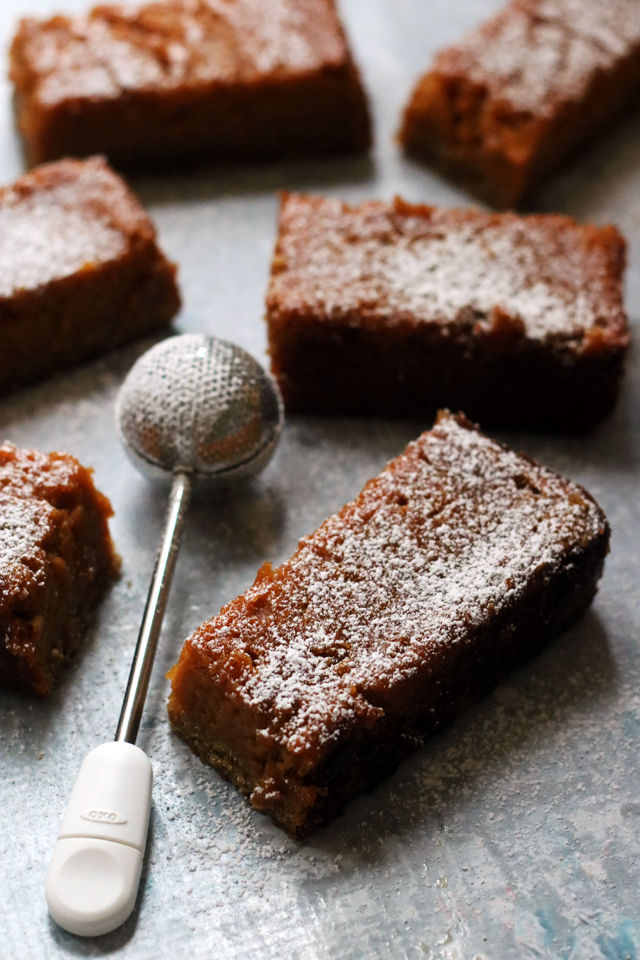 Because clearly what the internet needs right now is another pumpkin dessert.
But wait wait wait!!!!
This is not just any pumpkin dessert. It is actually the BEST version of pumpkin pie you can get without actually having to make pumpkin pie.
So basically, magic.
The original recipe is from Lindsay of Love & Olive Oil who makes some of the most magical desserts and savory food out there. I really feel like 99.9% of the time she reaches into the depths of my brain, finds exactly what I'm craving, and then makes it.
Amazing.
Take these pumpkin chess pie bars, for example!
They are a mash-up of two wonderful desserts – chess pie and pumpkin pie. Chess pie has its roots in southern baking and is basically made of a buttery, custard filling. And pumpkin pie is, well, pumpkin pie.
The marriage of the two results in a decadent, velvety smooth pumpkin custard filling. Made in bar form, it is that much easier to make, transport, and share with your friends and family. If you want to, that is.
Pumpkin Chess Pie Bars
These pumpkin chess pie bars combine the best of both pumpkin and chess pies to make the ULTIMATE fall dessert!
Ingredients
For the crust
1½ cups vanilla wafer or graham cracker crumbs (about 8 ounces)
1 tablespoon brown sugar
½ teaspoon kosher salt
5 tablespoons unsalted butter, melted
For the filling
1 cup granulated sugar
1 cup packed light brown sugar
2 tablespoons all purpose flour
1 tablespoon fine cornmeal
1 teaspoon kosher salt
½ teaspoon ground cinnamon
¼ teaspoon ground ginger
4 large eggs, lightly beaten
1 cup pumpkin puree (not pumpkin pie filling)
½ cup whole milk
1 tablespoon lemon juice
1 teaspoon vanilla extract
6 tablespoons unsalted butter, melted and slightly cooled
powdered sugar, to garnish
Instructions
Heat oven to 350F. Line an 8x8-inch baking pan with parchment paper, dotting the pan with butter or baking spray beforehand so that the paper sticks better. Set aside.
Place the cookies or graham crackers in a food processor and pulse until finely ground. Add in the salt, brown sugar, and melted butter. Pulse until combined and moist. Pour into the prepared pan and press into an even layer. Bake for 8-10 minutes, or until just set. Remove to a wire rack to cool completely.
Meanwhile, prepare the filling. Whisk together the sugar, brown sugar, flour, cornmeal, salt, cinnamon, and ginger in a large bowl until completely combined.
In a separate smaller bowl, whisk together the eggs and the pumpkin. Pour over the dry ingredients and stir until completely combined. Stir in the milk, vanilla, and lemon juice. Stir in the melted butter, mixing until combined. Pour the batter into the cooled crust.
Bake for 50-60 minutes, or until golden and slightly puffed. The center will be jiggly but not liquidy. Place on a wire rack and cool for 1-2 hours. Cut into bars and serve. Refrigerate any leftovers.