An easy vegetarian pesto pasta salad that is perfect for summer! It is filled with fun mix-ins – little mozzarella bites, roasted vegetables, and smoky crispy roasted chickpeas.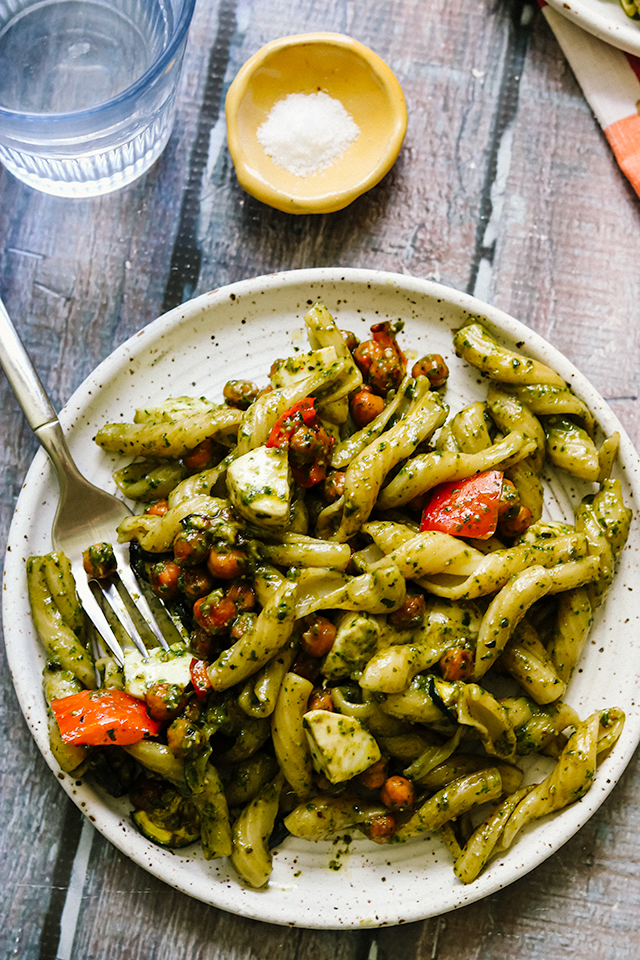 The sun is shining, the sky is bright – perfect time for pesto!
Honestly, I can't let a single season go by without sharing a pesto pasta recipe with you guys. I've made fall pestos and winter pestos and spring pestos and summer pestos and anytime pestos…there are no limits to my pesto love.
There's something about its bright herbaceous flavor that is just magical! Even Remy will eat it, and that is quite a feat for something that is so, well, green.
I would categorize this pesto as a shortcut pesto because we're using pre-made storebought pesto and feeling absolutely no shame about it. It's getting to be that time of the year when I just don't feel like spending a whole lot of hours in the kitchen and anything that gets dinner on the table faster is welcome in my home.
What kind of pesto should I use?
This is entirely up to you! I tend to like the pestos from the refrigerated section of the supermarket – they have a fresher taste than the shelf-stable varieties and fewer additives. If you're local to NYC, then I bought the FreshDirect brand pesto and it was really great. If shelf stable pestos are all you have to work with, then that will be fine as well but you may have to doctor up the flavor with extra lemon juice or parmesan cheese.
You can also always make your own pesto. My pro tip here is to make a double batch and throw the unused half in the freezer – your future self will thank you!
What is the best pasta for pesto?
I love a pasta with lots of twists and ridges for pestos because it gets into all of the pasta crevices and adds so much flavor. The pasta I used here is called trofie and it has a worm-like shape as it twists around itself. Other great pastas for pesto are fusilli or radiatore. Long stringy pastas like spaghetti, linguine, or tagliatelle also work really well with pesto because they have a large surface area with lots of space for the pesto to soak in and stick onto them. 
What should I put in my pesto pasta salad?
Well, it might be easier to ask what can't you put in a pesto pasta salad. The sky is the limit! I always add a cheese of some kind and extra veggies. Bocconcini or little mozzarella balls are a traditional addition and add the perfect bite-sized bursts of creamy flavor. Here I've also added roasted summer vegetables and crispy roasted chickpeas that are flavored with smoked paprika. The chickpeas add a nice crunch and a bit of umami flavor to the salad, which serves as a contrast to the basil pesto.
I feel like I say this about so many of my recipes, but you can really make this your own. It serves as a great base for a clean-out-the-crisper meal and can be adapted to include just about any vegetable – use whatever you have on hand!
Pesto Pasta Salad with Mozzarella, Roasted Vegetables, and Crispy Roasted Chickpeas
An easy vegetarian pesto pasta salad that is perfect for summer! It is filled with fun mix-ins - little mozzarella bites, roasted vegetables, and smoky crispy roasted chickpeas.
Ingredients
2 (15-oz) cans of chickpeas, drained, rinsed, and patted dry
2 tbsp olive oil, divided
1.5 tsp smoked paprika
salt and black pepper, to taste
2 zucchini, quartered lengthwise and thinly sliced
1 red bell pepper, seeded and chopped
1 lb pasta
9 oz basil pesto
9 oz bocconcini, cut into bite-sized pieces
Instructions
Heat oven to 375F.
In a large bowl, mix the chickpeas with 1 tbsp of the olive oil, the smoked paprika, and salt and black pepper to taste. Spread on a parchment-lined baking sheet.
In a separate bowl, toss the zucchini and bell pepper with the remaining olive oil and season with salt and black pepper. Spread on a second parchment-lined baking sheet in a single layer.
Place both baking sheets in the oven and roast for 30 minutes, rotating the pans halfway through.
Meanwhile, bring a large pot of salted water to a boil. Cook the pasta according to package directions. Drain and rinse with lukewarm water to bring to room temperature. Drain again.
Pour the pasta into a large serving bowl. Toss with the roasted chickpeas and vegetables, pesto, and bocconcini. Season to taste with salt and black pepper. Serve warm or at room temperature.
Notes
An Eats Well With Others Original