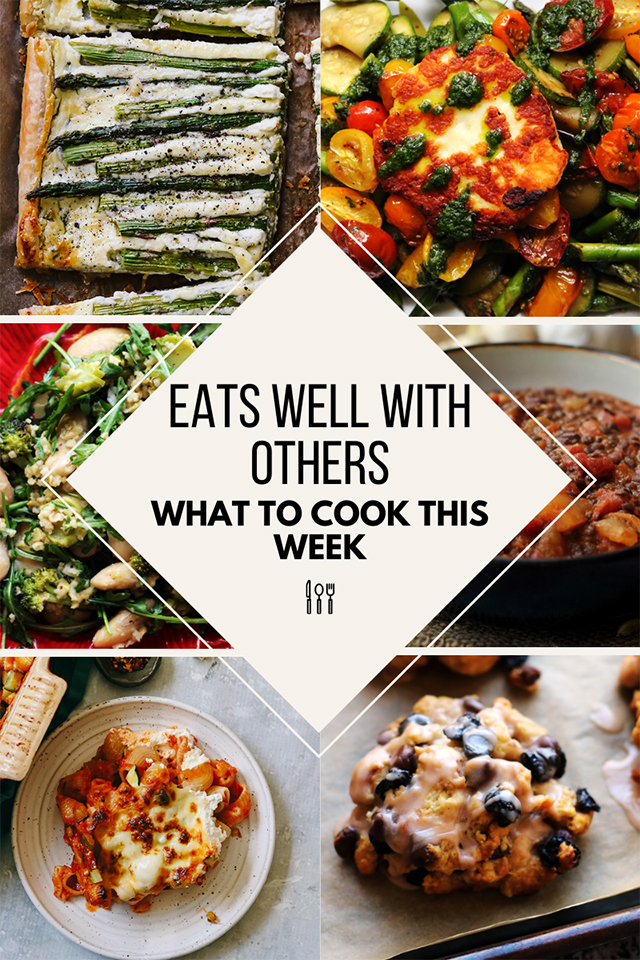 Happy weekend!!
We are heading to my mom's this afternoon to celebrate my brother's birthday and overall just enjoy the beautiful weather that's in store for us. I am in DESPERATE need of a weekend off after having to work last weekend. I almost have this jet lagged sort of feeling and a whole lot of mental fatigue. I also didn't make any sourdough bread last weekend and I AM IN WITHDRAWAL. Need to get a loaf into my belly ASAP.
What are your plans for the weekend?
This week's meal plan is full of fresh flavors, but also a few of my favorite comfort food meals. Let's dive in!
Sunday's dinner is one of my favorite spring meals – a big plate of roasted veggies and fried halloumi cheese, all topped with a fresh basil oil. Serve it with crusty bread or over your favorite whole grain.
We're getting a little cliche with a salad for Monday, but whatever. It's a GREAT salad. It's made with charred roasted broccoli, white beans, freekeh, and a lemony vinaigrette. Freekeh can be a little tough to find, so if you can't get your hands on it feel free to use bulgur, quinoa, or farro instead.
Tuesday calls for a little bit of comfort in the form of a cheesy baked pasta dish. This one is full of zucchini and made with a homemade spicy tomato sauce.
The dal makhani we're eating on Wednesday is probably the most labor intensive meal we're making all week. DEFINITELY cook your beans ahead of time. The ingredient list for this one is long, but it's mostly spices so don't be scared!
We're closing out the week with an Eats Well With Others fan favorite – an asparagus, goat cheese, and chive tart! It's made with a puff pastry base that's topped with a goat cheese and chive custard, and asparagus spears. I'll be cooking it on Instagram Stories tomorrow night so stay tuned!
Finally, a little treat for your weekend breakfast – chocolate chip and cherry scones!
Happy eating!
SUNDAY
FRIED HALLOUMI, ASPARAGUS, ZUCCHINI, AND TOMATOES WITH BASIL OIL
Prep Ahead Tip: The tomatoes can be roasted and stored in the refrigerator ahead of time. Bring to room temperature before using.
Vegan Substitutions: Replace the halloumi with tofu or roasted chickpeas.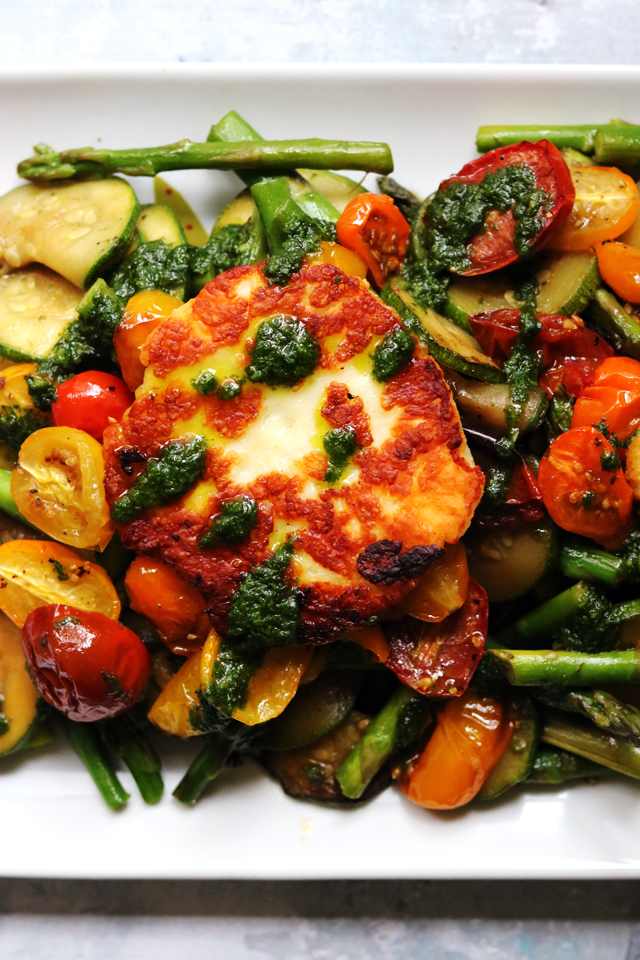 MONDAY
CHARRED BROCCOLI, WHITE BEAN, AND LEMONY FREEKEH SALAD
Prep Ahead Tip: The broccoli can be roasted ahead of time and stored in the fridge until ready to use.
Vegan Substitutions: This recipe is already vegan.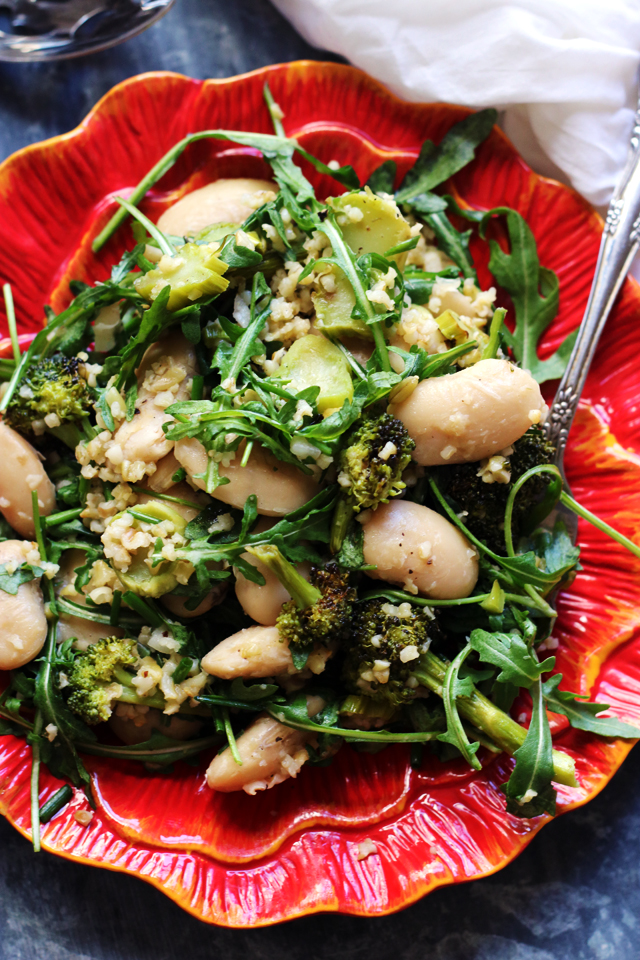 TUESDAY
Prep Ahead Tip: Prep the whole pasta bake ahead of time and then pop it into the oven for a quick reheat when ready to eat.
Vegan Substitutions: This dish relies on a LOT of cheese so it will be difficult to make vegan. Instead, you could nix the baking step and just serve this as pasta with a zucchini-full tomato sauce!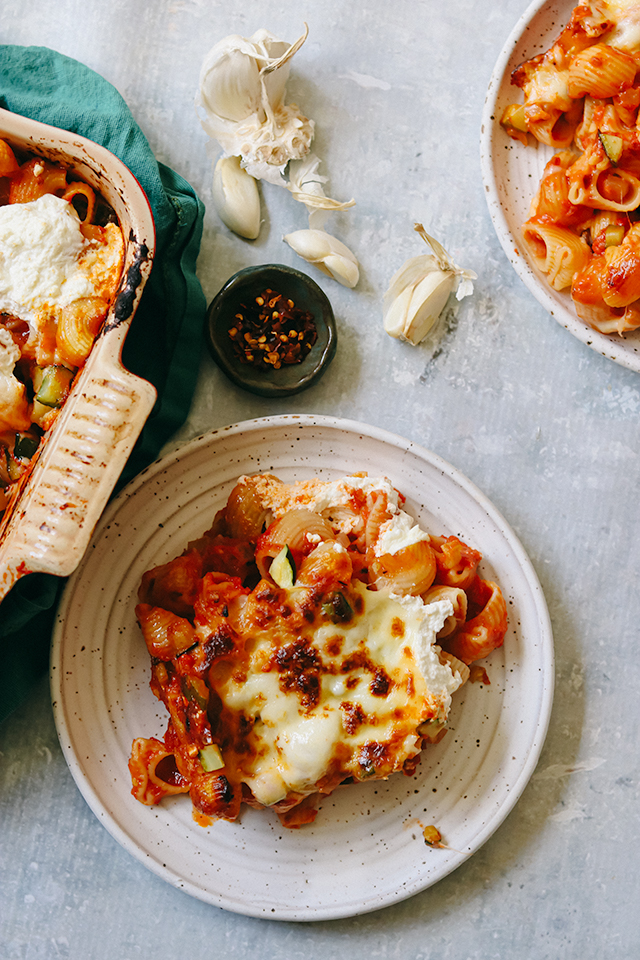 WEDNESDAY
Prep Ahead Tip: Prep and cook the beans ahead of time or on the weekend so that they are ready to go when it's time to make this.
Vegan Substitutions: Use coconut milk in place of the cream and olive oil in place of the butter to make this vegan.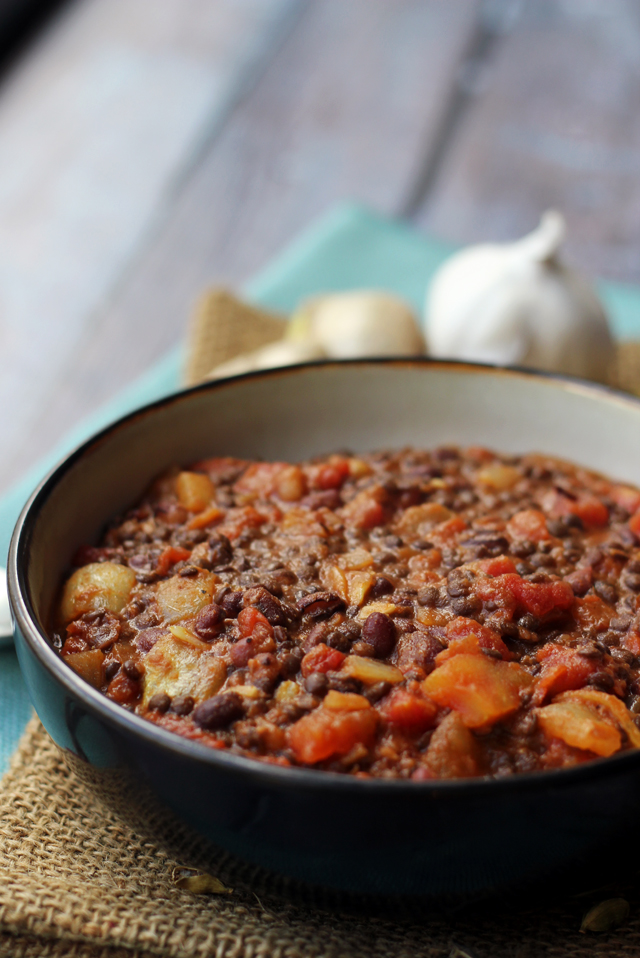 THURSDAY
ASPARAGUS, GOAT CHEESE, AND CHIVE TART
Prep Ahead Tip: Recipe comes together quickly, no need to prep ahead.
Vegan Substitutions: This is another one that will be difficult to veganize, but I think you could take the concept and flavors in the tart and make it your own, maybe in the style of a tofu-based quiche.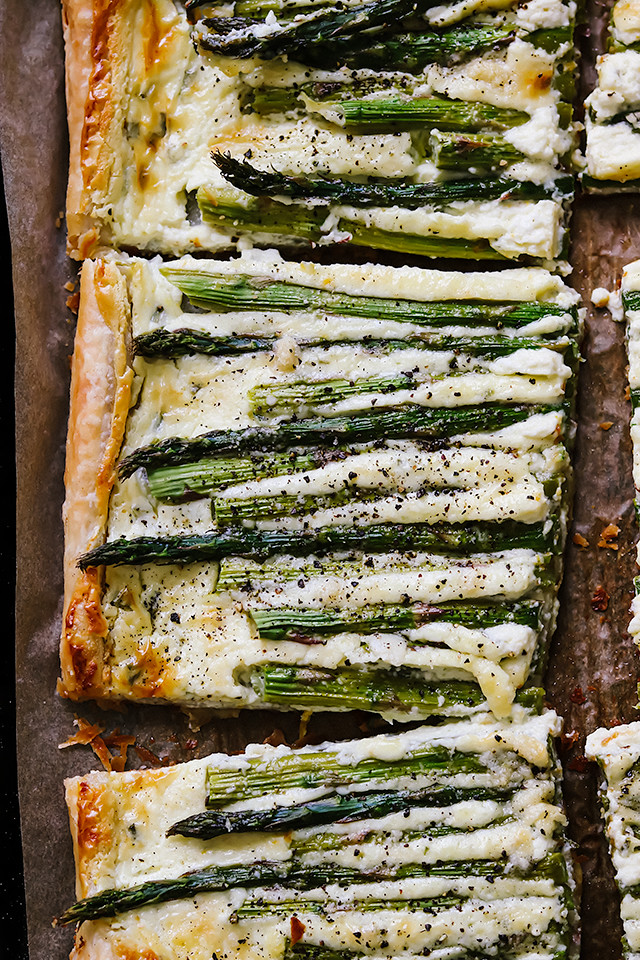 DESSERT
CHOCOLATE CHIP AND CHERRY SCONES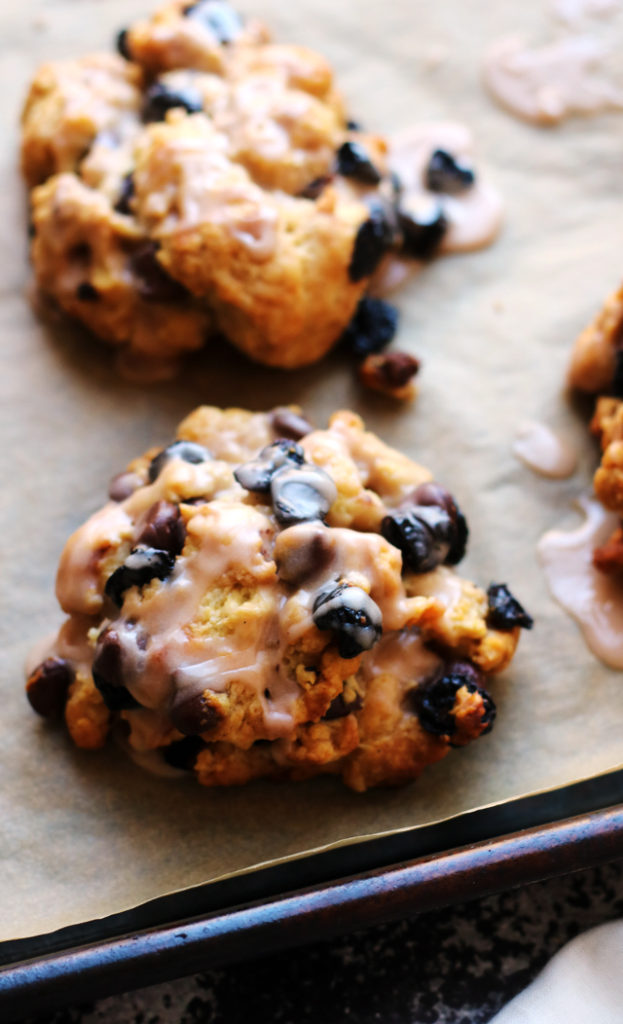 SHOPPING LIST
For a printable shopping list, click here.