Baked zucchini pasta al pomodoro – a delicious baked pasta dish made with a quick homemade tomato sauce, tender zucchini cubes, and three different kinds of cheese.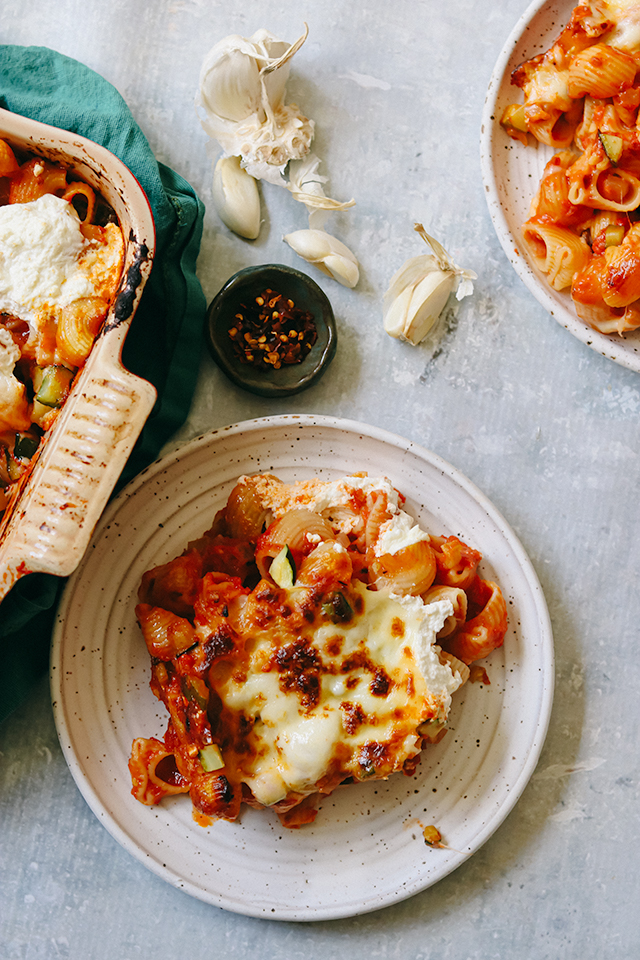 On the list of things I will never be mad to find taking up precious real estate in my fridge, baked pasta dishes are numbers one, two, and three.
They are the true gifts that keep on giving – put in a little leg work on a lazy Sunday and your future self will be indebted to you forever. She might even make you cookies with all that time you just freed up for her. Just saying.
Even better when said pasta dish contains gobs of cheese and vegetables so inconspicuous that even your child who is averse to even the most tiniest speck of green (the kid literally made me pick cilantro dots off her quesadilla this weekend) can't detect them.
She polished off her entire plate before I even realized what had happened – no coaxing, bribery, or threatening required! 
While most baked pasta dishes are multi-hour affairs, this one is strictly NOT. I know I said it was fit for a lazy Sunday but the truth is that you could make it on a weeknight without it completely derailing your week.
It starts with a quick homemade zucchini-infused tomato sauce that is perfectly garlicky with merely a hint of spice. The zucchini cubes cook just long enough to become melt-in-your-mouth tender but not so long that they're total mush and – the best part yet – it comes together in the time it takes your water to boil, leaving you plenty of time for shredding cheese and scrolling Instagram.
Once the pasta and the sauce are cooked, you'll mix them together in your baking pan along with the shredded fontina. The rest of the cheese – both the ricotta and the fresh mozzarella slices – get piled on top of the pasta so that when you take a bite you're either taking a deep dive into a ricotta pool or a thick layer of melty cheese.
Bake it until the cheese gets dotted with those glorious brown specks and the pasta edges get just a little (okay, a lot) crispy. 
Then make sure to save all the corners for yourself because, let's face it, no one else will appreciate them the way that you will.
Now that you know the rules, feel free to adapt this to whatever life throws at you – jarred pasta sauce, a different veggie medley, less spice, insert-your-favorite-cheese in place of the fontina.
I'm partial to the original, but it is entirely flexible and can be changed to suit your family's needs, whatever they may be.
Cheesy Baked Zucchini Pasta al Pomodoro
Baked zucchini pasta al pomodoro - a delicious baked pasta dish made with a quick homemade tomato sauce, tender zucchini cubes, and three different kinds of cheese.
Ingredients
¼ cup extra virgin olive oil
6 garlic cloves, minced
2 shallots, diced
1 tsp dried oregano
½ tsp red pepper flakes
2 zucchini, cut into ¼-inch cubes
28 oz canned crushed tomatoes
salt and black pepper, to taste
1 lb conchiglie pasta or other short cut pasta
½ cup reserved pasta water
4 oz fontina, shredded
8 oz ricotta
8 oz fresh mozzarella, thinly sliced
Instructions
Heat oven to 400F.
In a medium pot, heat the olive oil over medium-high heat. Once shimmering, add the garlic cloves and shallots. Saute for 3 minutes or until tender. Add in the oregano and red pepper flakes. Saute for 1 minute and then add in the zucchini and a pinch of salt. Saute for 5 minutes or until the zucchini starts to become tender.
Stir in the crushed tomatoes and simmer for 5 minutes. Season to taste with salt and black pepper.
Meanwhile, bring a large pot of salted water to a boil. Cook the pasta until al dente, about 2 minutes short of the usual cook time. Drain and reserve ½ cup of the pasta water.
In a 9x13-inch baking dish, stir the pasta with the tomato sauce, fontina, and reserved pasta water. Top with dollops of the ricotta and the mozzarella slices.
Place in the oven and bake for 25 minutes, or until the cheese starting to blister on top. Let rest for 5 minutes, then cut into pieces and serve.
Notes
An Eats Well With Others Original