Salmon tacos al pastor topped with goat cheese and a smoky, spicy tomatillo-chipotle salsa.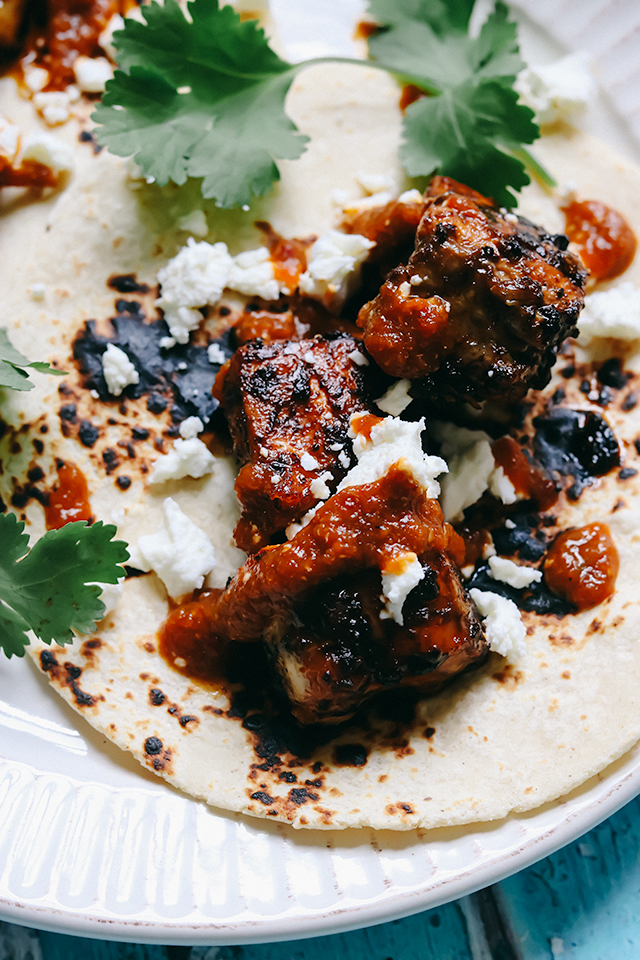 TACO LUV 4 LYFE.
Has someone put that on a t-shirt?? I'd buy it.
And I'd put a big picture of these tacos right under it because as far as I'm concerned, they are the taco IDEAL.
Spicy, smoky, creamy, saucy. Ahhh I wish I were eating one right now
This is what we need today. What we need every day!!
These are unlike most other fish tacos in that there is no battering or deep frying required. I'm not the biggest fan of white fish (maybe you've noticed) or vats of hot oil, and I feel like you need both of those things to make crispy fish tacos. 
So I went with salmon! It's our family favorite fish and everyone will eat it, which is the biggest win when you have a child who eats next to nothing. Seriously.
The salmon gets marinated in a homemade adobo paste that is more smoky and just full of flavor than it is spicy. I should warn you that you will need to do a serious restock of the dried chiles in your pantry if you want to make this recipe – this recipe uses three different kinds but it is really worth the effort to find them because of how richly flavorful they are. I bought mine from The Spice House (not sponsored), which is such a great resource for most of the esoteric spices you'll see on here. 
Adobo paste or adobo sauce is pretty ubiquitously used throughout Latin America, with each culture putting a different spin on the spices, flavors, and chiles that are included. This recipe is from the Nopalito cookbook, which is my go-to for really tasty authentic Mexican food. It is filled with ancho chiles, guajillo chiles, garlic, jalapeno peppers, chili powder, oregano, and cilantro. This recipe makes way more than you'll use for these tacos, but you can freeze the extras and use it for ANYTHING – more tacos, mixing into eggs, stirring into soups, etc.
After marinating, the salmon gets sauteed so that it's a little bit crispy on the edges but still really tender and barely cooked on the inside. Stuff it into warmed and blistered corn tortillas, and top it with goat cheese for creaminess.
Next comes a homemade tomatillo-chipotle salsa that will knock your socks off! It's another recipe that is pretty simple – just a blend of dried chipotle morita chiles, slightly blistered roasted tomatillos, garlic, onion, and salt. It is tangy, deeply smoky, and pretty spicy. A little goes a long way, but again this recipe makes a lot so you'll have quite a bit left over for chip dipping or…more tacos.
I think you see where we're going with this.
MORE TACOS. Always the right call.

Salmon Tacos al Pastor with Goat Cheese and Smoky Tomatillo-Chipotle Salsa
Salmon tacos al pastor topped with goat cheese and a smoky, spicy tomatillo-chipotle salsa.
Ingredients
For the tacos
1 lb skinless salmon fillets, cut into 1-inch cubes
salt
2 tbsp adobo paste (recipe follows)
canola oil, for sauteing
8 soft corn tortillas
4 oz goat cheese
salsa de morito con tomatillo (recipe follows)
For the adobo paste
8 dried ancho chiles
3 dried guajillo chiles
4 garlic cloves
1 tbsp cumin seeds
½ tbsp dried oregano
1 tbsp chili powder
2 jalapenos
½ bunch fresh cilantro
For the tomatillo-chipotle salsa
12 medium tomatillos, husked and rinsed
1 tbsp canola oil
6 medium dried chipotle morita chiles, stemmed
3 garlic cloves
½ white onion
salt
Instructions
For the tacos
Season the fish to taste with salt and coat with the adobo paste in a large bowl. Allow to marinate for 15-20 minutes.
When ready to cook, heat 2-3 tbsp of oil in a large skillet over medium-high heat. Add the fish and cook until crispy and seared on one side, about 3 minutes. Flip onto the opposite side and cook for another 3 minutes or until just cooked.
Divide among warm tortillas. Top with the goat cheese and drizzle with the salsa.
For the adobo paste
Heat a skillet over medium heat. Add the dried chiles and toast, turning every 10 seconds or so until they become quite aromatic and have started to look toasted. Transfer to a medium bowl and cover with boiling water. Allow to soak for 20 minutes.
Meanwhile, heat oven to 350F. Place the garlic, dried herbs, and spices onto a baking sheet. Roast for 10 minutes, stirring halfway through.
Remove the soaked chiles to a blender, reserving the soaking water. Add the toasted spices, jalapenos, and cilantro to the blender as well. Pulse the mixture, adding just enough water to form a smooth paste.
Any excess adobo paste can be dolloped onto a baking sheet (I aliquoted it into 2 tbsp scoops) and frozen for up to 3 months.
For the tomatillo-chipotle salsa
Heat oven to 400F.
Place the tomatillos in a medium baking sheet. Roast until slightly browned, about 20 minutes. Remove from the heat and let cool slightly.
Meanwhile, heat the oil in a small pot over medium-high heat. Add the chiles to the pot and cook, turning frequently, until blistered and toasty. Pour water over the chiles to cover them and bring to a simmer. Simmer until the chiles are quite soft, about 25 minutes. Remove the chiles and discard the soaking water.
In a food processor or blender, blend the chiles into a paste. Add the garlic and onions and continue to blend. Finally, add the tomatillos and blend until jammy. Pour into a bowl and season to taste with salt.