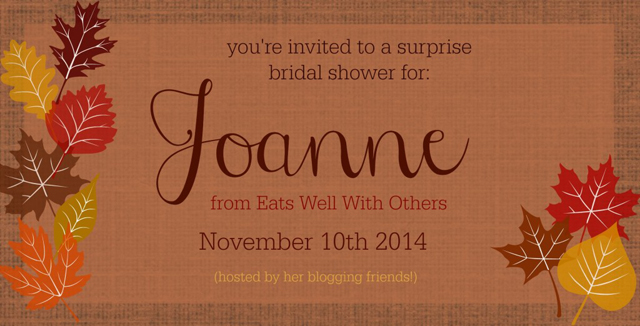 On Monday, my blog friends threw me a virtual bridal shower and it totally blew me away! I'm still pretty speechless. They are seriously the best. Like, OF ALL TIME. I was really not having a great morning (I mean, it was Monday) but seeing all of the fall goodies they made and the love and thoughtfulness that went into their posts made my day in a big way. I only wish we could all get together to celebrate in person! You would have to roll me home. It would be awesome.
I've said it before, and I'll say it again, but one of the major perks of blogging is the people you meet along the way. Many of these ladies have gone from being virtual besties to real life friends, and I am so lucky to have all of them (and all of you!) in my life.
The theme for the shower was FALL, which, if you know me, is totally fitting. Fall is my favorite season by far, mostly because of the abundance of orange vegetables, but also because the weather is just perfect, it is the best time of year to go running through Central Park, and the world just feels beautiful. I can't really explain it, but these ladies hit it SPOT ON.
Check out all of the deliciousness they cooked up and just try to tell me you don't want to change all of your Thanksgiving menu plans immediately:
Cocktails:
Pumpkin Spice White Russian – Nutmeg Nanny
Warm Apple Pie Cocktail – Miss In The Kitchen
Bourbon Apple Cider Cocktail– Cook Like A Champion
Snacks/Savory:
Baked Brie with Honey and Sliced Almonds – The Lemon Bowl
Butternut Squash and Apple Galette – Warm Vanilla Sugar
Roasted Pumpkin Crostini – Annie's Eats
Kale Salad with Maple Butternut Squash and Pomegranate Dressing – Blahnik Baker
Lemony-Pasta Stuffed Zucchini – Very Culinary
Pumpkin Dip with Apple Chips– Meadows Cooks
Sweet:
Pumpkin Cinnamon Roll Cake – The Baker Chick
Peanut Butter Fudge Pie with Salted Peanut Butter Caramel– Taste and Tell
Caramel Apple Upside Down Cake – The Girl in the Little Red Kitchen
Snickerdoodle Bundt Cake – Chocolate and Carrots
Roasted Butternut Squash Pie with Brown Sugar Marshmallow Topping – Keep It Sweet
Caramel Corn Chocolate Chip Cookies – The Cooking Actress
Caramel Cranberry Apple Galette – Bakeaholic Mama
Coconut Pecan Tarts – Bake or Break
Cranberry Margarita Cupcakes – Baker by Nature
Gingerbread Truffles  – Dinners Dishes and Desserts