A hearty stew of beans and greens alla vodka. Serve with crusty bread or over pasta.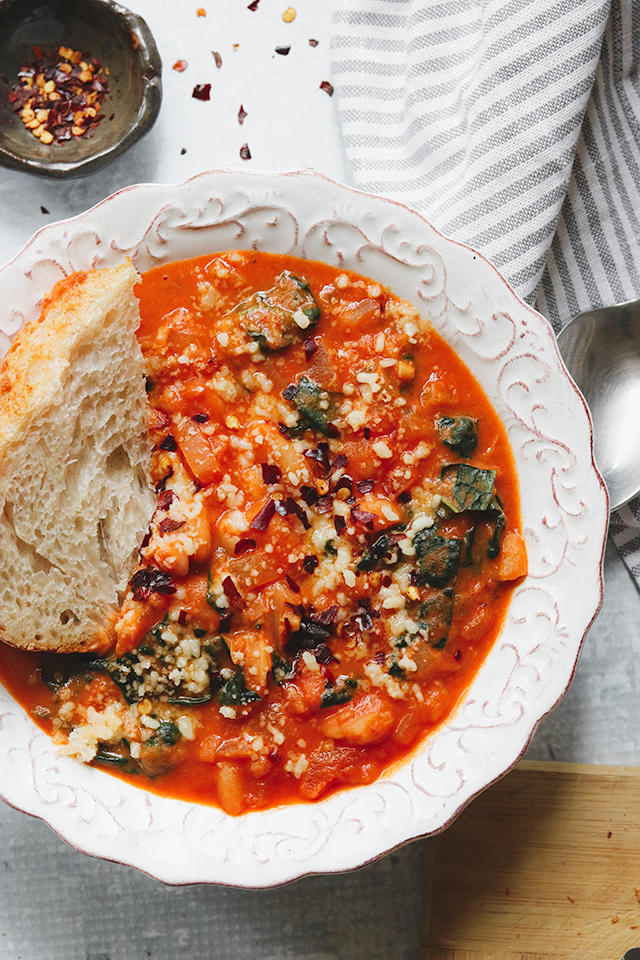 Currently accepting applications for knock-your-socks-off recipes that can be made in under 30 minutes, preferably with one hand, while sleep-deprived, and mostly with ingredients I likely already have on hand.
You know, in preparation for the end of sanity as we know it aka baby time!
In case you need an example of exactly what I'm wanting, this beans and greens alla vodka stew is everything.
EVERYTHING.
In fact, I can't even remember the last time a recipe went from me making it to the blog so quickly, that's just how obsessed I am with this meal. My one regret is that I didn't make a double batch. Next time.
The magic here is that we're combining what is arguably one of the world's most perfect sauces (being a full-blooded Italian, I'm biased, but still) with hearty white beans and nutrient-packed greens into a soup/stew mash-up that can be served in basically a gazillion different ways. We chose to eat it with freshly baked bread for dunking and sopping up every last saucy bite and were not mad about it but it would also be perfect over pasta, polenta, or risotto.
Or just as is! Keep it simple superman, as they say.
The process of making this really is ridiculously simple and I love that it relies on mostly pantry staples to get it on the table. The greens are the exception here, but I always seem to have some in the fridge or freezer that are threatening to wilt on me and this is perfect for using them up.
To start, we're sauteeing onions and garlic in olive oil until they are deeply golden and perfectly fragrant. Next, tomato paste, vodka, and red pepper flakes get added to the mix and are cooked until the tomato paste is a bit toasty and has lost its raw edge. Finally, the white beans, greens, and water are stirred into the pot and the whole mixture simmers together for around ten minutes to wilt the greens and really let the flavors meld together. Pour in a hearty splash of heavy cream to finish it off and you are truly living the dream.
Beans and Greens Alla Vodka
A hearty stew of beans and greens alla vodka. Serve with crusty bread or over pasta.
Ingredients
3 tbsp olive oil
1 onion, diced
8 garlic cloves, minced
salt, to taste
1 (6 oz) can tomato paste
¼ cup vodka
½ tsp red pepper flakes
2 (15 oz) cans white beans, drained and rinsed
1 bunch lacinato kale, leaves thinly sliced
¼ cup heavy cream
grated parmesan cheese, to garnish
Instructions
Heat olive oil in a Dutch oven or heavy-bottomed pot over medium heat. Add the onion and garlic along with a pinch of salt to season. Saute for 5-7 minutes, or until the onion is golden.
Stir in the tomato paste, vodka, and red pepper flakes. Cook for another 1-2 minutes, stirring constantly.
Add in the white beans, kale, and 2 cups of water. Season to taste with salt. Bring to a boil and then reduce heat to a simmer. Cover and cook for 7-10 minutes, or until slightly thickened.
Stir in the heavy cream and season again to taste. Divide among serving bowls and top with parmesan cheese to garnish.