There is nothing quite like a bowl of this sweet potato butternut apple soup to warm up the chilly fall nights. Top with a dollop of mascarpone for a touch of extra decadence!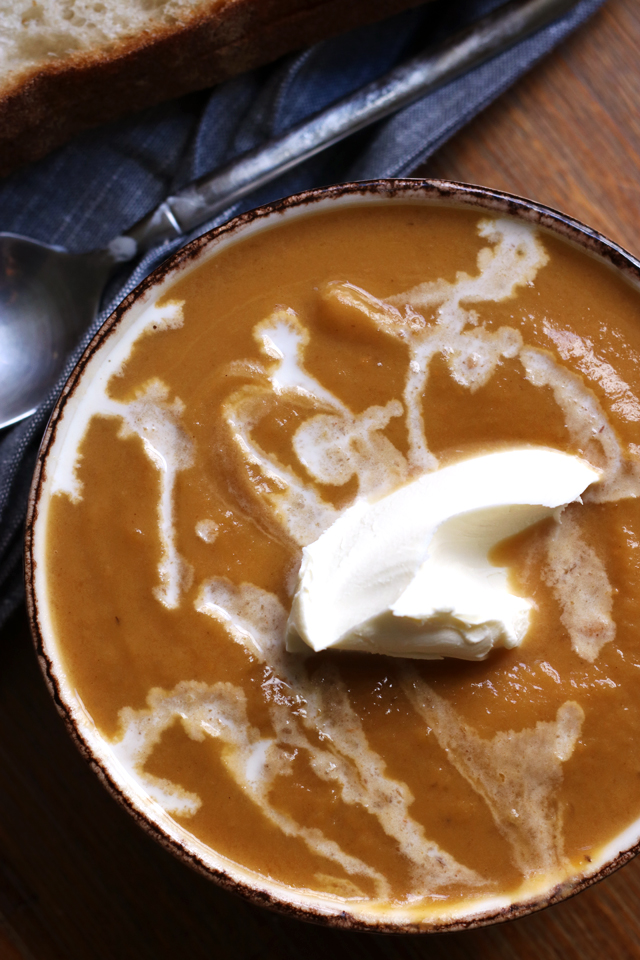 Can you all just confirm for me that the whole point of apple picking is to purchase so many pounds of apples that your arms ache for days afterwards,
more than you'll believe you can ever use,
more than you can imagine that you'll ever eat,
and basically enough for four apple pies plus snacks every day?
I'm right…….right?!?
In case you couldn't tell, yes we went apple picking this weekend and yes the.boy spent the entire time trying to convince me to put some back (<–???) because we had, according to him, "gone too far".
I mean, he obviously doesn't realize that I have a whole internet full of apple pie recipes to test.
THERE IS NO "TOO FAR".
Anyways.
I basically spent the majority of our apple picking watching him like a hawk to make sure he didn't toss any apples overboard whenever I blinked or hard to turn away to make sure that Remy wasn't eating half-eaten apples from the ground. It's still unclear to me that he didn't sneak some into his parents' apple bag when he went to check out because he looked awfully sheepish afterwards.
Well, if we don't have enough apples for all the pies/crisps/cobblers that I want to bake then the joke's on him.
All that to say – prepare for ALL THE SWEET APPLE RECIPES, coming soon to a blog near you.
But until then, MAKE THIS SOUP (and that's an order) because it combines all the best things about fall and all of my family loved it (Remy included), which basically never happens. So you know it must be good. And it uses up TWO WHOLE APPLES. We're really making a dent in our apple stashes over here. (Not.)
Honestly, I made it on a whim and had no intention of posting it but then it was so fabulous that I had to lest I be overtaken by the guilt of not sharing it with you. It's a little sweet, a little savory, and a whole lot of creamy comfort especially with that dollop of mascarpone on top. You can feel free to leave the mascarpone off if you're feeling virtuous (because otherwise the soup is really nothing but fruits/veggies and a touch of heavy cream), but I wouldn't recommend it. It's chunky sweater season somewhere, after all (not here, where it's 80 million degrees, but still) and our love handles won't be coming out again until June.
Sweet Potato Butternut Apple Soup with Mascarpone
There is nothing quite like a bowl of this sweet potato butternut apple soup to warm up the chilly fall nights. Top with a dollop of mascarpone for a touch of extra decadence!
Ingredients
2 tbsp olive oil
2 tbsp butter
1 onion, minced
1 lb butternut squash, peeled and cut into ½-inch dice
2 apples, peeled, cored and cut into ½-inch dice
3 small sweet potatoes, peeled and cut into ½-inch dice
1 tsp cinnamon
4 cups vegetable broth
salt and black pepper, to taste
½ cup apple cider
½ cup heavy cream
8 oz mascarpone
Instructions
Heat the olive oil and butter in a large heavy-bottomed pot over medium-high heat. Once the butter is melted, add the onion to the pot and saute until tender, about 4-5 minutes.
Stir in the butternut, apples, and sweet potatoes. Saute for 4-5 minutes, or until the vegetables start to caramelize and the apples start to break down. Add the cinnamon to the pan and saute for 1 minute or until fragrant.
Pour in the vegetable broth, scraping up any brown bits on the bottom. Turn the heat to high and bring to a boil. Reduce heat to medium-low and simmer for 15-20 minute or until vegetables are tender. Remove from the heat and puree using an immersion blender. Season to taste with salt and black pepper.
Return to medium heat. Stir in the apple cider and heavy cream, and cook for another 5 minutes to allow the flavors to blend. Season again with salt and black pepper. Serve topped with a spoonful of mascarpone.
Notes
An Eats Well With Others Original
More soup for fall!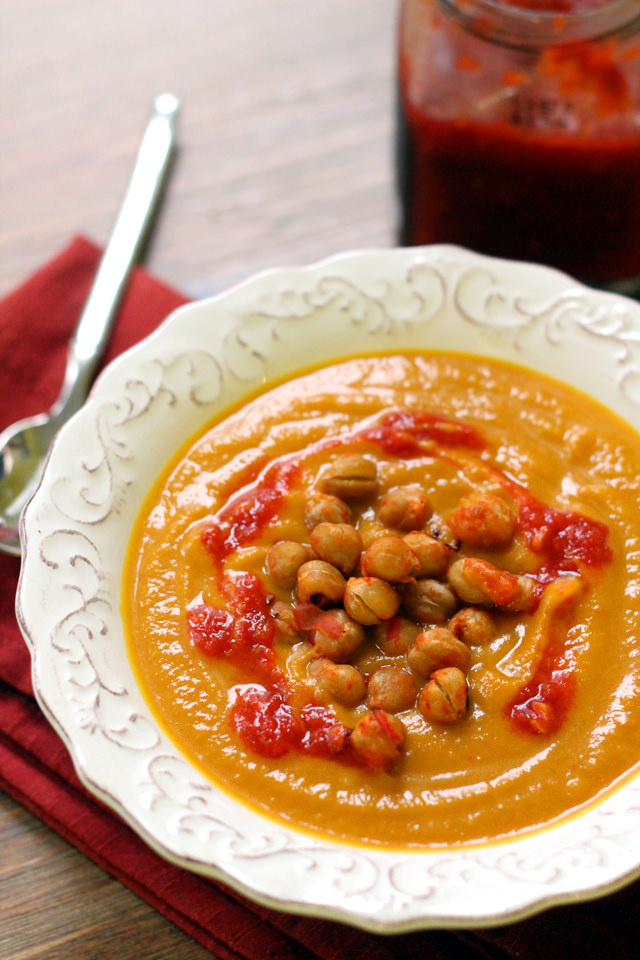 Carrot, Squash, and Coriander Soup with Crunchy Harissa Chickpeas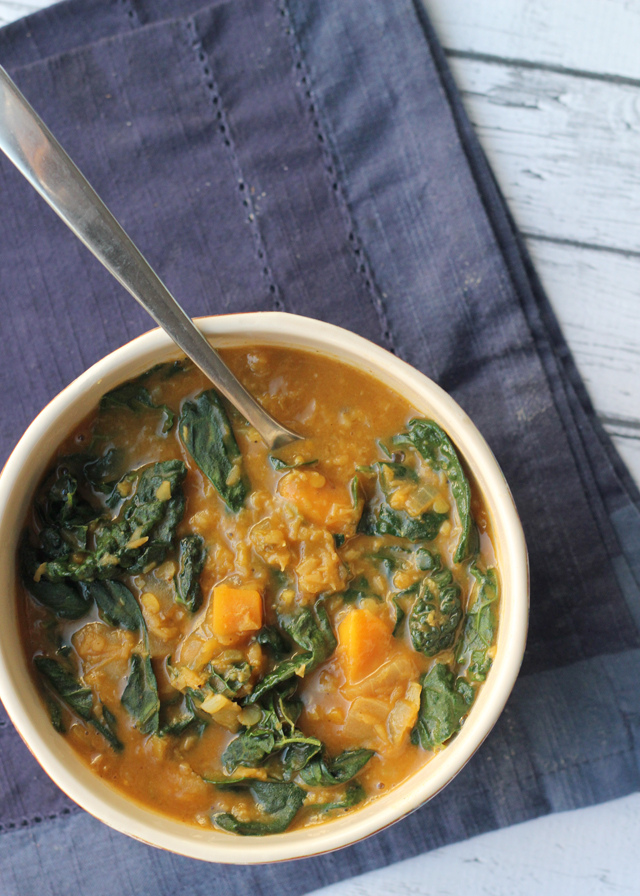 Curried Red Lentil, Kale, and Sweet Potato Soup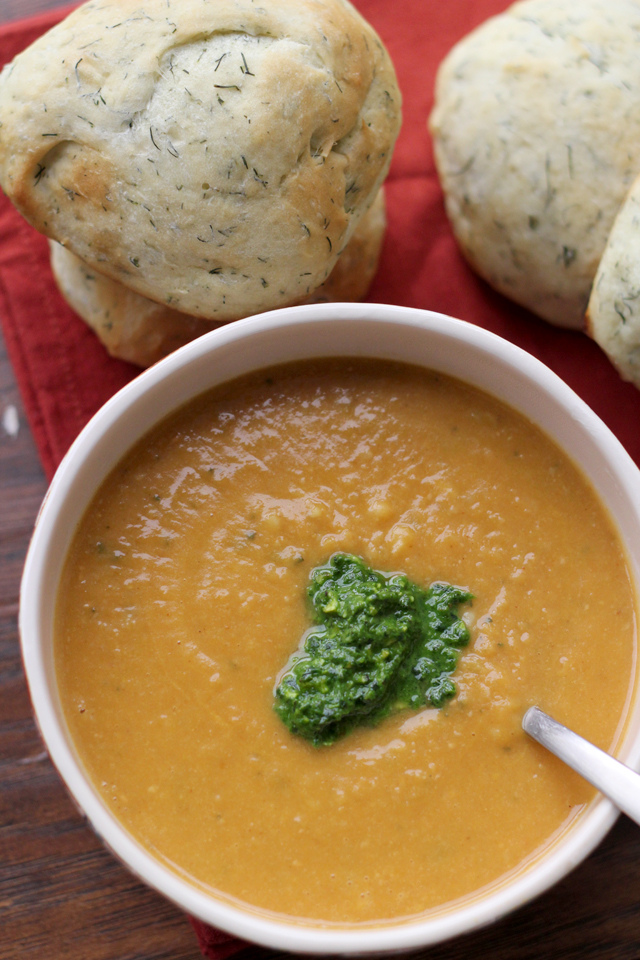 Pumpkin and White Bean Bisque with Sage Pesto