Velvety smooth and sweet carrot, squash, and coriander soup gets spiced up with a crunchy harissa chickpea topping.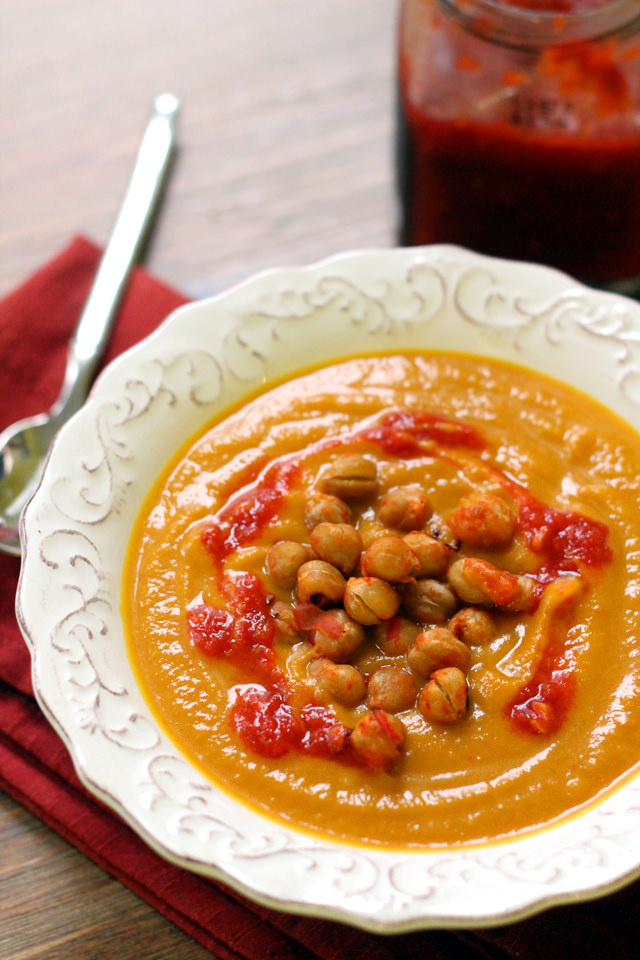 Truth: occasionally I use condiments as weapons.
Case in point:
"DON'T MAKE ME SPICE THIS" – a war cry commonly heard coming from my kitchen as I stand in front of a bubbling pot of something or other, hand poised directly over it with a bottle of sriracha or a 1/2 cup measure of harissa.
Armed and ready.
To pour.
But is it really my fault that the.boy and I have vastly different levels of heat tolerance, to the point where my "it's a little spicy" is his "there is smoke coming out of my ears and I am sweating beyond profusely"?
A life without spicy food is pretty much a life barely worth living. I mean, I'm obviously the one who's suffering here.
Which is why I'm beyond thrilled that this month's Recipe Redux instructed, nay MANDATED that we get our smoky spicy on. After all, I couldn't just not follow orders, am I right?
That being said, I did compromise just a teensy bit in the execution of this soup. The soup itself is filled with warm, sweet, smoky flavor from the carrots, kabocha, coriander, and smoked paprika, while it's the crunchy chickpea croutons that pack the harissa heat. This way, in every bite, you get a little of each and, for the most part, they cancel each other out. Perfect for the less spice tolerant among us.
On the other hand, if you're a heat junkie like me, I give you permission to bathe in the harissa.
I mean, spoon it onto your soup as desired and sweat away. It's the right thing to do.
Carrot, Squash and Coriander Soup with Crunchy Harissa Chickpeas
Velvety smooth and sweet carrot, squash, and coriander soup gets spiced up with a crunchy harissa chickpea topping.
Ingredients
2 tbsp olive oil
1 lb carrots, peeled and diced
1 kabocha squash, seeded, peeled, and coarsely chopped
1 tbsp minced ginger
2 tsp coriander
2 tsp smoked paprika
6 cups vegetable broth
1 cup coconut milk
salt and black pepper, to taste
1 (15 oz) can chickpeas, drained and rinsed
1 tbsp harissa, plus more for drizzling
Instructions
Heat olive oil in a large pot over medium heat. Add the carrots and kabocha squash to the pot. Saute for 4-5 minutes, or until starting to brown. Stir in the ginger, coriander, smoked paprika, and a pinch of salt. Saute for a minute, or until spices are fragrant.
Add the vegetable broth to the pot, scraping up the bottom to release any brown bits. Bring to a boil and then lower to a simmer. Cook, covered, for 30 minutes or until vegetables are tender. Puree with an immersion blender (or a regular blender). Stir in the coconut milk. Season to taste with salt and black pepper.
Meanwhile, for the chickpeas, preheat the oven to 450F. Pat the chickpeas dry and then toss with the harissa. Spread on a parchment-lined baking sheet and bake for 15-20 minutes, or until crispy, stirring halfway through.
Serve the soup topped with the chickpeas and a drizzle of harissa.
Notes
An Eats Well With Others Original
 More soup: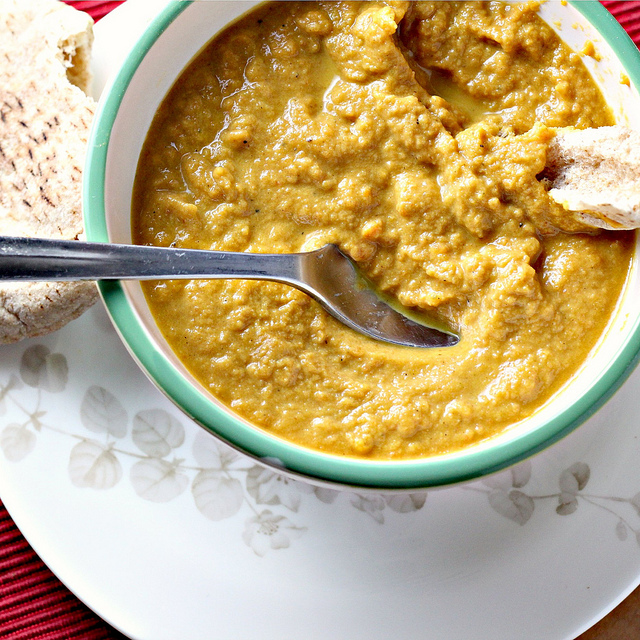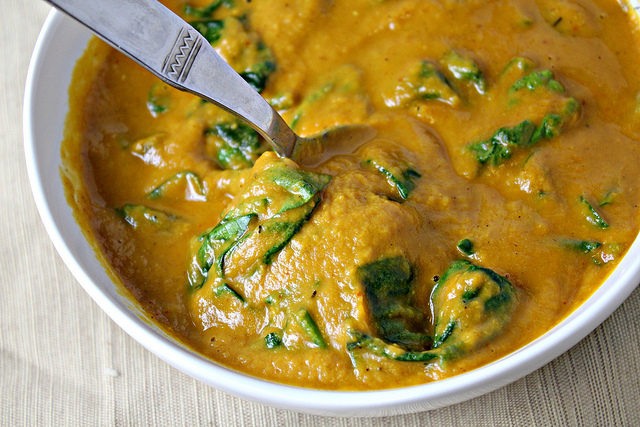 Nutty Sweet Potato Soup with Harissa and Spinach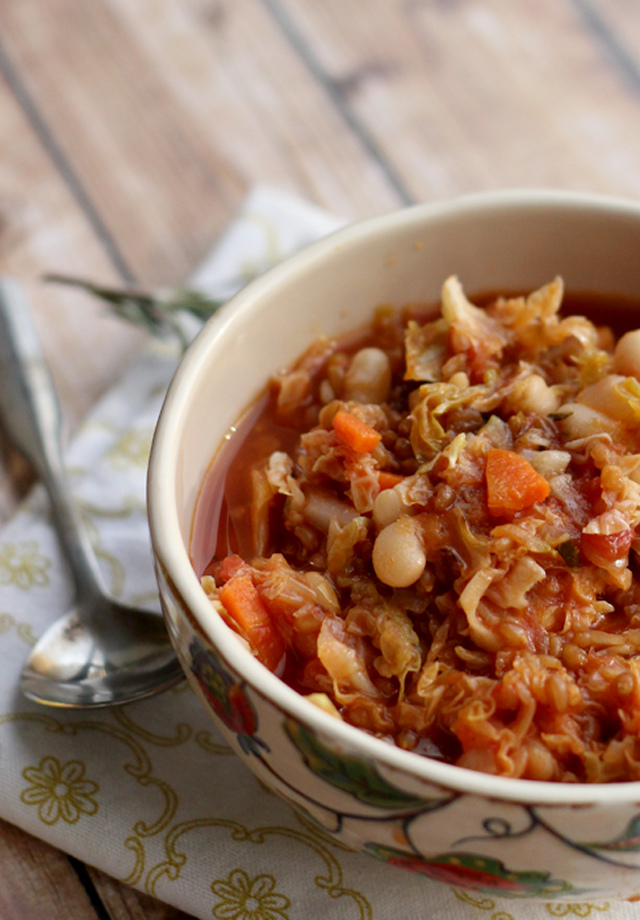 Wheat Berry and White Bean Soup with Savoy Cabbage
From Around the Web:
Roasted Cauliflower, Leek, and Carrot Soup from Flourishing Foodie
Curried Lentil Vegetable Soup from Nutmeg Nanny
Broccoli and Barley Soup from 10th Kitchen
Green Minestrone with Kale Pistachio Pesto from Vegetarian Ventures
Creamy Spinach, Artichoke, and White Bean Soup from Cinnamon Spice and Everything Nice