These brown butter blueberry almond tea cakes are gluten-free, not that you'd know it! Sweet and juicy, they are the perfect morning or mid-afternoon pick-me-up.
Disclosure: This post was hosted by Pamela's Products. As always, my thoughts and opinions are my own!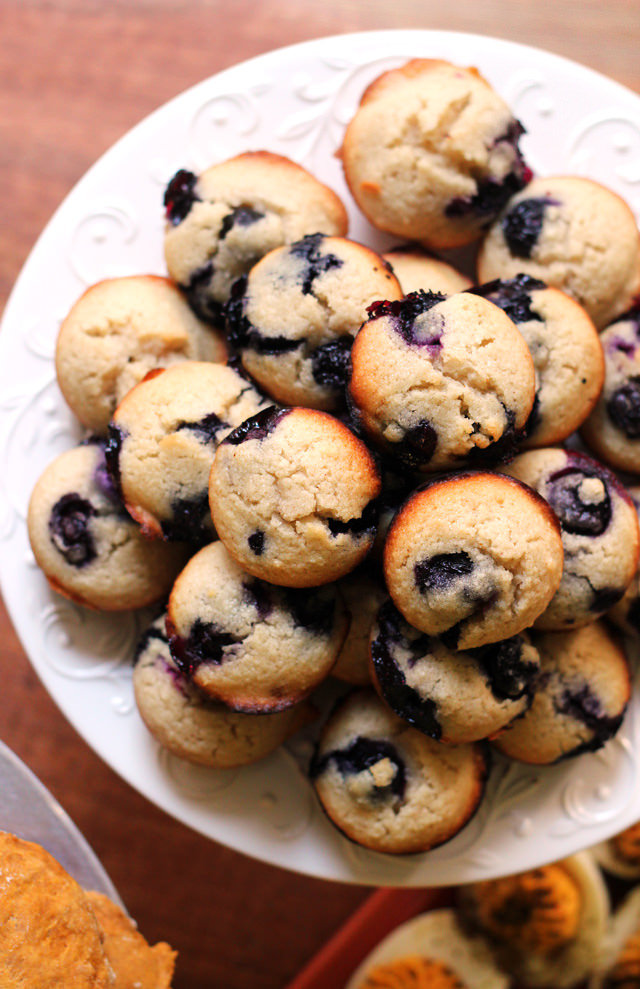 You didn't think I would hold out on you did I?
We're best friends.
I would never.
Let's talk brunch!
Actually, let's go back a little farther and talk about how I found Downton Abbey.
(It found me.)
(We found each other.)
It was about four score (two) years ago when I was bored and looking for something new to watch and everyone was talking about this British show, so I watched an episode. And then two episodes. And then three episodes.
And then the.boy asked what I was watching and so I rewatched an episode. And then two episodes. And then three episodes.
Now we're Downton addicts and there is no 12 step plan that can save us. Mostly because we don't even want to be saved, but still.
So when Pamela's Products asked me if I wanted to host a Downton Abbey-inspired tea party that would make Mrs. Patmore (and maybe even Mr. Carson) proud…I may or may not have screamed like a tween at a Justin Bieber concert. (<–Lady Grantham would not have approved.)
And then replied YES, YES, a thousand times YES!
Except I made so much food that the tea party kind of turned into brunch. #sorrynotsorry
So, you may be wondering how exactly does one host a Downton-inspired tea party in the 21st century? It's EASY. And we're going to learn how.
Today. Right now.
Step One: INVITE YOUR FRIENDS!!
They will be extremely nervous and will ask you a gazillion questions such as: Do we need to wear corsets? Will we have to speak in accents? Will there be a pop quiz at the end?
Allay their fears! This is all in good fun.
But remind them that no one will turn them away at the door if they come bearing period dress and trivia questions.
Just kidding. Kind of.
Step two: PLAN THE MENU!!
This is the fun part. I spent a lot of time searching Pinterest for inspiration, googling like it was my job, and I may have even frequented my favorite tea party joint (Alice's Tea Cup in NYC) one to twenty times. For research purposes, obviously.
And here's what I learned: the only rule about having a tea party (in the 21st century) is that there are no rules!
But it has to be delicious. MAJORLY delicious.
Mrs. Patmore says so.
Here's what we ate:
Cucumber and creme fraiche mini sandwiches
Cumin-roasted carrot, goat cheese, and olive tapenade mini sandwiches
Pumpkin scones
Clotted cream and jam assortment
Gluten free brown butter blueberry almond tea cakes
Tea! (an assortment)
Mimosas and bellinis
Whenever I host any event, I like to be sure that there are food options for everyone – vegan, vegetarian, gluten-free.
I've got the vegetarian and vegan thing covered, but to be honest, my experience with gluten-free baking is pretty meager.
And if there's one thing I hate, it's feeling unprepared and incapable.
Pamela's Products sent me a bag of their Artisan All-Purpose Gluten-Free Flour Blend (as well as their Gluten-Free Pancake and Waffle Mix!), along with a bunch of other goodies, to help ease me into the gluten-free baking process. And I have to say….it couldn't have been easier. Pamela's all purpose flour blend can be substituted one to one with regular all purpose flour, making it super simple to incorporate into non-gluten free recipes.
But how does it taaaaassssttttteeee!!!???, you ask.
So good. For the tea party, I used it to make these brown butter blueberry almond tea cakes and I'm pretty sure that in a blinded taste test you would never be able to guess that they're gluten-free. No funky aftertaste or weird texture. Just bite-sized, fluffy, moist, juicy nuggets of everything that you'd want in a tea cake. And more.
We are just about halfway through this season of Downton Abbey, so you're running out of time to get tea partying!
Do it. It's totally the best.

Brown Butter Blueberry Almond Tea Cakes
These brown butter blueberry almond tea cakes are gluten-free, not that you'd know it! Sweet and juicy, they are the perfect morning or mid-afternoon pick-me-up.
Ingredients
10 tbsp unsalted butter
1 cup Pamela's Gluten-Free All Purpose Flour Blend
1¼ cups almond flour
1 cup sugar
1 tsp kosher salt
5 large egg whites
1 tbsp bourbon
1 cup blueberries
Instructions
Heat oven to 400F. Grease 30 cups of 2 mini muffin tins. Set aside.
Melt the butter in a medium skillet over medium heat. Allow to cook, stirring occasionally, until the butter turns an amber color and smells nutty. Remove from the heat and pour the butter into a heatproof bowl. Set aside.
In a large bowl, whisk together the all purpose flour, almond flour, sugar, and salt. Whisk in the egg whites until well combined. Stir in the bourbon and butter. Let stand for 20 minutes.
Fold the blueberries into the batter and, using a small cookie scoop, scoop into the prepared muffin tin. Bake until a tester comes out clean, about 12 to 15 minutes. Let cool in pans for 10 minutes before removing to a wire rack to cool completely.