Start your morning with a breath of fresh air in the form of a meyer lemon poppy seed pull-apart muffin!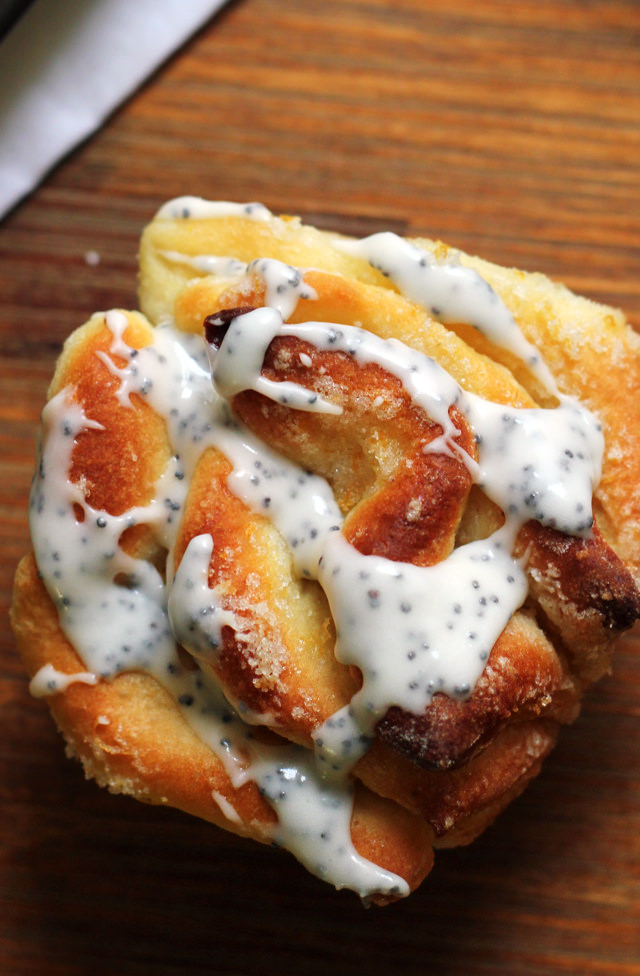 Apparently NYC is going to be inundated with at least 20 feet of snow tomorrow, and while I could be freaking out, curled up in a corner in fetal position (let's be honest – winter just ain't my thang), I'm totally having a zen moment.
I've got Netflix, enough coffee to last me the better part of a lifetime, and a bag of meyer lemons to my name.
Simply put – I'm good.
To be fair, it's mostly to do with the lemons.
They're like a breath of fresh, warm air on an otherwise frigid and drippy day.
I use drippy in the literal sense because in New York, that's what happens after it snows. It drips.
It drips from building awnings.
It drips from slush puddles that don't appear to be slush puddles until you're knee deep, cold, and wet. 
It drips from taxis that drive too fast through the aforementioned slush puddles so that they end up less on the ground where they belong and more on you.
Honestly, the dripping is worse than the snow itself.
But it's fine.
Because we have lemons.
Everything is going to be okay.
If you've never encountered a Meyer lemon before, then I beg you to get thee to a supermarket!
IMMEDIATELY, because their season is short and sweet, and if you blink you'll miss it.
Meyers are pretty much the result of what would happen if a lemon and an orange procreated. They're a little sour, a little sweet, and oh so perfect for baking with, especially because their skin is thinner and less bitter than a regular lemon's.
This means you can sprinkle it in places you wouldn't have otherwise dared – into a big bowl of sugar, for instance, that you then stuff between layers of rich, buttery sweet brioche dough to form a breakfast pastry so lovely that you'll find yourself eating it for all meals of the day, not just during the AM hours.
Enter pull-apart bread, which is kind of a riff on monkey bread except that the layers are sheets instead of balls of dough. This version ditches the cinnamon sugar and turns instead to citrus as it's major flavor profile, which is just perfect for brightening up your day. I got the original recipe from Seasons and Suppers, but made a few changes along the way, namely swapping out vanilla for almond extract, mixing a bit of grapefruit zest into the sugar along with the Meyer lemon (because I could) and adding some poppy seeds to the glaze as a throwback to my lemon poppy seed muffin obsession of yore.
They're a breath of fresh breakfast air. And then some.
Speaking of buns in the oven, my friend Caroline of Chocolate & Carrots is having a baby!! She's due in just a few days (literally) with her second kiddo and a few of her blogging friends and I are hosting a virtual baby shower to celebrate!! She is such a sweetheart and her new baby is so lucky to be born into such a warm and loving family!
Caroline has been craving citrus nonstop during her pregnancy (who can blame her), so we've all made her treats that showcase the myriad citrus jewels of winter. Congratulations, girl! We are so excited for you!!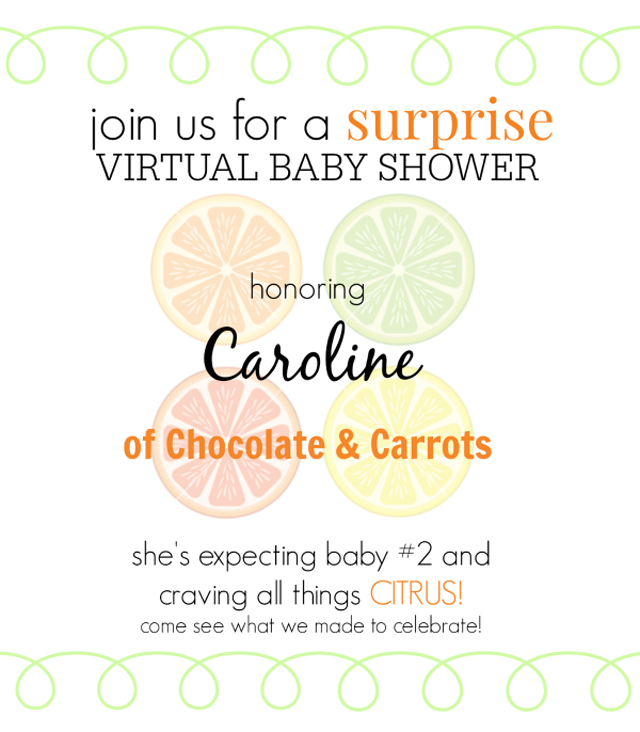 Meyer Lemon Poppy Seed Pull-Apart Muffins
Start your morning with a breath of fresh air in the form of a meyer lemon poppy seed pull-apart muffin!
Ingredients
For the dough
2¾ cups all purpose flour
¼ cup sugar
2¼ tsp instant yeast
½ tsp salt
⅓ cup whole milk
4 tbsp unsalted butter
¼ cup water
1½ tsp almond extract
2 large eggs, room temperature
For the citrus sugar
½ cup sugar
zest of 2 meyer lemons
zest of 1 grapefruit
4 tbsp unsalted butter, melted
For the glaze
1 cup confectioner's sugar
2 tbsp heavy cream
1 tbsp meyer lemon juice
1 tbsp poppy seeds
Instructions
In the bowl of a stand mixer fitted with the hook attachment, whisk together 2 cups of the flour, sugar, yeast, and salt. Set aside.
In a small saucepan over medium heat, heat the milk and butter until the butter is melted. Remove from the heat and stir in the water. Allow to cool for 1 minute, and then stir in the almond extract. Pour over the flour mixture and mix until all of the ingredients are moistened. Add the eggs, one at a time, mixing until just incorporated. Add ½ cup flour and mix on low until the dough is smooth.
Increase the speed to medium and mix for 5 minutes. If the dough sticks to the sides of the stand mixer bowl instead of forming a ball on the hook, then add flour, a tablespoon at a time, until it no longer does this.
Place the dough in a large, greased bowl and cover with plastic wrap. Allow to rise in a warm place until doubled in size, about 1-2 hours.
While the dough is rising, mix together the sugar, meyer lemon zest, and grapefruit zest. Set aside.
Once the dough has risen, heat oven to 350F. Spray a 12 cup muffin tin with baking spray. Set aside.
Gently deflate the dough and then cut it in half, returning one half to the bowl it was just in and covering it with plastic wrap. Cut the half of the dough you're working with into 16 thin pieces. Using a rolling pin, roll each piece into a thin oblong shape on a lightly floured surface. Each should be about 6 inches long and 3-4 inches wide, but it is okay if they vary slightly in shape and size.
Use a pastry brush to spread the melted butter over each piece of dough. Sprinkle with half of the citrus sugar.
To make the rolls, take one piece of dough and set it in front of you with the long side facing you. Top with four more pieces of dough. Cut in half width-wise so that you have two ~ 3-inch stacks. Pinch together the edges that were closest to you so that the dough fans out. This will be the bottom of the roll. Place in one cup of the baking tin, arranging the dough slices as desired. Repeat with the remaining dough. Sprinkle the tops of the rolls with any remaining citrus sugar.
Cover the pan with plastic wrap and let rise until doubled in size, 30-60 minutes.
Remove the plastic wrap and bake the rolls until the tops are golden and they sound hollow when tapped, about 18-22 minutes. Allow to cool in the pan for at least 15 minutes.
To make the glaze, whisk together the confectioner's sugar, heavy cream, meyer lemon juice, and poppy seeds, adding more milk or lemon juice to taste. Drizzle over the cooled muffins.
 More Meyer lemon recipes: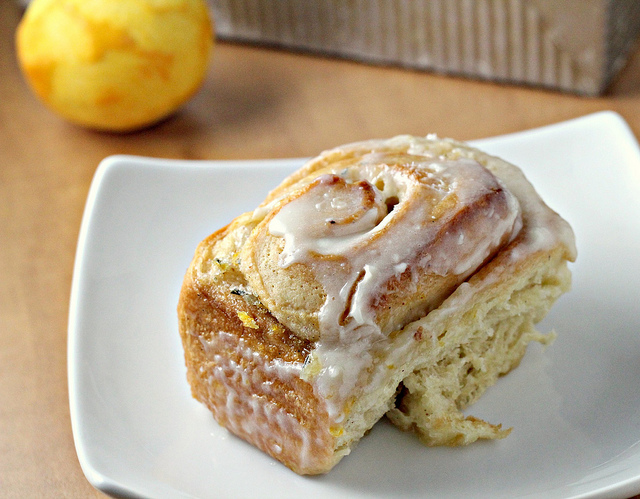 Meyer Lemon Rosemary Sticky Buns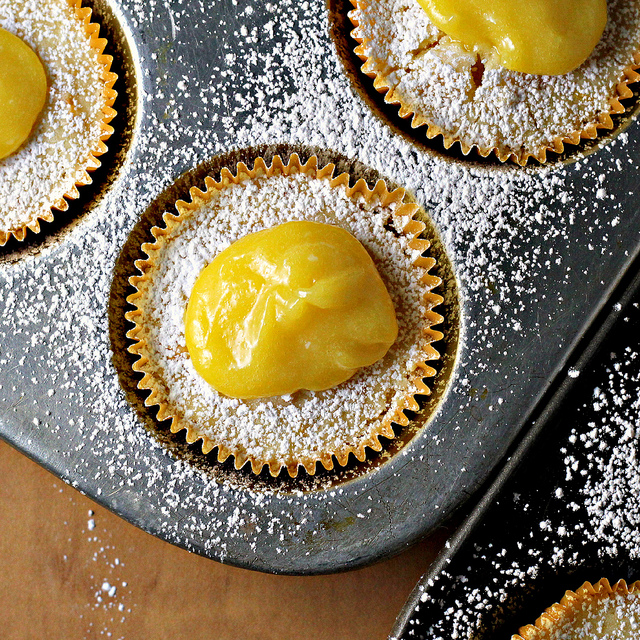 Meyer Lemon Cupcakes with Meyer Lemon Curd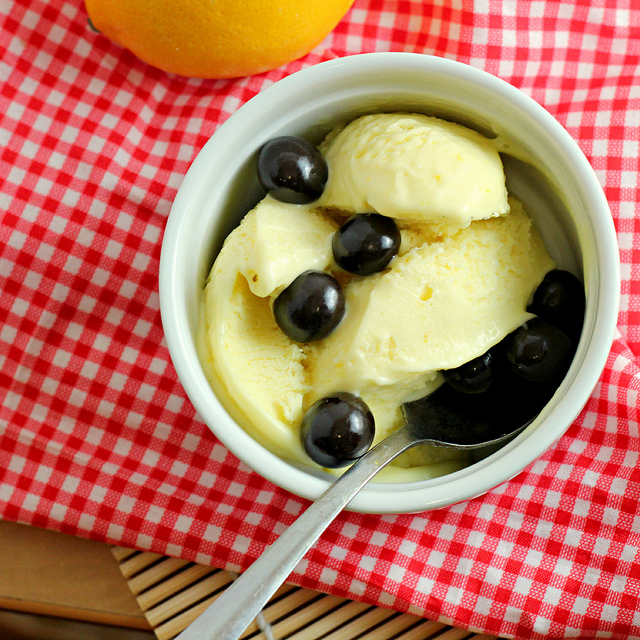 From Around the Web:
Meyer Lemon Sprinkle Cookies from Keep It Sweet
Meyer Lemon Macadamia Nut Tart from Love & Olive Oil
Meyer Lemon Pudding Cakes from Annie's Eats
Mini Blueberry Meyer Lemon Cream Pies from Krafted Koch
Meyer Lemon Creme Brulee from She Wears Many Hats