A brightly flavored roasted sweet potato and halloumi salad filled with fresh herbs, sweet cherry tomatoes, and a lemony vinaigrette.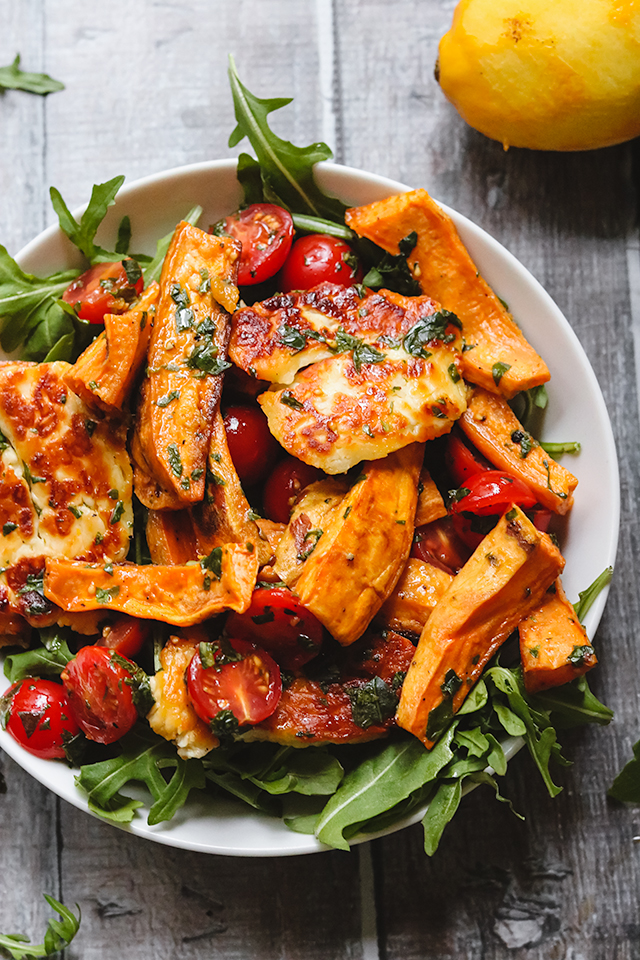 My husband recently suggested we go on a salad a day diet in anticipation of all of the feasting and holidays that are coming up, so I said sure as long as that salad includes roasted sweet potatoes and fried cheese I'm in!
I'm not sure that was exactly what he had in mind, but I'm the one who controls the cooking around here, sooooooo……..roasted sweet potato and halloumi salad every day it is.
There is so much to love about this amazing salad. I first made it over the summer, but have been waiting to share it until it was cool enough that turning on the oven didn't feel like torture. The good news is that the ingredients can be easily sourced year-round so it can be made pretty much at any time of year, though the roasted sweet potatoes do feel pretty seasonal for the moment. Dare I say, it would even make for an excellent vegetarian Thanksgiving dish should you still be looking for one.
So what makes this salad so special? Caramelized roasted sweet potatoes are paired with salty fried halloumi cheese, handfuls of arugula, juicy cherry tomatoes, and lots of fresh herbs. The sweet and salty combo is what makes the flavors here really pop and turns this into a salad worth craving.
The individual components of the salad keep pretty well, making this a great make ahead meal for easy lunches and dinners. It's fine to store the veggies and cheese in the vinaigrette, though I would keep the arugula separate until you're ready to serve to avoid any premature wilting.
Salad Ingredients
Here's a list of everything you need to make this delicious salad. Scroll the recipe card at the bottom of the page to see the exact amounts for each ingredient.
Sweet Potatoes – I typically use beauregard sweet potatoes as these are the sweetest sweet potatoes out there. Avoid white or purple sweet potatoes as they tend to be less sweet, with a drier texture. 
Olive Oil – Use your favorite olive oil here, as the flavor will really come across in the dressing.
Arugula – The bitterness of baby arugula goes well with the sweeter salad components, though if the flavor is too strong for you than baby kale or baby spinach will work well in its place.
Cherry Tomatoes – These add a pop of juicy sweetness! Feel free to use a mixed variety for a more colorful salad.
Fresh Mint and Basil – Use fresh herbs to add a bit summer flavor to this salad. Other soft herbs, such as parsley or cilantro will work as well.
Halloumi Cheese – A white semi-hard cheese from the island of Cyprus, this is a perfect frying cheese as it holds its shape well after cooking. 
Vegetable Oil – A light sheen of oil on a non-stick pan is all you need for frying the halloumi.
Apple Cider Vinegar – This adds a nice sweet tartness to the very simple dressing. White balsamic vinegar could be used in its place.
Lemon Zest – Use a microplane zester on a fresh ripe lemon to get the zest for this recipe.
How to Make Roasted Sweet Potato and Halloumi Salad
Roast the sweet potatoes. Toss the sweet potato wedges with olive oil, salt, and pepper, then roast in a 400 degree oven until soft and caramelized.
Make the dressing. In a large bowl, whisk together the olive oil, apple cider vinegar, lemon zest, salt, and black pepper until fully combined and emulsified.
Toss. Add the roasted sweet potato wedges, cherry tomatoes, fresh herbs, and arugula to the bowl with the dressing. Toss to combine.
Fry the halloumi. Heat some vegetable oil in a large saute pan and fry the slices of halloumi until seared and golden on both sides. Add to individual salad bowls and serve immediately.
Roasted Sweet Potato and Halloumi Salad
A brightly flavored roasted sweet potato and halloumi salad filled with fresh herbs, sweet cherry tomatoes, and a lemony vinaigrette.
Ingredients
For the salad
3 lb sweet potatoes
2 tbsp olive oil
5 oz arugula
1 pint cherry tomatoes, halved
¼ cup mint leaves, minced
¼ cup basil leaves, minced
9 oz halloumi cheese
¼ cup vegetable oil
salt and black pepper, to taste
For the dressing
3 tbsp olive oil
1½ tbsp apple cider vinegar
½ tsp lemon zest
Instructions
Heat oven to 400F.
Peeled the sweet potatoes and slice them into 1¼-inch wedges. Place on a baking sheet and toss with the olive oil, ½ tsp salt, and black pepper. Bake for 25-30 minutes, or until cooked through. Allow to cool slightly.
Meanwhile whisk all of the dressing ingredients together in a large bowl with ½ tsp salt and ¼ tsp black pepper.
Once the sweet potatoes are cooled slightly, add to the bowl with the dressing along with the arugula, tomatoes, and herbs.
Slice the halloumi into 8 rectangular pieces. In a large frying pan, heat the vegetable oil over medium-high heat. Once hot, add the halloumi to the pan and cook for 2-3 minutes on each side, or until golden. Arrange on top of the salad and serve immediately.