Spinach pie or spanakopita gets a wintry twist with the addition of caramelized roasted delicata squash chunks!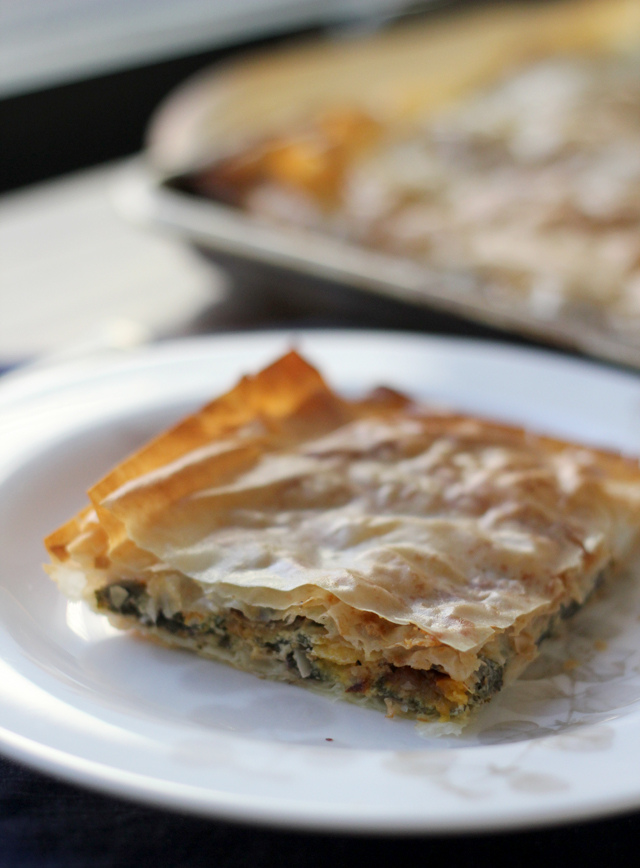 If you ever want your fiance to reconsider proposing marriage to you, just desecrate the food of his ancestors.
Switch up ingredients! Add orange vegetables! USE LESS NO BUTTER!
And do it all with the kind of reckless disregard for tradition that makes people turn in their graves.
Or ask for their rings back.
KIDDING. Kind of.
The.Boy and I have been together long enough that he's come to realize that not only do I have an aversion to ever making the same thing twice, but.
Nothing is sacred when it comes to my kitchen experiments.
Of course, it's totally fine when it's my grandmother's recipes I'm messing with, but when the shoe is on the other foot, someone feels like it's his filial right to whine, moan, and complain about eating dinner.
Until I finally take matters into my own hands and shove a crispy, creamy, sweet, tangy, salty, buttery-without-butter piece of roasted delicata squash/swiss chard/feta stuffed phyllo dough in his mouth.
And then he's all, "well maybe I'll just have three slices".
Just. Right. Boys?!
The one piece of constructive criticism he did have was that it might be better if the filling:phyllo ratio was a little bigger. I made this in a LARGE baking sheet, but you might want to try it out in a 9×13-inch setting or even smaller to make the slices a bit thicker.
This is my submission to WEEK FIVE of the 12 Weeks of Winter Squash! If you dabble in squash at all this week, feel free to link up!
One year ago…Pumpkin Pie Bread Pudding with Bourbon Icing
Two years ago…Moroccan Butternut Squash and Chickpea Tagine with Quinoa, The River Cafe's Winter Minestrone
Three years ago…Pumpkin Ravioli with Sage and Toasted Hazelnuts, Savory Pumpkin Knot Rolls
Four years ago…Aromatic Noodles with Lime Peanut Sauce
Pumpkin Spanakopita
Spinach pie or spanakopita gets a wintry twist with the addition of caramelized roasted delicata squash chunks!
Ingredients
For the filling
1 delicata squash, seeded and cut into ½-inch cubes
1 bunch swiss chard, destemmed and coarsely chopped
¼ cup water
½ lb feta cheese, crumbled
¾ cup nonfat Greek yogurt
1 onion, chopped
2 large eggs, beaten
1 tsp dried dill
3 medium garlic cloves, minced
½ tsp ground black pepper
salt, to taste
For the phyllo
7 tbsp olive oil
½ lb (9x13-inch) phyllo, thawed
¾ cup parmesan cheese
Instructions
Preheat the oven to 400. Arrange the delicata squash on a large baking tray lined with parchment paper and roast for 20-30 minutes or until fork-tender. Set aside. Increase the oven temperature to 425.
Place the swiss chard in a large microwave-safe bowl with the water in it. Cover the bowl with a large dinner plate and microwave on high until the chard is wilted and decreased in volume by half, about 5 minutes. Remove the bowl and let sit, covered, for 1 minute. Carefully remove the plate and transfer the chard to a strainer set in the sink. Using the back of a wooden spoon, gently press the chard against the side of the strainer to remove as much water as possible. Roughly chop the chard.
Place the spinach in a large bowl and toss with the delicata squash, feta, yogurt, eggs, dill, garlic, black pepper, and salt. Set aside.
Line a rimmed baking sheet with parchment paper. Lay 1 phyllo sheet on the parchment and brush thoroughly with the olive oil. Repeat with 9 more sheets, brushing each with olive oil, for 10 layers total.
Spread the filling evenly over the phyllo. Cover the filling with 6 more phyllo sheets, brushing with olive oil and sprinkling with parmesan cheese. Press down on the sheets to make sure there are no air bubbles. Using a sharp knife, cut the top three(ish) layers of parchment into 12 pieces. Bake for 20-25 minutes, or until phyllo is crisp and golden. Cool for 10 minutes before serving.