An easy summer appetizer made of herb-infused charred roasted cherry tomatoes served on a bed of cold yogurt. Perfect with with sourdough, pita, or focaccia for scooping.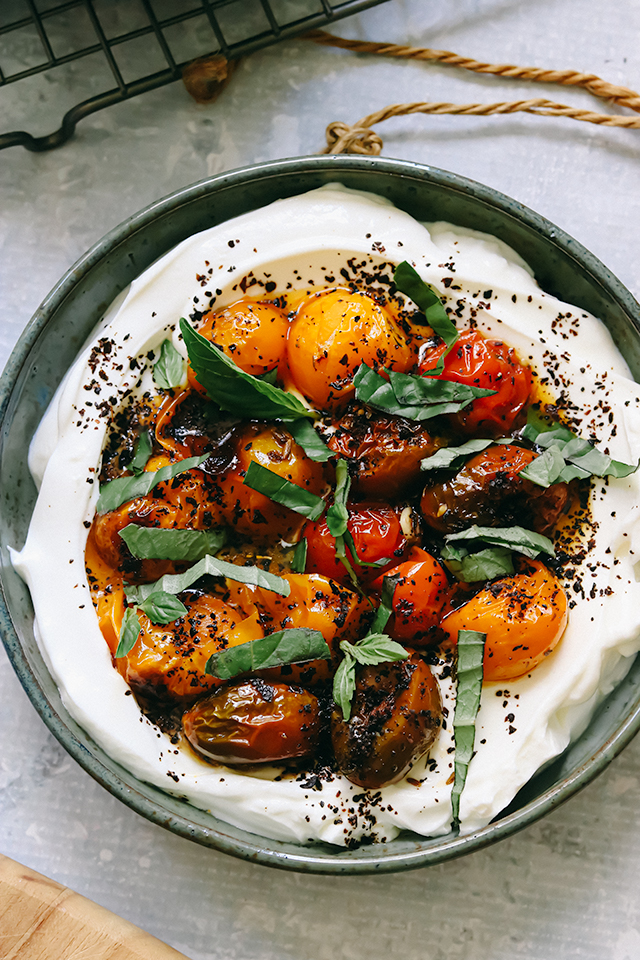 You know I love a good meal plan, but when it's been ninety degrees for three days straight and the next meal on your list is a tomato galette with multiple components and a whole lot of oven time…sometimes you just need to abandon ship and dive into the simply delicious world of charred, roasted tomatoes served on a bed of cold, creamy yogurt. 
I'll be right there with you, for moral support and cherry tomato scooping.
In some sense, making this meal was born of necessity – I needed to make lunch and quickly and with only ingredients that were already sitting on my counter and in my fridge. 
But also, in other ways, it was a long time coming because I've been intending to make this recipe from Ottolenghi's Simple cookbook since it was published in 2018. 
TWENTY EIGHTEEN. Three years! A life time and a whole pandemic ago!
I have no idea what took me so long (other than my complete lack of focus and short attention span), but I finally made it and won't be leaving any time soon.
More than anything, I'm happy to have (re)discovered this recipe just in time to kick off a season of sweltering temperatures, minimal cooking motivation, and cherry tomato abundance.
Aptly, given the name of the cookbook it comes from, this dish is incredibly simple to prepare and, despite needing a little bit of oven time, it gives the impression of a no-cook meal. Making it involves merely stirring together some ingredients in a bowl, throwing them in the oven, and then smearing them over a bed of yogurt once they're done cooking. 
Afterwards, the actual eating experience is up to you – go at it with a spoon, eat it as a dip, scoop it in large dollops on a slice of sourdough – there are no wrong ways.
Even the ingredient list here is simple (impressively so, for an Ottolenghi recipe) calling for cherry tomatoes followed by a slew of pantry/refrigerator staples. In full disclosure, I did make some adaptations based on what I had on hand, including substituting dried herbs for fresh and adding in basil as garnish (I'm Italian to the core, what can I say). 
The contrast of flavors and temperature here is what makes this so good – after their roast, the cherry tomatoes become gloriously sweet with some bright herby flair, which works beautifully when piled atop cold, tangy, sharp yogurt. It's one of those dishes that you'll find yourself making again and again, whether as a stand-alone light dinner or for sharing as part of a larger mezze platter.
Charred Roasted Cherry Tomatoes with Cold Yogurt
An easy summer appetizer made of herb-infused charred roasted cherry tomatoes served on a bed of cold yogurt. Perfect with with sourdough, pita, or focaccia for scooping.
Ingredients
12 oz (350 g) cherry tomatoes
3 tbsp olive oil
¾ tsp cumin seeds
½ tsp brown sugar
3 garlic cloves, thinly sliced
½ tsp dried thyme
1 tsp dried oregano
1 lemon, shaved to get 3 strips of lemon skin and then finely grated to get 1 tsp lemon zest
flaked sea salt and black pepper
1⅔ cups (350 g) full fat Greek yogurt
1 tsp Urfa chile flakes
basil, shredded, to garnish
Instructions
Heat oven to 425 F.
In a large bowl, mix the tomatoes with the olive oil, cumin, sugar, garlic, thyme, oregano, lemon strips, ½ tsp flaked sea salt, and a grind of black pepper. Toss to combine, then transfer to an 8x8-inch baking pan. Place in the oven and roast for 20 minutes.
Turn the broiler to high and broil for 6-8 minutes until starting to char.
Meanwhile, whisk the yogurt with the lemon zest and ¼ tsp flaked sea salt. Refrigerate until ready to use.
Once the tomatoes are done, spread the cold yogurt on a serving platter or in a wide bowl. Spoon the hot tomatoes on top, along with any juices and herbs from the pan. Garnish with the chile flakes and basil. Serve with bread or chips for scooping.