The perfect chewy chocolate chip cookie filled with chunks of gooey chocolate as well as traditional chips – these definitely hit the spot when you're craving a little bit of homemade indulgence!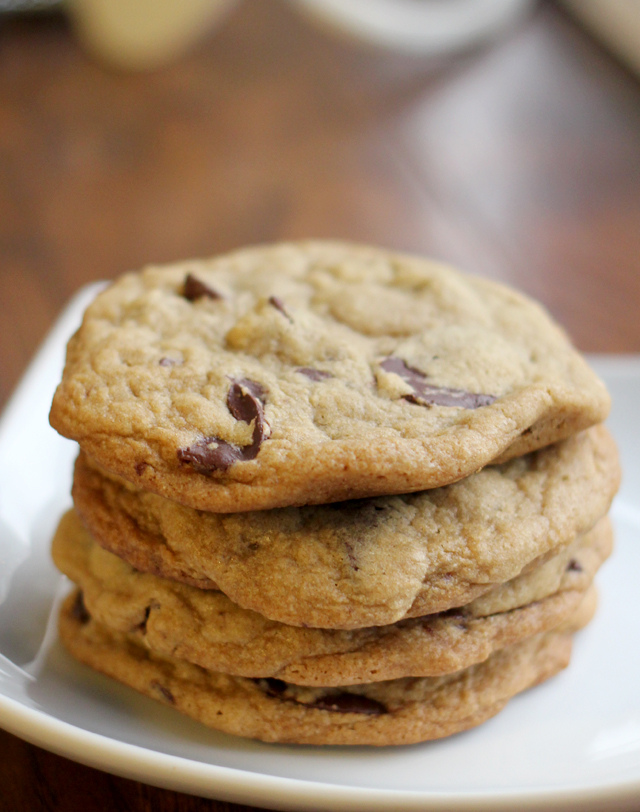 Cue the caroling and rev up your ovens.
I official declare it: The Holidays.
We are in it, people. Whether we like it or not.
Whether cookie baking, with all of it's running back and forth to the oven every ten minutes, makes us feel like we're in lab putting coverslips full of adipocytes through an exocytosis assay.
Anyone? Just me? Bueller?
Hmmm.
A certain favorite grocery store of mine was actually playing music that jingled starting from a few weeks ago and it simultaneously made me gag and instilled in me a strong compulsion to fill my cart with baking chips of every variety, cinnamon, nutmeg, ginger, and five pounds of butter.
Internal conflict, though art my middle name.
It just felt too soon to hear Mariah Carey on repeat. But at the same time – COOKIES.
You understand my mixed feelings. We just get each other like that.
All's well that ends well, though, because I made it through my shopping trip without projectile vomiting and COOKIES.
Let's start with a classic. I mean THE classic.
Because that's what this is. THE be-all-and-end-all CCC.
It's chewy with a hint of crisp, gooey in all the right places, a little bit dark and mysterious with it's brown sugar/molasses touch. And it's as big as my face.
Thomas Keller wanted them to be bigger. But, being that it was two days before Thanksgiving and all when I made these, I felt like moderation was key. So I halved them.
I'm a little scared of how large and in charge they would have been had I not. And also intrigued? They probably would have been big enough to take over the world. Or at least all my calories for the day. But who's counting?
Just make these. You won't be sorry.
PS – I hope you all had the most food-and-love-filled Thanksgiving possible!
One year ago…Sweet Potato and Black Bean Tacos with Swiss Chard Pesto
Two years ago…Sweet Potato and Ginger Layer Cake with Toasted Marshmallow Filling and Brown Sugar Cinnamon Swiss Meringue Buttercream, Moroccan-Spiced Root Vegetable Barley Stew
Three years ago…Apple Spice Layer Cake with Caramel Swirl Icing
Four years ago…Bourbon Pumpkin Cheesecake
Bouchon Bakery Chocolate Chunk and Chip Cookies
The perfect chewy chocolate chip cookie filled with chunks of gooey chocolate as well as traditional chips.
Ingredients
238 grams all purpose flour
½ tsp baking soda
1 tsp salt
134 grams dark brown sugar
1¾ tsp unsulfured blackstrap molasses
104 g sugar
⅔ cup bittersweet (70-72%) chocolate chunks
½ cup chocolate chips
167 g unsalted butter, room temperature
60 grams eggs
Instructions
In a medium bowl, whisk together the flour, baking soda, and salt. In a second small bowl, whisk together the dark brown sugar, molasses and regular sugar, breaking up any lumps, even though the mixture will not be smooth.
In the bowl of a stand mixer fitted with the paddle attachment, cream the butter until it is the consistency of mayo and holds a peak when the paddle is lifted. Add in the sugar/molasses mixture and mix for 3-4 minutes on medium speed, until fluffy. Scrape down the sides of the bowl.
Add in the eggs and mix on low speed for 15-30 seconds. If you mix the eggs too much, they will cause the cookies to spread out too much, so be conservative. Scrape down the bowl.
Add in the dry ingredients in 2 additions, mixing on low speed for 15-30 seconds after each, until just combined. Add the chocolates and pulse on low speed about 10 times to combine. Refrigerate the dough for 30 minutes.
Position racks in the upper and lower thirds of the oven and preheat to 325. Line two baking sheets with parchment paper.
Divide the dough into 12 equal portions, about 70-75 grams each. Place six rounds of dough on each sheet. Bake until golden brown for 16 minutes, reversing the positions of the pans halfway through. Allow to cool for five minutes on the pan, and then remove to a cooling rack.
Notes
Adapted from
Bouchon Bakery