Filled with the flavors of spring and summer, this corn, asparagus, and basil barley risotto has bits of comfort in every bite.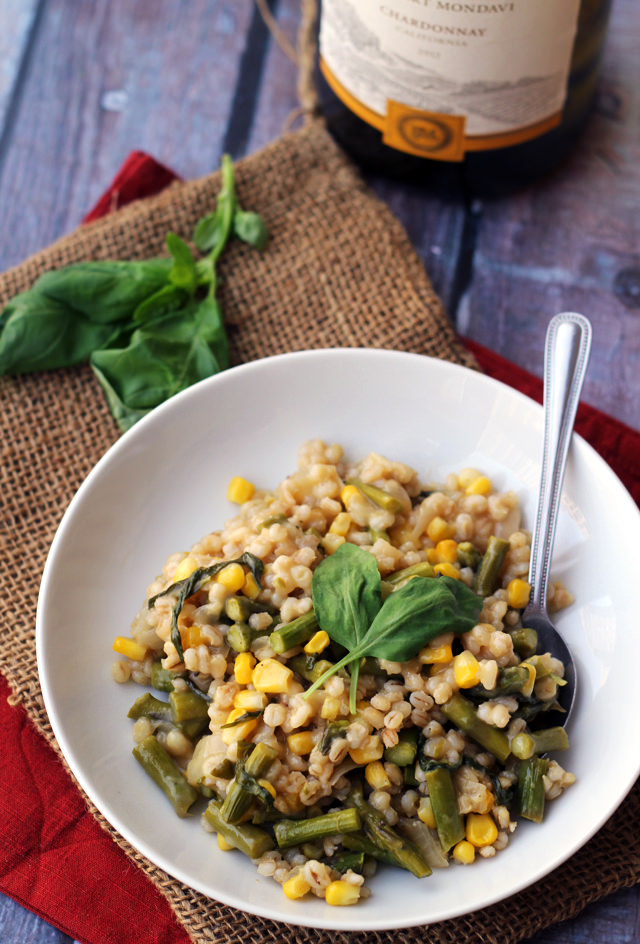 Nothing like kicking off a Monday with a chest x-ray.
Because your doctor thinks you have PNEUMONIA.
And this was after you told him you ran a half marathon on Sunday.
Now, I'm pretty crazy…but I don't think even I could have pulled off running a half marathon with pneumonia. That just seems like common sense.
Anyway, before we get our panties in a bunch, I do NOT have pneumonia.
Just pretty severe bronchospasms that are triggering a symphony of wheezing inside my chest.
Needless to say, it was a pretty interesting half marathon. The gory details of which I will spare you, except to say that if it weren't for the.boy running with me for 90% of the race and various Team in Training coaches jumping in to run with me every mile or so (the.boy tells me I looked pretty bad), I wouldn't have made it. There were many points at which I felt like I was going to melt into a puddle of tears on the ground, but I didn't. Cheers to that.
This risotto is what you should cook when you don't feel like cooking. Seems counter intuitive because everyone and their mother will tell you that risotto requires constant attention and stirring, but I beg to differ. A stir every four or five minutes or so should suffice, and eventually it becomes muscle memory so that you barely even have to think about it. And then at the end, you have a delicious meal, filled with bits of spring and summer and bright fresh flavor. I can't promise that it will cure what ails you (case in point) but it will certainly make you feel much better than the takeout you were thinking of ordering.
No chest x-ray necessary. Pinky swear.
Corn, Asparagus, and Basil Barley Risotto
Filled with the flavors of spring and summer, this corn, asparagus, and basil barley risotto has bits of comfort in every bite.
Ingredients
4 cups vegetable broth
4 cups water
2 tbsp olive oil
1 onion, chopped
salt and black pepper, to taste
1 cup barley
½ cup white wine
1 lb asparagus, trimmed and cut into ½-inch slices
1½ cups corn, fresh or frozen
1 cup basil, thinly sliced
¼ cup parmesan cheese
Instructions
Combine the vegetable broth and water in a medium pot. Bring to a simmer.
Heat the olive oil in a large pot over medium heat. Add in the onion and a pinch of salt, and saute until tender, about 3 minutes. Stir in the barley and cook for a minute, stirring constantly. Add in the white wine and cook until almost totally evaporated.
Pour 2 cups of the heated broth mixture into the pot with the barley. Cook stirring frequently until almost evaporated. Then, add in the broth mixture 1 cup at a time, only adding more after the rest has almost evaporated, stirring frequently. Repeat until barley is cooked through and tender.
Add in the asparagus with a final cup of the broth mixture, simmering until almost evaporated. Stir in the corn and cook until heated through.
Remove from the heat and stir in the basil and parmesan cheese. Season to taste with salt and black pepper.
Notes
An Eats Well With Others Original