Disclosure: This post was sponsored by Plated. As always, my thoughts and opinions are my own.
Spicy coconut rice noodles with kale and basil are the perfect healthy addition to your weeknight lineup! It comes together in 30 minutes and is big on flavor and on nutrition.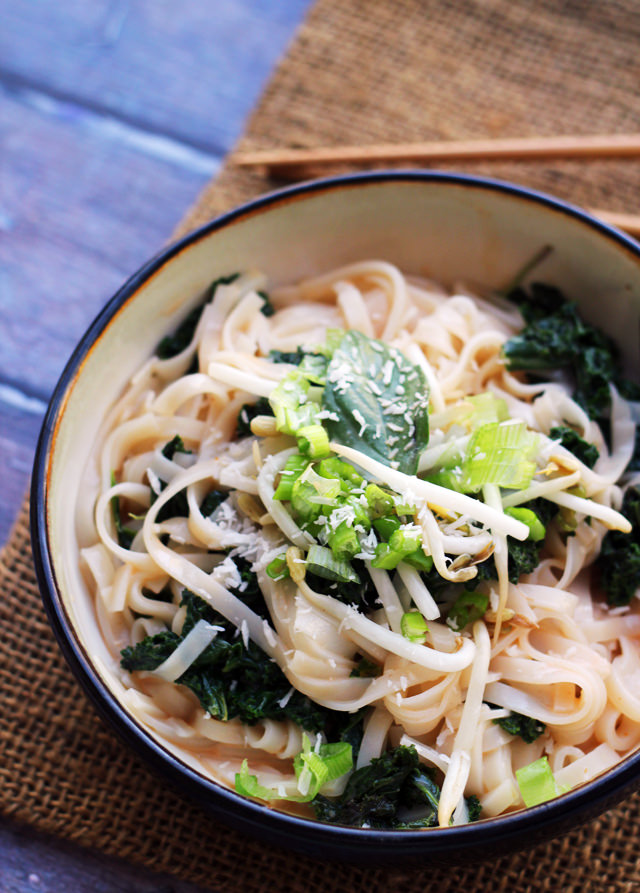 You know it's going to be a crazy week when you start reaching for the takeout menus on Monday.
With one (all too easy) phone call, out go all of our gung-ho dreams of getting a home-cooked meal on the table every night this week and in come the cartons of Chinese food.
I know we've all been there.
Last week was setting up to be one of those weeks for me. I usually try to do most of my cooking on the weekend so that during the week we can just heat up leftovers, but a full weekend of Easter festivities combined with a hardcore cold that barely had me getting off the couch left our refrigerator bare.
It really couldn't have been a better time for Plated to swoop in and come to my rescue! If you guys haven't heard of Plated or didn't see their tv debut on Shark Tank a few weeks ago, let me explain the concept. Basically, Plated is a gourmet food service that delivers fresh, locally grown and produced ingredients to your front door when you want them.
On the Plated website, you can browse and choose between seven different recipes each week, with a range of vegetarian, meat, seafood, and gluten-free options. Each recipe is healthy and can be prepared in 30-40 minutes, making it perfect for a weeknight meal. After you choose the number of servings you need for your family, and how many recipes you want to make that week, you then choose your delivery day and check out. When your Plated delivery arrives, it will come with all of the ingredients, pre-portioned for the recipes, along with a recipe card that has a photo of the finished dish, cooking tips, information about unconventional ingredients you may have received, as well as step-by-step photos and instructions on how to make each dish.
Even you though still have to prepare the recipe, somehow knowing that all of the ingredients are measured out for you and ready-to-go makes getting it on the table seem much less daunting.
I mean, if I could make a Plated recipe in my Halls-addicted, wheezing, chest cold state. In 30 MINUTES OR LESS. Then you can too.
Now for the question that's on all of your minds: Yes, it's super easy and makes dinner so much more convenient…BUT HOW DOES IT TASTE?!
I received the ingredients for two recipes – these spicy coconut rice noodles with kale and basil, as well as ricotta gnudi with asparagus, peas, and mint. Let me tell you – both were a huge hit.
The spicy coconut rice noodles had some really great Thai-flavor undertones, which I love, but weren't so spicy that the.boy couldn't eat them. I ended up having to add a little extra spice in the form of a sriracha drizzle to mine, but I like my food spicy squared, so I think a normal person would probably be okay.
As for the ricotta gnudi (which are basically gnocchi made from ricotta instead of potatoes), let me just say that while I have made these little fluffy nuggets of heaven before, they have never come together as easily as they did in this recipe! I don't know if it was the fact that I didn't have to break out a single measuring cup or that the proportions of ingredients used in this recipe were just extra perfect (or maybe both?) but I had this meal on the table in no time flat AND it was chock full of spring veggies AND it was delicious. Win/win/win.
So if you're having a hard time getting a healthy meal on the table during the week, then I think it's definitely worth giving Plated a try! I think it would also be a great gift for a new mom or anyone you know who just doesn't have the time to get to the store, but still cares about feeding themselves and their family with good quality, delicious, nourishing meals.
Spicy Coconut Rice Noodles with Kale and Basil
Spicy coconut rice noodles with kale and basil are the perfect healthy addition to your weeknight lineup! It comes together in 30 minutes and is big on flavor and on nutrition.
Ingredients
1 bunch of kale
¼ cup Thai basil or regular basil
½ cup bean sprouts
½ bunch scallions
6 oz rice noodles
½ tbsp sesame oil
14 oz coconut milk
1½ tbsp tomato paste
½ tsp chili powder
½ tbsp gochujang paste
2 tbsp unsweetened coconut flakes
Instructions
Preheat the oven to 400. Bring 6 cups water to a boil.
In the meantime, rinse the kale and cut the leaves into thin slices, discarding the stems. Set aside.
Rinse the Thai basil and pick the leaves, discarding the stems. Drain and rinse the bean sprouts. Rinse the scallions and thinly slice the white and light green parts, discarding the rest.
Place the rice noodles in a large heatproof bowl and pour the boiling water over them. Soak for 10 minutes, or until tender. Drain and rinse under cold water.
While the rice noodles are cooking, heat the sesame oil in a large pan over medium heat. When the oil is hot, add in the kale and cook until it is bright green, about 3-4 minutes. Increase the heat to medium-high and add in the coconut milk, tomato paste, chili powder, and gochujang. Stir until well combined.
Bring the sauce to a boil and then lower to a simmer. Cook for 5 minutes, or until thickened. Season to taste with salt.
Meanwhile, pour the coconut flakes onto a parchment-lined baking sheet in a single layer. Toast until golden, 3 minutes.
Toss together the cooked rice noodles, Thai basil and sauce. Divide evenly between two bowls. Garnish with bean sprouts, scallions, and toasted coconut.