Disclosure: This is a sponsored conversation written by me on behalf of Silk. The opinions and text are all mine.
Eclairs with caramelized white chocolate pastry cream filling are the perfect weekend baking project – AND indulgence!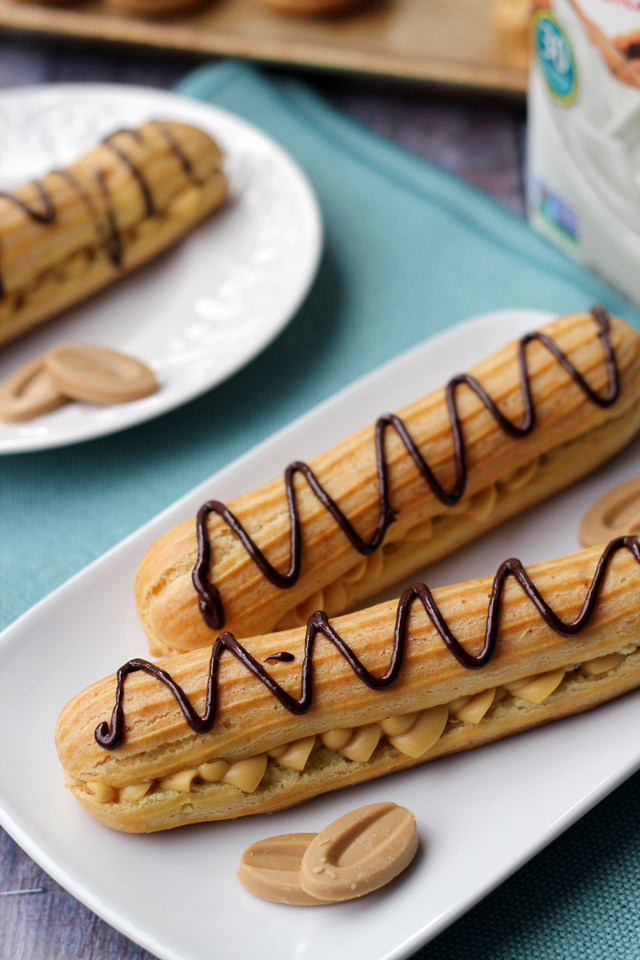 It's been a French pastry kind of week.
A dig your hands deep into the bowl of butter, flour, and sugar and don't come up until you have something beautiful to show for it seven days.
Because even when everything else seems askew, and we've eaten more than the daily recommended dose of Hall's cough drops (times four), at least we still have our eclairs (along with an ever-growing pile of cough drop wrappers). And that totally counts for something.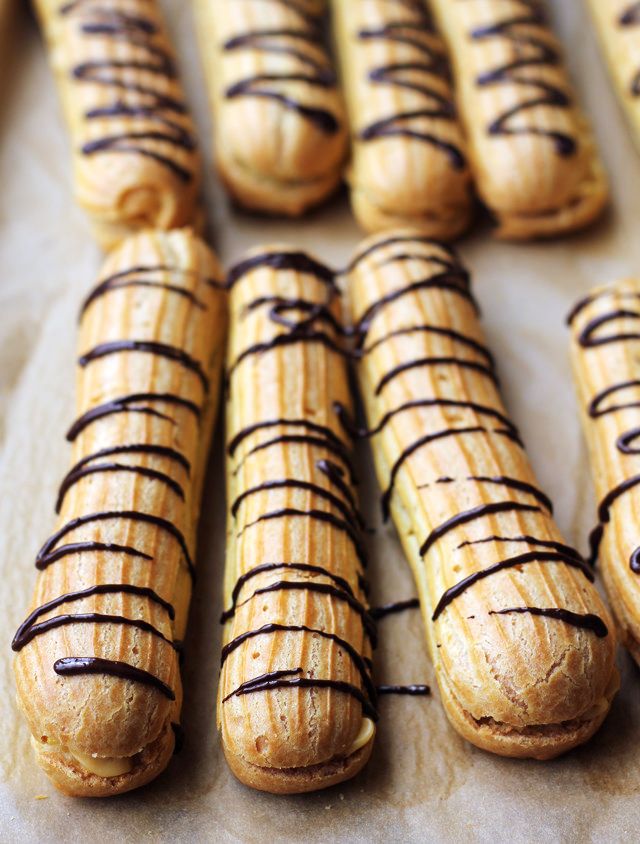 In short – don't let eclair-making intimidate you!
Pâte à choux, which is the light crispy pastry dough used to make eclairs and cream puffs alike, is actually pretty foolproof as far as fancy French things go.
I mean, you should be forewarned that it will take you to places that no pastry has ever led you before. Like standing in front of your stove cooking a mixture of butter, flour, and water until thick and pasty.
But you could do it in your sleep or while hopped up on antihistamines. Say I, from experience.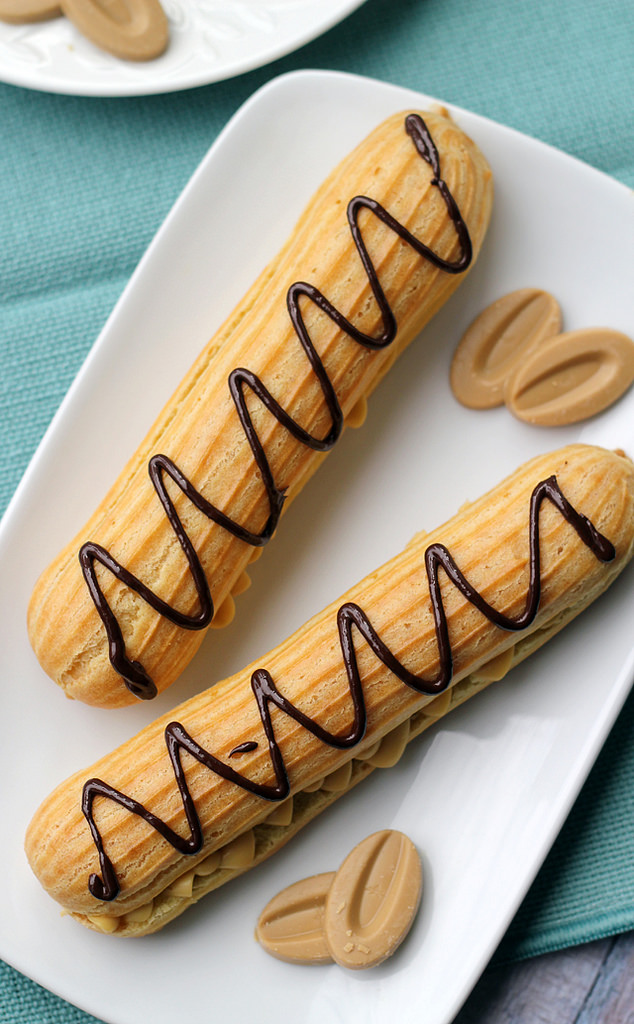 Then, comes the filling, which you can take wherever your heart leads you.
Sometimes that is to whipped cream world or dulce de leche dreams.
In this case, my heart let me straight to the Dulcey blond chocolate chips that I picked up at the grocery store a few weeks ago (and had to restrain myself from eating by the handful), and told me to turn them into a pastry cream.
My heart definitely knows best.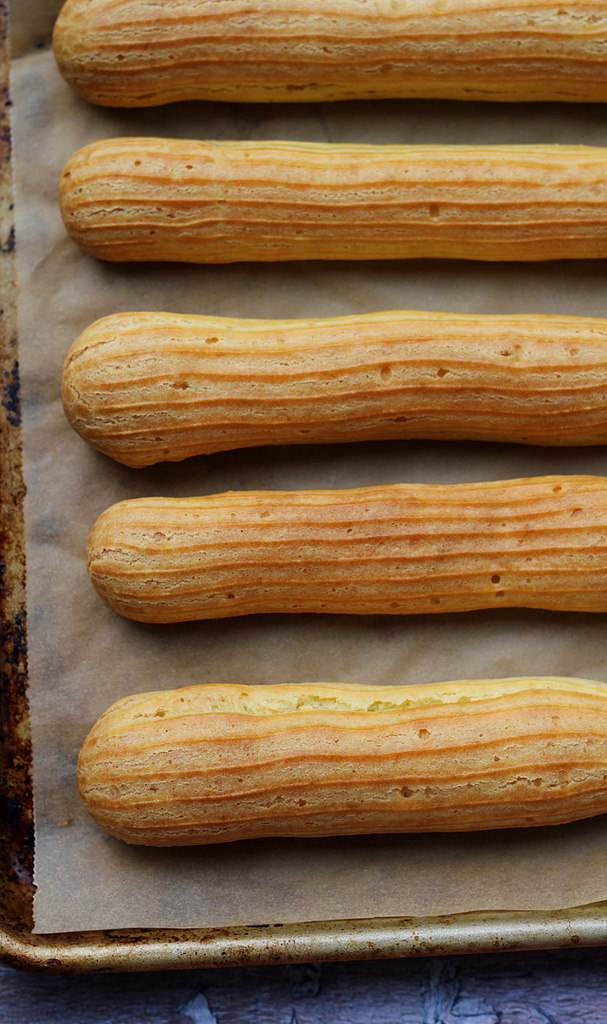 Even though these eclairs pack a serious indulgent punch, I wanted to give them a bit of a lighter feel. Because, spring, and all.
So instead of using cow's milk to make my pastry cream, I used Silk Almondmilk! It's my favorite for imparting creaminess without the cream, and it also happens to be perfect for eclair dunking. In case you're so inclined.
The pastry cream that resulted was just as rich and delicious as if it contained whole milk, but with just a tad less indulgence. Which obviously means we can should have two.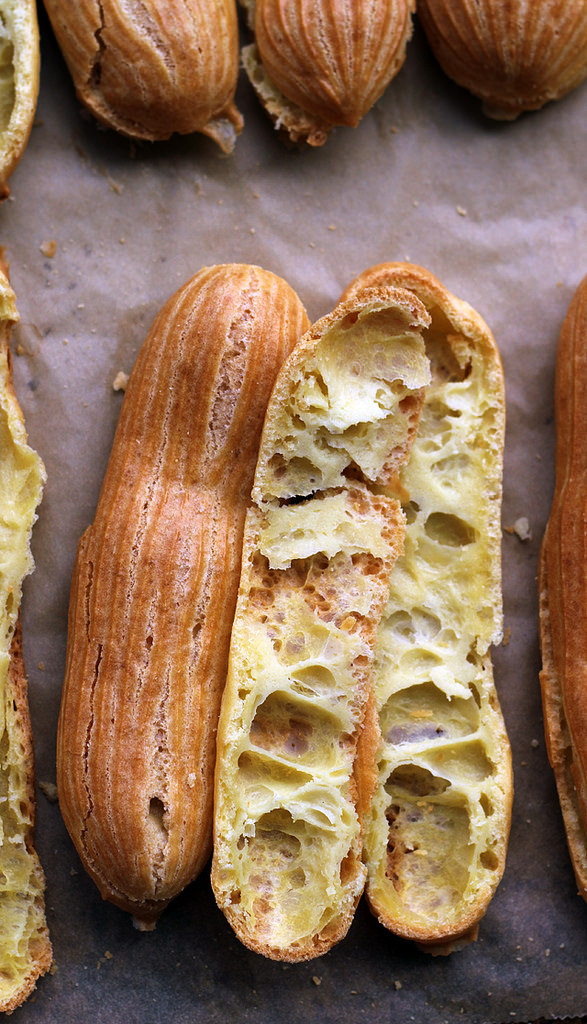 Silk Almondmilk is my absolute favorite when it comes to milk alternatives because of it's great, refreshing flavor. I'm also a huge fan of Silk's dedication to using only real, quality ingredients, including a commitment to only using non-GMO products.
There's also always tons of fun stuff going on over at the Silk facebook page (it's one of my favorite places to "hang out" and find new motivational quotes!) and Silk.com. In fact, if you register at Silk.com, you will receive a $.75 off coupon for any Silk half gallon, along with a special birthday offer, news about Silk sweepstakes and promotions, and a monthly chance to win a lifetime supply of Silk. If that is not incentive, then I don't know what is!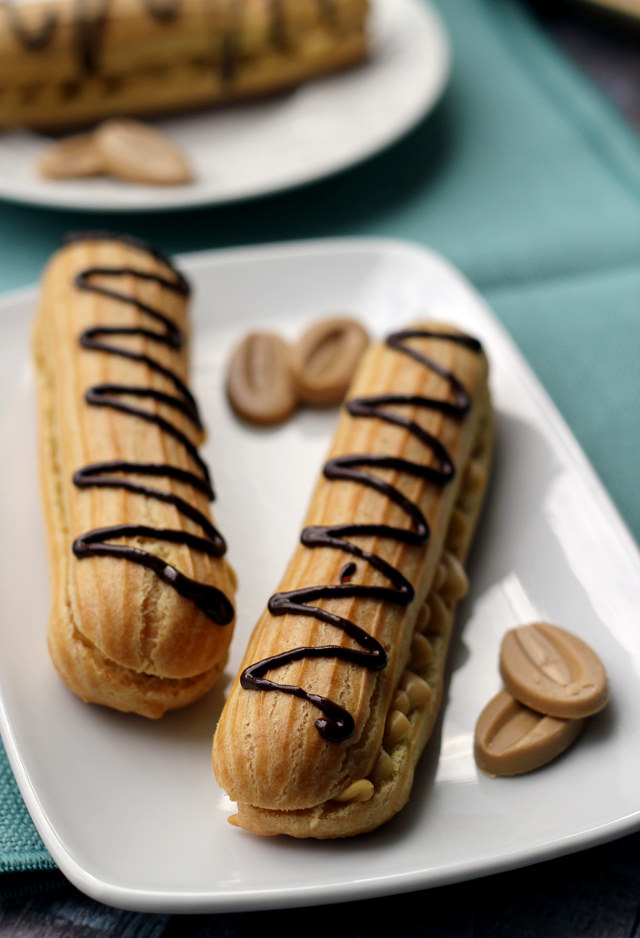 Eclairs with Caramelized White Chocolate Pastry Cream
Eclairs with caramelized white chocolate pastry cream filling are the perfect weekend baking project - AND indulgence!
Ingredients
For the pate a choux
1¼ cups flour
3 tbsp sugar
1 cup water
4 oz unsalted butter, room temperature
1 tsp salt
1 cup eggs
For the pastry cream
7 oz caramelized white chocolate or Dulcey blond chocolate chips, coarsely chopped
½ cup custard powder or flour
¼ cup egg yolks
¼ cup + 3 tbsp sugar
2 cups almond milk
2 oz butter, cut into ½-inch pieces
For the glaze
4 oz semisweet chocolate
2 tsp corn syrup
Instructions
To make the pate a choux, combine the flour and sugar in a small bowl. Set aside.
In a medium pot, combine the water, butter, and salt over medium heat, stirring as the butter melts. Increase the heat to medium-high and bring to a simmer. Remove the pan from the heat and stir in all of the flour/sugar mixture. Continue to stir until the texture has a paste-like consistency, about 2 minutes. Place over medium heat and stir for 1-2 minutes, or until the dough starts to pull away from the sides and bottom of the pan. It should be glossy.
Transfer the dough to the bowl of a stand mixer and mix on low for 30 seconds. Add the eggs one at a time, only adding the next when the previous one has been totally incorporated.
Preheat the oven to 375.
Transfer the dough to a pastry bag fitted with a large French star tip.
Line two baking pans with parchment paper. Pipe the first eclair in a straight line, onto the parchment-lined baking pan, until it is about 6 inches long. Pipe 5 more eclairs on that pan. Repeat with second pan. Wet your finger and use it to smooth out any raised pieces of dough on the ends.
Put the pans in the oven and reduce the oven temperature to 350. Bake for 40 minutes, rotating the pans halfway. Lower the oven temperature to 325 and bake for another 20 minutes. Lower the temperature to 300 and bake for 10 minutes. Allow to cool completely before filling.
To make the pastry cream, melt the white chocolate in the microwave in 30-second increments, stirring after each. Set aside.
Put the egg yolks in the bowl of a stand mixer fitted with the whisk attachment and mix on medium-low speed for 30 seconds. Reduce the speed to low and pour in the sugar. Increase the speed to medium ad whisk until light in color, about 1½ minutes. Scrape down teh bowl and then whisk on medium-high speed for 3 minutes.
Add the custard powder and whisk for 30 seconds. Scrape down the bowl and then, with the speed on low, slowly pour in the almond milk. Scrape the bowl again and mix for another minute.
Pour the entire custard base into a large saucepan over medium heat. Stir until it begins to thicken. Switch to a whisk and whisk until it begins to simmer, cooking for about 5 minutes after you see the first bubble appear, and the pastry cream has thickened.
Pour into a bowl. Whisk in the butter in two additions. Whisk in the chocolate in two additions, until incorporated. Pour into a container and cover with plastic wrap so that it is pressed against the surface of the cream to prevent a skin from forming. Refrigerate for at least an hour.
Cut the eclairs in half and pipe the pastry cream into one half of them.
To make the chocolate glaze, heat the chocolate and corn syrup in the microwave together, in 30-second increments, until the chocolate is melted. Drizzle over the eclairs.
Notes
Adapted from
Bouchon Bakery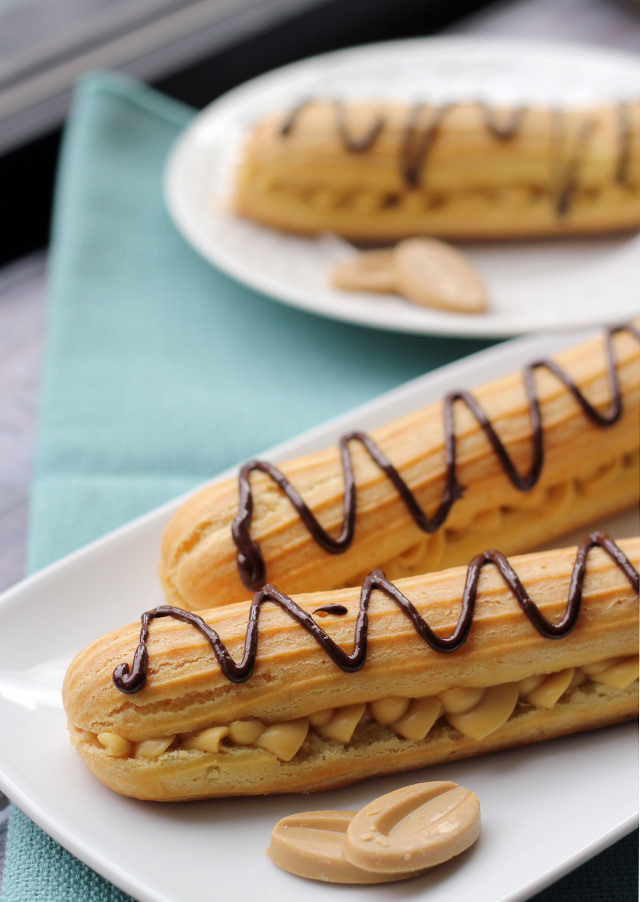 This is a sponsored conversation written by me on behalf of Silk. The opinions and text are all mine.