A richly spiced carrot cake covered in blond chocolate cream cheese frosting – a truly perfect carrot cake that you won't be able to help drooling over.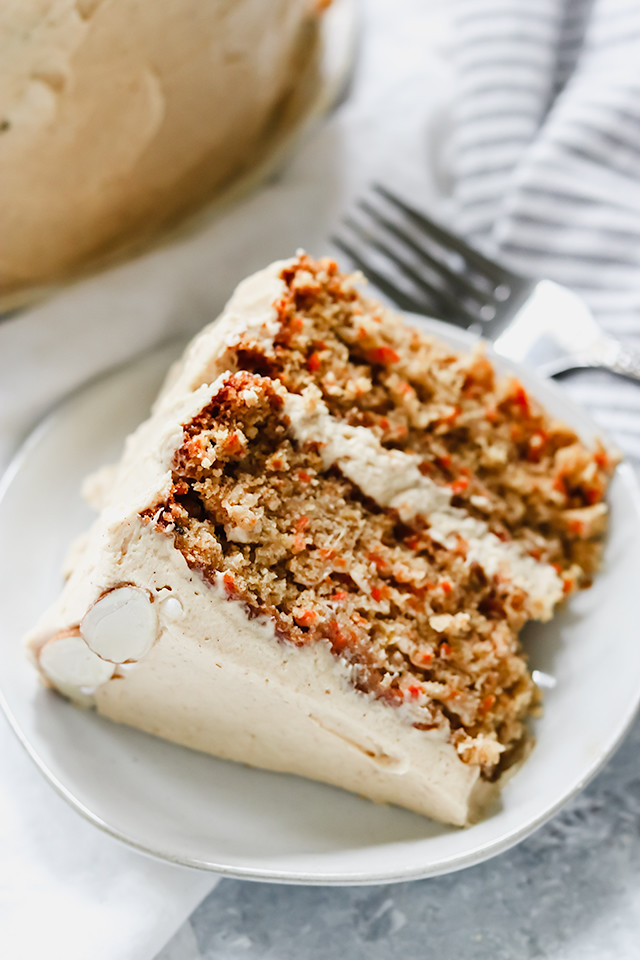 Good news! I made us vegetables.
Bad (or maybe BETTER) news!!
They're stuffed into the best carrot cake this world has ever seen.
Along with cinnamon, spice, and everything nice.
The gang's all here.
If there's one thing I'm picky about in this world it's carrot cake. I hold it up to incredibly high standards.
It can feature absolutely NO extraneous ingredients (pineapple, raisins I'M LOOKING AT YOU) and absolutely must must must must contain a solid dose of cinnamon and ginger. Oh, and if you try to top it with anything other than cream cheese frosting, I will bite you. Not in a good way.
I made this *ahem* almost a year ago (don't be mad!!!!) and even now I can still taste its carrot cake perfection on my tongue. It checks all my (very stringent) boxes, and then some.
The cake itself is filled with a glut of carrots (so basically, let's just call it breakfast mmmkay), brown butter (!!!!), cinnamon, and FRESH GINGER. I really think the fresh ginger is key here to its spice perfection. Though let's be honest, the brown butter isn't hurting anything either.
THEN it's topped with a blond chocolate cream cheese frosting. If you've never had blond chocolate before (I've only seen it sold by Valrhona to be honest, though I'd bet there are other chocolate companies out there making something similar) then GET THEE TO A SUPERMARKET. Actually, I've kind of a hard time sourcing it recently so if you don't have a good baking supply store near you or an especially well stocked supermarket, you made need to purchase it online. Womp womp. What's special about it is that it has the sweetness of white chocolate but with a bit more of a complex caramel flavor to it. I'm not the biggest white chocolate fan, but blond chocolate I can completely get behind.
Put them together and the end result is pure carrot cake magic! Let's just eat it for all the meals this weekend, okay?
Spiced Carrot Cake with Blond Chocolate Frosting
A richly spiced carrot cake covered in blond chocolate cream cheese frosting - a truly perfect carrot cake that you won't be able to help drooling over.
Ingredients
For the cake
17 tbsp (240 g) unsalted butter, softened
2 tbsp (40 g) honey
2 cups (280 g) all purpose flour
½ cup (40 g) unsweetened shredded dried coconut
2½ tsp baking powder
2 tsp ground cinnamon
½ tsp baking soda
½ tsp fine sea salt
4 large eggs, room temperature
1¾ cups (350 g) sugar
4¼ cups (350 g) grated carrots
1 tbsp finely grated fresh ginger
For the frosting
12 oz (340 g) blond chocolate (ie Valrhona Dulcey) or white chocolate, chopped
½ cup + 1 tbsp (135 g) heavy cream
½ cup (100 g) sugar
14.1 oz (400 g) full fat cream cheese
1¼ tsp ground cinnamon
Instructions
For the cake
In a medium saucepan, melt the butter over medium heat and cook it until it starts to brown and smell deeply nutty, about 15 minutes. Scrape immediately into a small bowl, stir in the honey, and set aside to cool completely.
Meanwhile, heat the oven to 350F (175C). Grease two 8-inch round cake pans and line with parchment paper. Set aside.
In a large bowl, whisk together the flour, coconut, baking powder, cinnamon, baking soda, and salt. Set aside.
In the bowl of a stand mixer fitted with the whisk attachment, beat together the eggs and sugar on medium-high speed for 3 minutes. Leave the mixer running and slowly pour in the brown butter mixture in a steady stream. Mix until completely combined. Add in the flour mixture in three additions, mixing on low until just incorporated.
Stir the carrots and the ginger into the batter by hand, using a spatula to combine. Pour into the prepared pans in equal amounts. Spread the batter into an even layer with an offset spatula.
Bake for 35 minutes, or until a toothpick inserted in the center comes out clean, rotating the pans after 20 minutes. Allow to cool in the pans on a wire rack for 30 minutes. Invert the cakes onto a wire rack and cool completely.
For the frosting
Melt the blond or white chocolate over a double boiler or in the microwave. If using the microwave, make sure to stir well after each 30 second increment to avoid overcooking it.
Meanwhile, heat the cream and sugar in a small saucepan over low heat, cooking only until the sugar dissolves, stirring constantly.
Add the hot cream mixture to the bowl of melted chocolate along with the cream cheese and cinnamon. Blend with an immersion blender or in a food processor until it is completely smooth.
To assemble
Level the cake using a large serrated knife to cut off any domed tops or uneven edges.
Center a cake layer on a serving plate or cardboard round, top side up. Spread 1 cup of the frosting onto the cake and spread it in an even layer, moving it just past the edges of the cake. Top with the second cake layer, top side down. Spread 1 cup of frosting again over the top of the cake. Cover the sides of the cake with the remaining 2 cups of frosting.
Decorate as desired. Refrigerate for at least 1 hour before serving.